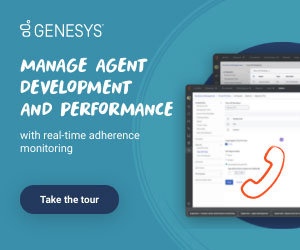 Ginger Conlon at Genesys explains why you shouldn't let a bad bot derail great customer experience.
Stop just buying bots; start being strategic about them. That was Jane Hendrick's answer to the question: "What's the secret to chatbots customers (and CXOs) love?"
Implementing and using bots in customer experience (CX) isn't only about individual bot interactions, said Hendricks, Senior Product Marketing Manager at Genesys. "Companies need to consider how bots fit into customer journeys and how they support an end-to-end orchestrated customer experience."
Consumer bot usage has increased — from 14% of consumers using them for service interactions in 2017 to 34% in 2021. But satisfaction with those interactions has decreased. Only 25% of consumers polled in 2021 said they were satisfied, compared to 35% in 2017.
It's time to rethink your bot strategy. Here are a few ways to do it.
Consider if You Even Need a Bot.
Take a step back to determine whether having a bot will contribute in a positive way. Evaluate how it fits into your customer experience by asking questions like: Do we have multiple entry points for service? Are customers expecting a digital experience? Can a conversation be easier than a search?
Do a Gut Check.
Bots are especially useful for answering basic questions that agents answer repeatedly. They're also excellent for handling rote tasks.
But don't make assumptions about which of those are best for a bot. Use analytics to identify which questions and tasks a bot should handle. Then consider if you have the analytics in place to address those questions and tasks using a bot.
Don't Oversimplify Your Requirements.
Define your requirements thoroughly. Consider what's needed for individual bot interactions and how they connect to the rest of your CX strategy.
Examine everything from what languages are needed to how a bot will fulfill a specific request (e.g., if it needs access to operational systems, how will that work?). Map actions to customer intent and then test, test, test. You want to ensure the bot experience has what's necessary to provide a successful interaction.
Keep It Simple.
Bots that try to do too much won't do anything well. Use a mix of bots — some should serve one specific purpose, such as handling financial transactions; others can handle multiple queries and tasks.
Be Prepared.
Even the best bots fail. Plan for how to handle that.
A bot might lead a customer to a dead end rather than a resolution. How will you get that customer back on the path to an answer or resolution?
Talk It Out.
A bot that uses keywords versus natural language understanding provides answers like an FAQ does. It's not conversational. FAQ-style bots have a place for simple interactions but are often siloed.
Deliver a better, more fluid conversational bot experience with built-in artificial intelligence (AI) to integrate chatbots and voicebots into the customer journey.
Get It Together.
The best bot interactions happen when there's:
Seamless integration — bots are fully integrated into the customer journey with seamless agent handoffs
Omnichannel experiences — conversational AI-based bots scale to every engagement on any channel
Ease of use – bots accelerate the time to value when they're easy to use for the business users and provide engaging customers experiences
Create Connections.
People want a personal connection and empathy in their service interactions. They want to feel heard and understood.
When organizations weave conversational bots into their customer journeys, they can provide the empathetic experiences consumers crave. As Hendricks pointed out, 87% of companies considered to be "AI leaders" say using AI in CX makes the experience feel more empathetic to customers.
What Bots Can and Can't Do
Bots can do a lot to improve self-service interactions. That includes reducing friction and cutting time to resolution.
They can answer FAQ questions and perform triage — answering basic queries and sending customers with complex issues to the right contact centre representative. And they can handle transactions such as processing returns or changing an address.  When they do these tasks well, they also reduce service costs.
But there's one thing bots can't do, Hendricks warned. They can't fix a bad customer experience.
So, thoughtfully design your bots. Choose a flexible bot framework that's right for your business case. Ensure that your bots can serve the purpose they were built for, provide the information and interactions that customers expect, and understand and match intent.
Don't create dead-end bots. Weave them into the customer journey. And use them to create relevant, empathetic experiences that make customers feel known and listened to.
Do that and you'll not only build a better bot, but you'll also build one your customers will love.
This blog post has been re-published by kind permission of Genesys – View the
Original Article
For more information about Genesys - visit the
Genesys Website