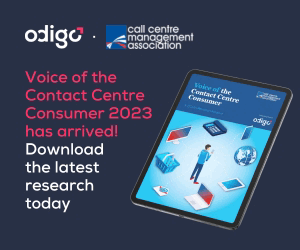 Contact centre ecosystems increasingly leverage a core quad of technology: CCaaS, CRM, UCaaS and AI.
This approach is being cemented by hybrid working practices and the ongoing quest of organisations to differentiate themselves with quality service.
As a result, Gartner predicts that global UCaaS investment, in particular, will yield a 9.4% CAGR from 2021 through 2026.
RingCentral is a leading global provider of cloud-based business communications and collaboration solutions that seamlessly combine phone, messaging, video meetings, and contact centre.
RingCentral empowers businesses with AI-powered conversation intelligence and unlocks rich customer and employee interactions to gain insights and accelerate business outcomes.
How then does the synergy between RingCentral's Unified Communications as a Service (UCaaS) offering and Odigo's Contact Centre as a Service (CCaaS) solution benefit contact centres and customers?
Why Combine CCaaS and UCaaS Using Odigo's Connector Integrated With RingCentral MVP?
Although both CCaaS and UCaaS are cloud-based communication platforms, their respective strengths are tailored to their function.
UCaaS connects a known network of colleagues for collaboration and knowledge sharing using enterprise telephony, messaging and meetings.
CCaaS is tailored to call and contact management, streamlining omnichannel communications with customers and prospects. The customer experience is further enhanced by preserving interaction history for personalisation and data analysis.
When the functionality of both Odigo and RingCentral solutions are combined and leveraged over a single telephony system the benefits to operational efficiency and service quality become clear. Customer service becomes a team sport.
How Does Odigo's Connector Improve Customer Service?
When the goal is professional service, it makes sense to use all your professionals. The proviso is, however, they need to be working as a team.
Customers crave cohesive experiences: 85% expect consistent interaction across departments, and when you look at some interaction statistics from ContactBabel it's easy to see how real-time expert advice and teamwork can make a big difference.
On average 9% of calls are transferred.
30% of outbound activity is related to ongoing issues.
In 2022 only 53% of contact centres had real-time visibility on expert status.
Odigo's connector brings together teams from inside and outside the contact centre, making their expertise available to customers.
Employees can continue to use their primary day-to-day platform and businesses benefit from simplified IT management and rationalised telephony costs.
Benefits of an Odigo Connector Integrated With a RingCentral's MVP Use Case
Odigo's connector for RingCentral MVP isn't vertical-specific. To illustrate all the benefits, though, here's a travel-based use case example.
Martin is an agent at a travel company. He begins every day by logging into his Odigo console and activating status synchronisation.
This ensures that changes to his availability are automatically updated and synchronised on both his RingCentral and Odigo platforms. Today he has an early-morning team meeting scheduled.
As he logs into the internal meeting on RingCentral MVP, his Odigo status is also automatically updated to "busy".
This means Odigo's connector integrated with RingCentral MVP prevents incoming customer calls, which Martin is unable to answer, from being routed to him and interrupting his focus during the meeting.
This particular team meeting is about an important update concerning travel disruptions at one of the company's key travel destinations.
As a result, high call volumes are expected. For complex queries about flight changes and travel insurance, experts from outside the contact centre have been asked to be on standby to help.
After listening to the best practice tips for handling these cases, Martin begins to scan the interactions on asynchronous channels for priority issues while the meeting concludes.
Where appropriate, it's even possible for agents to conduct interactions on non-voice channels during internal meetings.
When the meeting ends, Martin's status updates to available and synchronises with Odigo again, allowing incoming customer calls to be routed to him.
Within the first hour, Martin receives a call about the disruptions from Alexis, an executive with an upcoming business trip.
She has a series of urgent meetings and needs to know about the likelihood of delays, the possibility of alternative travel arrangements and her insurance cover.
Martin uses the advice from the meeting to reassure Alexis and discuss her situation and options. When it comes to the insurance element, however, Martin suggests involving an expert to provide her with the best advice.
With Odigo's connector, Martin can check the UCaaS directory to see which experts are available in real time. Martin places Alexis on hold and, so he can speak to the expert first and provide context.
He then arranges a three-party call with Alexis, using multi-party conferencing. Rather than risking a blind transfer, a costly call back or time-consuming back and forths, the Odigo connector integrated with RingCentral MVP makes expert advice easily accessible and eliminates unnecessary delays.
Additionally, in this case, it allows Martin to learn from the expert's advice, helping him with future interactions.
After discussion, all parties agree on amending the travel booking. However, the only alternative flights are full except for business and first class.
Alexis is happy to upgrade for additional peace of mind and agrees to pay the arrangement fee and additional ticket cost.
Martin transfers Alexis to a secure automated after which he reconnects to confirm the payment has been accepted and that the reservation is complete.
An email confirming the arrangements is also sent and an invitation to use the company's WhatsApp service for travel updates.
From the start, the Odigo connector helped enhance service quality through collaboration and knowledge sharing, delivering multiple benefits:
Supportive service and appropriate advice.
First call resolution as a direct result of real-time visibility of expert availability and teamwork.
Seamless customer experience, minimal hold times and no delays or call backs.
Reduced handling time and error rates.
Knowledge sharing, promoting professional development.
Accelerate Resolution and Control Costs by Connecting CCaaS and UCaaS
While rationalising costs with a single telephony system for both CCaaS and UCaaS is beneficial, Odigo's connector integrated with RingCentral MVP facilitates customer-focused teamwork.
Organisations are differentiated through their service and it's often complex challenging cases that win customers over or push them onto public forums to complain.
Visibility on real-time expert availability, warm transfers, conferencing and knowledge sharing all put the focus on a quality outcome for customers.
Status synchronisation also automates a small but important step, preventing meeting disruptions and ensuring the smooth handling of customer calls.
Harnessing two leading solutions means the quality features of both enhance performance and customer experience.
While Odigo's omnichannel qualification and routing match queries with the most qualified agent, RingCentral enables those agents to reach out for support from colleagues outside the contact centre.
Our team is also available to support you and answer any questions you may have about the Odigo solution and range of connectors.
This blog post has been re-published by kind permission of Odigo – View the
Original Article
For more information about Odigo - visit the
Odigo Website