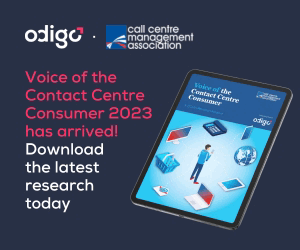 Dominique Toubin at Odigo explores how CCaaS solutions can support public services.
Public services is an umbrella term for a diverse variety of organisations: from well established national institutions to newer organisations that spring up from legislative change. This varying level of maturity and function can create very different user experiences and relationships with public services.
How can these public facing organisations use Contact Centre as a Service (CCaaS) solutions to provide outstanding public services?
Unlike other sectors, such as retail, banking or insurance, these services are not offered for profit. There is no 'customer', these contact centres serve communities and citizens with rights. How can public services use CCaaS solutions to help address the issues and major challenges they face?
Some Perspective on the Public Sector
To understand how CCaaS solutions could benefit user relationships in public services it is helpful to get an idea of the scale of this sector. The nature of the public sector does of course vary between countries as well as within them.
Universally though, in western Europe, the yearly spending ranges from 4-7% of GDP. In the last available direct comparison of total expenses on public services in 2019, the UK was cited as spending 4.2%, with the highest amount in western Europe being spent by Belgium at 7% of GDP.
There is also a massive amount of manpower, with the total public sector employment in December 2021 estimated at 5.72 million.
This is about 6% of all those in paid work. For comparison, the French civil service in 2019 reported 5.66 million employees, one in five employed people. On this scale, efficiencies can extrapolate into big savings in both time and money.
Facing Public Services' Principle Challenges With CCaaS Solutions
Volume of Interactions and Complexities of Organisations
If the UK public sector is so varied as to include education, emergency services, healthcare, housing, refuse collection, social care and more, what are the common challenges?
One of the main characteristics of dedicated contact centres in the public sector is the significant number of interactions that need to be managed. This is not surprising when the 'customer base' can sometimes be the entire population of the country!
There is also the ability to adapt to and manage different levels of complexity. UK public services are organised into 2 levels, central and local government, which are then further divided based on geography.
Devolution has created 4 separate legislative powers: the UK, Scotland, Wales and Northern Ireland. This means that even within an organisation there can be variations in policy. These need to be adhered to while also promoting positive user relationships with public services.
One cornerstone to supporting public services is that CCaaS solutions are scalable and configurable. Designed to handle large numbers of agents and interactions, they help to mitigate the sudden call spikes that organisations face.
CCaaS Solutions Enable Public Services to Adapt to Political Decisions
Of course, politics will strongly influence the services contact centres are managing and the nature of the user relationship with the public. Frequent legislative changes, regular revaluations and changes to financial benefits or support schemes can heavily impact organisations.
When Universal Credit was first introduced things did not go smoothly, as highlighted in The Universal Credit Crisis by the BBC's Panorama programme.
In February 2021 the Citizens Advice supported 3 people a minute with queries about Universal Credit, some of whom were facing a £20-a-week cut to their benefits.  On the front lines in these situations are often agents facing highly emotional situations with what can seem like insurmountable levels of complexity.
At times like these agents need all the support they can get. Automation and self-service can provide some deflection, while the ability to scale up operations, thanks to the cloud, help absorb some of the call spike. Accurate information and 360-degree customer views mean if someone has already tried to solve their own problem agents don't waste time repeating the same steps.
Privacy and Security Concerns
The shift towards cloud adoption was encouraged in the 2021 Cloud guide for the public sector, which included the statement that 'cloud services can have native security advantages over local or on-premises technology'.
It is not just security that is of concern. There have been a lot of high profile changes to data privacy, like the introduction of GDPR, which in the UK is now covered by UK GDPR.
However, care needs to be taken that any service provider should meet the requirements of the country in which the customers reside. There is an additional consideration here when data is crossing borders and jurisdiction issues arise, which is the case with the CLOUD Act.
As a result, often the most sensible approach is for data hosting to be carried out on national territory.
Cloud-based CCaaS solutions are secure by design so public services can protect data by offering a high degree of encryption.
The Public Service Mission
Another major challenge for the public sector services is the obligation to respond without bias and balance the needs of all citizens and legal residents. Services need to be universally accessible and take into account vulnerability, language and a wide diversity in individual comprehension of issues and needs.
One example of how CCaaS solutions can support the mission of public services is by prioritising vulnerable customers either based on their personal details or through the identification of keywords and issues during qualification. This then allows the routing engine, one of the best on the market, to match queries to agents with specialist skills to promote positive outcomes.
In addition, CCaaS solutions can implement a range of features, such as shortcodes, co-browsing solutions, callback tools and queue management software. These optimise the flow through contact centre services, facilitate journeys and address some of the challenges of service accessibility by integrating channels.
Large Scale Personalised Use Relationships in Public Services
In the past, the public sector has been accused of not making enough use of omnichannel solutions. However, in light of a strong push toward digitalisation, attention is starting to be paid to a more data-driven approach.
If public services are going to leverage the efficiencies that come from personalisation, however, it needs to be done on a large scale.
To offer large-scale service, while not overlooking personalised interactions, CCaaS solutions can be pivotal. For example, natural language processing (NLP) engines allow for fine-tuned qualification and routing, along with multiple distribution rules, including skill-based routing to match the request to the available skills.
This blog post has been re-published by kind permission of Odigo – View the
Original Article
For more information about Odigo - visit the
Odigo Website