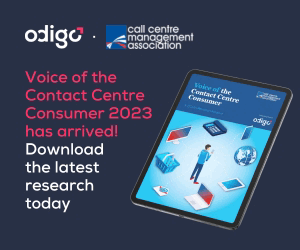 Melissa Cowdry at Odigo explains how European business leaders can get over their fears of Natural Language Processing (NLP).
Originating in the 1950s, Natural language processing (NLP) is a technology that allows machines to understand human language.
Today, it's one of the engines of Artificial Intelligence (AI). And it is predicted that by the end of 2022 chatbots and NLP will save companies about $8 billion (£7.2 billion) per year.
Many organisations have already made NLP investments in their contact centres, as they continue to sit at the hub of both digital and agent-led customer conversations.
But others have been slow to integrate this powerful tool – one that can refine not only self-service but other AI-driven processes too.
NLP Contact Centre Challenges
The results of the AI for CX survey of over 1,000 business executives, conducted by Davies Hickman, shed further light on the barriers and benefits of investing in NLP.
Undoubtedly, learning curves are to be expected the first time any organisation adopts NLP but putting in the necessary groundwork will soon get projects up and running.
The top challenge for European business executives is needing time to prove AI, and specifically NLP, works within their companies. The survey also found that nearly all leaders (79%) fear AI would replace people, and that they experienced software integration issues and had difficulties proving ROI.
But overcoming these fears is essential if leaders are to continue to improve their businesses financially and boost customer satisfaction, as well as retain contact centre staff.
Combining the experiences reported by European executives and the expertise of a solution provider can help get ahead of the learning curve and generate fast results.
NLP Support to Improve the Customer Experience
Being accessible to customers on all the channels they use is not just a 'nice to have' – it's essential. Investing in NLP applications is increasingly becoming a business decision to drive long-term customer satisfaction and win business.
Today's customers can converse in a natural way with a callbot to receive instant answers, modify details and delivery schedules, declare a lost bank card, and more, all 24 hours a day, 7 days a week.
Indeed, the survey found that organisations see significant ways NLP could add value to their customer experiences:
74% of leaders said it helped with verifying a caller's identity, and 66% with recognising customers' emotions. And just under two thirds (64%) agreed NLP helped in recognising vulnerable callers.
The fact that the use of NLP is discreet is proof of good integration and technological maturity. Most users doesn't mind if it's artificial intelligence offering help, what matters is they get a quick resolution, whatever the technology used.
How NLP Supports the Contact Centre Workforce
As recruitment and retention of contact centre agents becomes increasingly difficult, European organisations are looking to offer an even more supportive working environment.
Accessing better customer data, so they can interact in a more informed and consistent way, ranked highest for how NLP could add value to the workforce in the contact centre.
This function can also go some way to assuaging fears over AI replacing people, by highlighting how agents and AI can work in synergy.
Many are using NLP applications to automatically identify customer intent (e.g. via a chatbot or text-based messages). These details can then be used to route a request, along with its context, to the most-suitable agent available.
NLP also enables, thanks to contextual detail, enhanced agent decision-making by providing relevant information, draft answers or by giving insights into the customer's state of mind (sentiment analysis).
Using virtual agents to handle customer interactions will further enable contact centre management to control workflow and agent resource.
And as improving chatbot performance is rated by 3 in 4 as a useful way to add value to their operations, it's clear that business leaders are keen to utilise their value while offsetting workloads.
Contact Centre Futures With NLP
Harnessing NLP in contact centres is no passing trend: 27% of organisations have projects planned in the next two years and 45% are looking into the possibilities. Almost half of NLP decisions are also now made by business executives.
Despite concerns over time and resources, once adopted, the solution is appealing: 74% are looking into possibilities to advance their NLP projects.
This reveals the high interest in the technology and the need to support different applications to ensure success. Leaders should look to lean into CCaaS solutions and the continued benefits they can bring to the business.
For more information about Odigo - visit the
Odigo Website