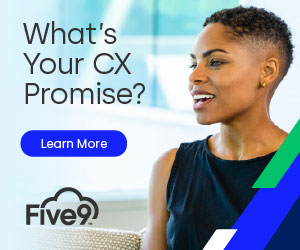 Retailers have faced many new challenges over the past two years, including labor shortages, supply-chain disruption, and shifting consumer buying patterns.
Customer experience remains an important differentiator among retailers, but it's becoming harder to maintain as consumer expectations continue to rise.
"Expectations are up. Patience is down." — Scott Kolman, SVP Marketing, Five9
In the most recent Customer Service Index from Five9, the percentage of U.S. respondents who say that they are very unlikely to do business with an organization after a bad experience increased from 31% to 35%.
With fewer face-to-face interactions, ensuring customer satisfaction now requires a new set of solutions. Because of this, it is ever so important that companies stay up to date with their contact centre technology.
Everything is connected: Employee satisfaction and performance have a direct correlation with customer experience. As more retail employees move to remote roles, you need to be sure they have the tools they need to provide top-tier service.
For instance, tools like Five9 Workflow Automation give you the ability to aggregate data in real time, combine it with data, and coordinate customer experience functionality. You can also unlock previously siloed information to accelerate decision making.
And with a single intuitive interface, your customer service or sales teams can spend less time switching between applications and more time focusing on your customers. By improving workflow automation, companies can have confidence that their expectations are met.
Another useful tool is Intelligent Virtual Agent (IVA). Five9 IVA automates routine and repetitive tasks so your team can focus on higher-value work.
Many customers are looking for self-service options to find quick and easy solutions to their problems. Businesses that provide these options are positioning themselves for success, while those that don't are likely to struggle with customer satisfaction.
As different retailers face different challenges, they look to technology to address their needs.
Nutrisystem
The path to a healthier lifestyle now spans far beyond just the gym. Nutrisystem offers consumers a variety of weight-loss plans that include comprehensive support and coaching options.
With the switch to remote work, Nutrisystem found itself searching for a way to enhance the efficient and high-quality service the company strives to offer. By implementing Five9 Workflow Automation, Nutrisystem was able to improve sales efficiency, and close rates all while lowering costs.
"Right off the top, we experienced a 15% to 20% cost savings in technology and telecommunications costs," says Nutrisystem SVP Bill MacBride. "Part of this has been savings in the virtual queue callback solution."
BISSELL
For 140 years, BISSELL has developed innovative floor-care solutions that simplify cleaning. With around 2,500 employees and contact centre agents in four international locations, BISSELL is constantly looking to transform to further meet their high standards.
In doing so, its four outsourced contact centres were moved to the cloud as it introduced additional capabilities.
"This reduces the number of transfers a customer has to undergo and that makes for a better customer experience," says BISSELL's Razi Sharbaan II.
Since moving to the cloud with Five9, BISSELL has experienced a 9% increase in customer satisfaction scores, measured over thousands of consumer interactions.
With more than 1 million interactions a year, BISSELL also wanted to provide customers with AI-enabled self-service options.
Customers can use Five9 Intelligent Virtual Agent to check order status, cancel an order, or register their product. This not only frees agents to handle more complex inquiries but has increased containment rates by 15%.
"Five9 has helped us save over 5% of FTE costs," says Sharbaan. "Between the queue callback and Five9 Quality Management, I'm estimating that I would need at least seven more FTEs than what I have now if we weren't on the Five9 platform."
Under Armour
Under Armour is a global brand with more than 16,000 employees. With a key motto of "To Find a Better Way," Under Armour turned to Five9 for innovative solutions to help solve its contact centre needs.
With a change in customer expectations, it is important that consumers have self-service options to address their needs, including cancelling orders, tracking shipments, and placing orders.
As Under Armour applies Five9 technology, the company has been able to allow some workers to remain at home full-time. According to company representatives, this has resulted in happier, more engaged, and increased focus levels.
"We are expecting that this year we will have 65% growth over last year on our e-commerce channel," she says.
According to Forbes, moving to cloud-based platforms is foundational to retail growth and improving customer experiences. The solutions for current retail issues are in the cloud, and with growing expectations, now is the time to do so.
This blog post has been re-published by kind permission of Five9 – View the
Original Article
For more information about Five9 - visit the
Five9 Website