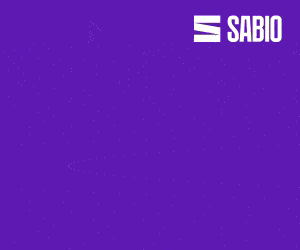 Mark Ward of Sabio shares his thoughts of on how retailers can best improve customer experience.
Whether you love or hate Christmas shopping, for retailers it's 'the most wonderful time of the year.' Because as we browse the shops, retailers know that we are easily distracted by sparkly, shiny things. Posh sweets, cosy socks – all those impulse buys get thrown into our baskets.
This year those impulse buys won't be happening on anywhere near the same scale. Lockdowns, working from home, childcare and health reasons have driven many customers to stay at home and shop online in 2020.
A few years ago, we'd never have made huge purchases like a TV, mattress or bath without seeing the product first. Now you can spend thousands of pounds in a couple of clicks. And if you're not happy with your purchase? Simply click to return.
Transforming Retail Customer Experience Starts With Bringing Teams Together
In the short-term, online shopping and the reduced footfall on the high street means loss of earnings for many retailers, and, sadly, retail jobs at risk. But in the long-term, the consequences could be huge for all of us.
We could be looking at a complete shift in retail customer experience. And to be honest, I think it's about time.
The retail industry needs to stop treating online shopping and offline shopping as separate. Retailers should focus on providing premium digital experiences that are supplemented and complemented by physical, bricks-and-mortar store experiences.
We've reached a point where the buying journey is digital-first – but some experiences can't ever be replaced by a website. For many people shopping is a chance to get out, meet friends or family, try something new or support and chat to their local community. Bricks and mortar stores should focus on these things, which make them unique.
Most shops that offer both online and in-store shopping have separate in-house teams managing each. One department works on optimising the website while the other works on the stores.
Sitting somewhere between the two is the contact centre, mopping up the queries that come in from both online and offline customers. The contact centre team has the overview of all customer issues across the business.
At Sabio, we know that organisations that treat those divisions as one entity are stronger. Your customers see you as one big shop and expect a consistent experience. By sharing data, knowledge, experience and objectives, you'll unite teams around common goals.
This will ultimately provide a much better customer experience that exceeds customer expectations both online and in-store. Your business will create loyal customers both online and offline.
Improving Customer Experience Using the Contact Centre
We've seen how the contact centre team bridge retail customer experience for online and in-store customers. So, how you can support this team to improve your customer experience across both elements of the business?
The role of retail contact centre agents has traditionally been transactional. They help customers who want to find and purchase a particular product, check a store's opening times or know when stock will arrive. The agents are generalists who need knowledge on a broad range of common customer queries.
In the brave new world of retail that I'm proposing, we may need fewer generalists and more specialists.
If your customers are going to spend £1,000 over the phone on a new sofa, for example, they want to feel confident that they're speaking to a sofa expert – just like they would if they visited the sofa department of your store.
So, your contact centre agents need to know your products inside out. They need to have the same on-brand and expert knowledge as your in-store team.
The top of the funnel for your new customer journey could be a web chat or phone call with your contact centre, moving down to a personal video tour of a store so the customer can see the sofa alongside other furniture and furnishings.
I know what you're thinking. That will take a whole programme of training and a lot of time you don't have. But as with any changes, you don't need to start with a timely and costly transformational programme.
You can take small steps. You can test and learn to get to where you want or need to be.
For example, Sabio can build knowledge bases that your contact centre staff can use to answer specific product questions. Using our knowledge bases to guide them, your call centre agents can confidently handle an enquiry about sound quality on a television one minute and recommend the best coffee machine for a cappuccino the next.
We can also set up speech and text analytics to give contact centre agents real-time prompts. If someone is buying that new coffee machine could your team offer them a deal if they pair it with a set of designer cups and saucers?
Or how about selling extended cover to protect that TV beyond the standard warranty? These add-ons and extras are beneficial to the customer and improve your bottom line for very little effort.
If you support contact centre agents with the right tools and information, you can improve your customer experience in a matter of days and weeks. There's no need to wait until next Christmas to take action and see improvement in your CSAT scores.
Cutting Call Times at M&S
Of course, any changes you introduce should be based on data and evidence. It's easy to assume you know what's happening in your contact centre, but when was the last time you actually checked?
2020 saw customer behaviours change in rapid and unexpected ways as they adapted to the 'new normal.' So, have you tracked what your customers are doing differently? And if your tools and technology are in line with these changes?
Have you reviewed your KPIs? Often organisations use short call times as a measure of success. If your contact centre agents are encouraged to get people off the phone as quickly as possible, they could be hitting your KPIs but not resolving any customer issues.
Your customer experience will suffer and your CSAT scores will remain lower than they should be.
High-street favourite M&S saved 10 seconds in contact centre average handling time, without compromising on their customer experience.
M&S asked DVELP, now part of Sabio Group, to help replace their legacy phone system. The system routes 11 million calls to stores and the contact centre every year. M&S wanted an AI-powered solution to improve the accuracy, efficiency and scalability of call routing.
DVELP deployed an MVP within 30 days, proving that high-impact changes really can happen fast.
By converting speech to text, the application allows M&S to route calls to the correct department or present self-serve opportunities to the customer. They also cut the average call handling time by automating the 'Reason For Call'.
Customers get their queries answered by the right department first time and the business is gathering valuable insights into customer behaviour that they can use to improve their website, products and stores. Win-win!
Why The White Company Listened to its Customers at Christmas
Businesses looking to improve their CSAT scores for the festive season should be dreaming of a White Company Christmas. Ninety per cent of contact centre interactions take place during the Christmas period every year, so the 60-seat contact centre doubles to 120 through an external provider every year.
The White Company were keen to monitor customer experience to ensure they provided a consistently positive experience for customers.
Using our Voice of the Customer tool, the company confirmed that both internal and external teams were delivering a great performance. But The White Company wasn't clear how the customer experience could be improved. They needed more customer feedback.
"Fully automating the process delivered an amazing 20% uplift in response rates," explained customer service director Emma Dark.
"This meant the results we were getting were more realistic than ever before. Unfortunately, the scores dipped a little, but they were more accurate, and we were getting even more valuable verbatim feedback. The confidence we now have in our understanding of the customer experience is so much greater."
Get Support to Improve Retail Customer Experience
Retailers have a big opportunity to transform their customer experience. Using technology, they can support their contact centre teams and create a premium digital and in-store experience.
Sabio can support retailers via a range of solutions:
Customer experience insight – customer journey and contact centre analytics
Voice of the Customer – customer benchmarking index, customer experience feedback, employee engagement feedback
Digital customer engagement – bridging the digital and human-assisted journey with chat, messaging, web context screen-pop, smartphone content sharing
Digital automation – Virtual Assistants, robotic process automation, speech recognition, intelligent call routing
Identification management – biometrics solutions for identification and fraud management
Workforce optimisation solutions – improve efficiency
Omnichannel customer engagement – across digital and live customer contact channels.