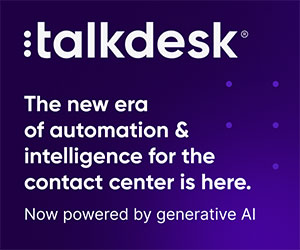 Niki Lotte at Talkdesk shares insights on how to develop your customer experience strategy.
As defined by Forrester, a customer experience (CX) strategy is "a plan that guides the activities and resource allocation required to deliver intended experiences that meet or exceed customer expectations in accordance with the goals of the organization."
To develop a CX strategy, it's important to understand what is impeding your ability to succeed, as well as focus—both internally and externally—on which CX initiative is most critical for your business.
To determine the most critical CX initiative, it's helpful to identify the most impactful financial areas within your contact centre and the corresponding initiatives that you should undertake to produce optimal outcomes.
By identifying the highest priority initiatives within your contact centre, you can map out a vision that is true to your company's business goals and aligned to your optimal CX.
With an understanding of where you are and where you want to go, you can then build out an actionable business plan to deliver better CX performance that results in tangible business outcomes.
What are the Three Benefits of a Customer Experience Strategy for Your Business?
1. Align Vision and Priorities.
Competing priorities can make it challenging to identify where you should focus your attention as you look to transform your customer experience. However, it's important for you to align on what's most important for your business.
Developing a CX strategy can help you identify your highest priorities that will truly impact your business and get your internal teams—and your vendors—on the same page.
2. Benchmark Against the Competition.
Benchmarking serves to identify inefficiencies and ineffective practices in a contact centre, helping to establish priorities by highlighting areas in which the contact centre is underperforming compared to industry peers.
Collect and analyze data aligned to business goals and strategies to help compare contact centre performance against industry standards.
3. Build a Business Case.
To get the executive buy-in on your CX strategy, build a business case and roadmap aligned to your unique use case and address your business needs.
When developing these assets, your team will be in lock-step as you define strategic KPIs, better understand the process and pain points of your customer experience, and develop a business case, roadmap, and recommendations to meet your CX goals.
The business case summarizes the value of your CX.
How to Develop Your CX Strategy.
To facilitate the development of your CX strategy, use a value framework, an approachable and repeatable model used to help guide conversations around the high priority value drivers for a business' CX journey. It drives cross-functional alignment across the organization and with the vendor.
A value framework can be used throughout your CX transformation journey to ensure alignment is in place and priorities remain top of mind.
You can also stay agile by continuing to evaluate CX priorities in relation to changing business and/or market environments and use the framework to understand if your initiative focus areas need to shift as well.
CX priorities typically fall into one of four categories:
Revenue generation. The goal is to maximize revenue per customer.
Customer experience. The goal is to grow customer lifetime value (CLTV).
Operational efficiency. The goal is to reduce cost per contact.
Operational agility. The goal is to quickly adapt to changing market conditions.
This blog post has been re-published by kind permission of Talkdesk – View the
Original Article
For more information about Talkdesk - visit the
Talkdesk Website