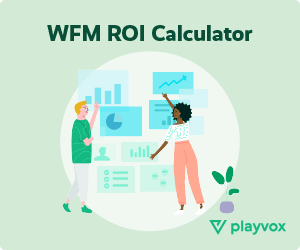 During the global pandemic, customers massively turned to digital communications, and, according to consumer studies, this change is here to stay.
While presenting a tremendous opportunity for business growth, this trend also creates challenges for contact centres. Customers now expect to do business with an omnichannel contact centre that delivers consistent and seamless customer experiences regardless of the channel they use.
Meeting these escalating customer expectations while simultaneously keeping employees satisfied and containing operating costs can be intimidating.
But don't worry. You've got this! The key to a smooth omnichannel journey is to adopt the right strategy and the latest technologies — those designed with digital business in mind both for your customers and for your employees.
This article will help guide the way. We'll reveal how a modern workforce management (WFM) solution built with the digital customer in mind helps you get there.
What Is An Omnichannel Contact Centre?
On this journey, your final destination is an omnichannel contact centre that provides customers with consistently high quality experiences across an ever-widening array of digital channels (email, chat, SMS, social media messaging, etc.) in addition to voice.
The goal is that customers are able to efficiently and effectively resolve their problems regardless of the channel they use. Why?
Letting people connect with you their way will drive more sales. In a Zendesk CX survey, 93% of consumers said they would spend more with companies that offered them their preferred way to reach customer service.
Omnichannel contact centre software has evolved to include unified routing and interaction histories that are available from one channel to another, making the relevant customer history available to agents at all times.
Your agents can now deliver personalized cross-channel customer experiences that build loyalty while driving retention and higher sales.
Now that we know the destination, let's map the journey.
The Road To Delivering Omnichannel
When evolving into an omnichannel contact centre, it's easy to forget the need to upgrade the tools you use to manage your most expensive, and valuable, resource: your staff. But it turns out that this is a critical error.
After all, adding digital channels dramatically increases the complexity of meeting customer expectations for seamless experiences while also keeping operational costs down and retaining skilled agents.
Once digital channels enter the picture you need to schedule enough agents to meet service level agreements (SLAs), but forecasting and scheduling agents to meet service demand across many channels is sometimes easier said than done.
Using manual processes and spreadsheets, you may end up over-scheduling agents, which causes your costs to skyrocket, or, conversely, under-scheduling agents, which subjects your customers to unacceptably high wait times.
The Connection Between Agent Experience And Omnichannel Success
When forecasting and scheduling is inaccurate, agents will invariably experience overwhelm, which leads to high rates of burnout and turnover.
Since ultimately this generates a decline in your omnichannel contact centre performance, it's vital that your scheduling practices be optimized.
But, fortunately, there is good news. The right WFM tools can help you meet the challenges of omnichannel forecasting, scheduling, and long-term planning.
Before we dive into recommendations of what to look for in an omnichannel-ready WFM solution, let's take a step back and clarify some definitions.
These days it's common to hear the terms Workforce Engagement Management (WEM) and Workforce Management (WFM) used interchangeably. In fact, as we'll see below, WFM is often a solution contained within a WEM suite, in addition to being a standalone solution.
What Is Workforce Management?
Workforce management software in the contact centre provides automated agent scheduling and forecasting, along with other features such as long-term planning and real-time visibility.
Ultimately, WFM omnichannel contact centre solutions allow you to leverage your agent resources as efficiently and effectively as possible.
Modern WFM tools not only allow you to ensure the right agent with the right skills is available on the right channel, but they also help you manage hybrid and distributed contact centres that make it easier to provide agents with flexible schedules.
For example, features like shift-swapping make it easier for agents to enjoy work-life balance while ensuring you are staffed to meet forecasted demand.
Contact centre WFM software is far from new, but the digital and omnichannel eras bring the need to consider a new set of requirements for operational excellence.
What Is Workforce Engagement Management?
Workforce Engagement Management (WEM) suites provide a broader set of capabilities and empower contact centre employees to perform an array of tasks including scheduling, evaluating, motivating, recognizing, and rewarding agents at scale.
A WEM suite commonly includes WFM and quality management as cornerstones, while also offering an array of add-on solutions to close the agent performance loop.
A WEM suite will typically include:
Workforce Management – to ensure that the right number of agents with the right skills are scheduled at the right time
Quality Management – to ensure that all your customer interactions are up to standard, regardless of channel and across all agents
Coaching – to address performance gaps found through the QM application
Learning – to allow employees to continuously improve their skills
Leaderboards – to recognize employees for excellent performance
KPI dashboards – to get a holistic view of operations
For many contact centres, effectively managing your staff resources will begin with the foundation of a WFM solution and then expand into leveraging a complete WEM suite to take operational effectiveness to the next level.
Choosing The Right WFM Solution
To gain an advantage in the digital business era, make sure that the WFM solution you choose can handle the requirements of omnichannel contact centres.
Upgrading to a WFM solution is advised once a contact centre reaches a certain scale. Spreadsheets are no longer up to the task of scaling and handling multiple channel types because they simply take too much time. You also lose accuracy in handling the complexity of various work types, locations, and agent preferences.
To elevate your operations and deliver omnichannel experiences you may want to consider a solution that's purpose-built for digital channels and able to:
Support the workflows required in digital communications
Schedule concurrent work for channels such as email, web chat, and messaging
Allow agents to vary the channel types they work on, increasing satisfaction
Tame complexity with AI-powered forecasting, scheduling, and intraday planning
Gain a real-time view of planned versus actual scheduling for every location and work type
While these capabilities are necessary for omnichannel contact centre success, they are not available from traditional WFM vendors.
That's why we recommend you take a strategic approach to select tools that allow your workforce to exceed the expectations of the digital customer. You'll reach your ultimate destination — omnichannel success and sustained competitive advantage — much faster.
This blog post has been re-published by kind permission of Playvox – View the
Original Article
For more information about Playvox - visit the
Playvox Website