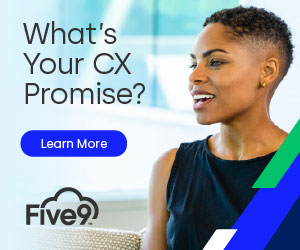 Natalie Mackay at Five9 explains how to identify operational roadblocks and reduce agent burnout.
Managing agents before the global pandemic was complicated. Given the emergence of more hybrid work environments, contact centre supervisors face even more challenges in terms of maintaining high agent morale.
In fact, 74% of contact centre agents are at risk for burnout according to one study. Burnout is a serious problem for contact centres since it contributes to absenteeism and reduced performance, which creates less positive customer experiences.
Agents who are burnt out are 63% more likely to take a sick day, 13% less confident in their work performance, and 50% less likely to discuss performance goals with their manager.
Proactive contact centre supervisors can effectively identify and address common roadblocks that can lead to agent burnout. By addressing common operational inefficiencies, contact centre supervisors can reduce the risk of agent burnout while driving more positive customer experiences.
Let's look at some of the top operational roadblocks that can lead to agent burnout and how contact centre supervisors can reduce the risk.
Disparate Data Leads to Inefficient Operations and Increased Risk for Agent Burnout
Data is an incredible tool for contact centre supervisors to drive operational improvement and reduce agent burnout risk. However, when data becomes siloed in different systems or becomes too complicated to decipher, crucial information about your contact centre can be lost.
This means valuable insights used to improve agent performance and morale can easily be hidden in lengthy Excel spreadsheets or pivot tables.
Supervisors who prioritize aggregating all their contact centre data into customizable, readable reports drive operational efficiency and high agent morale. By looking into digestible reports, supervisors drill down into individual agent performance to see if there are common areas where agents need more help.
When agents feel they are supported and coached effectively, they are less likely to be at risk of burnout. Supervisors can use data to see the whole picture of their contact centre operations and identify coaching opportunities to keep agents engaged and motivated, rather than burnt out.
Limited Visibility into Performance Increases Agent Burnout Risk
It's tough to stay motivated when you're not aware of the goals you're working toward. A common operational roadblock that leads to disengaged agents is lack of visibility into their performance metrics.
Agents can feel disconnected to their individual day-to-day work, but also from how their work contributes to their team's overall success. When contact centre agents are unclear about their goals, they are less likely to be motivated in their role and potentially feel the effects of burnout.
Supervisors can reduce the risk of agent burn out with transparent performance management. Virtual wallboards help supervisors display important performance metrics to their agents, enabling them to work collectively toward common goals from wherever they're working.
Agents are also able to see an automated slideshow of rankings, awards, and achievements. When performance goals and achievements are visible to agents, they're more engaged and less likely to feel burn out.
Reactive Management Leads to Disengaged Agents at Risk of Burnout
A very common reason why contact centre agents quit is due to reactive management. Especially in a hybrid remote workforce, it's easy for agents to feel like they're working without support. Many contact centre supervisors are no longer able to "walk the floor" and provide assistance for agents.
Agents who feel disconnected from their managers or that their managers are not providing the support they need are at high-risk for agent burnout.
Being a proactive contact centre supervisor can greatly reduce agent burnout. Supervisors can leverage schedule-based report subscriptions and metric monitoring alerts to identify issues as they're happening and take corrective action.
They can also utilize gamification to incentivize agents to improve behavior with games, challenges, coins, badges, gems, avatars, and a customizable marketplace. Proactive contact centre management drives high-performing organizations while reducing common culprits of agent burnout.
Don't let common operational roadblocks keep you from driving contact centre excellence and engaged agents.
This blog post has been re-published by kind permission of Five9 – View the
Original Article
For more information about Five9 - visit the
Five9 Website