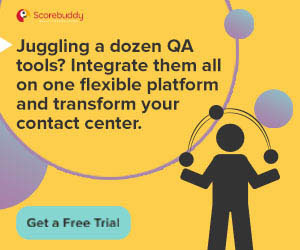 While a call centre's primary purpose is delivering the best possible customer service, part of that equation should also include effectively generating sales. After all, high-level customer service interactions allow you to identify what a customer wants and presents the opportunity to sell them exactly what they need.
That being said, many businesses find it difficult to effectively generate sales from their call centre. When you consider that callers are primarily seeking answers to questions and resolutions to problems, sales can get a bit lost in the shuffle.
As more call centres move toward upselling and cross-selling, customer service agents today need more well-rounded skills so they can deliver great customer service and close sales simultaneously.
When done correctly, call centre sales training dramatically improves conversion rates, average order size, and overall customer experience (CX).
#1 Prioritize Call Quality Management
We'll call this one a 'prelude to everything' step. Before you can explore sales opportunities in your call centre, make sure your agents are managing calls as efficiently as possible.
Your customer experience needs to be at such a level that your customers are satisfied, and more importantly, engaged and delighted. Your chances to convert a call into a sale diminish greatly if callers experience long hold times or any other frustrations, however minor, along the CX journey.
#2 Unlock a New Thought Process
The probability of successfully selling to existing happy customers is far greater than when selling to a new customer. It's so much easier dealing with satisfied customers for myriad reasons, not the least of which is they can be a valuable source of referrals to the sales team.
This is one of the primary reasons why your customer service team has a direct impact on the effectiveness of your sales team. Forward-thinking call centres align their sales training to speak to both sales and customer service teams to improve the customer experience and increase close rates.
#3 Encourage Cross-Selling & Upselling
Among the most seamless ways to blend sales with the customer service part of call centre operations is through cross-selling and upselling. If taking sales orders is already a part of your call centre operations, train your agents to offer add-ons that make sense as part of the sale.
When a customer calls in to ask for help on one product, agents can take the opportunity to explain how another of the company's products or services can alleviate some of their pain points. A perfect example is if your customer is buying a computer, your agents should be suggesting adding a printer to their shopping cart. It's essentially the ABC rule of thumb — 'Always Be Closing'!
Agents should instinctively discuss add-ons, support packages, or upgrades that can improve the customer experience. The goal is to talk about these other products and services in such a way that they help the customer feel like they have been successfully serviced.
#4 Identify Follow-Up Opportunities
Post-call follow-up is a valuable opportunity to sell products or solutions to your satisfied customers. Train your agents to conduct follow-up calls or emails where they can suggest services that relate to the purpose of the initial call.
For example, consider what happens when a customer calls for troubleshooting tips on a tech item. Even after their primary concern is resolved, there is an awareness that tech issues are inevitable for many electronic items. Following up on this sentiment creates an opportunity to suggest a maintenance plan that covers future issues.
#5 Add a Personal Touch
Making a sale isn't a one-time shot. It's a process of nurturing a relationship over time and becomes more fruitful as trust and respect develop.
Consider why your customers are calling and how you can alert them to something that might be of particular benefit to them. Train your agents to provide personalized messages and recommendations over email or text message. Remember, the more personalized each message is, the more likely the sale will happen.
Basic courtesies like expressing your appreciation for their business and saying please and thank you can resonate positively with customers. When your customers feel seen and appreciated, it's much easier to ask them to consider making a purchase. Appreciation can be built into recorded messages, scripts, and even follow-up emails.
#6 Get Familiar With Your Solution
To sell your company's product or service, your agents need an in-depth understanding of its value and purpose. While that might seem overly obvious, consider that only 13% of customers actually believe a salesperson understands their needs.
You're already dealing from a deficit position, so if you slip up on what the product can do, the pain points it helps alleviate, or any important specs, you're more likely to miss out on selling opportunities.
No one knows this better than your call centre agents, as understanding your products/services inside out is what they live and breathe all day, every day. Understanding common complaints and their solutions can make a world of difference in the customer's experience and help nudge them to buy.
#7 Unify Call Centre Sales & Service
Customer service and sales go hand-in-hand. When someone calls in to complain about a product or ask for help, agents have the opportunity to turn the conversation into a sales-related one.
Since the customer service representative has already built a rapport with the caller, they can be a perfect option to complete a sale. But when you add the additional step of transferring the call to a sales rep, you break the momentum your agents built up to that point.
Instead, streamline the service-to-sales handoff for your customers by training your agents to walk both sides of the aisle. Look for customer service agents that demonstrate the following soft skills:
Willing to learn
Adaptable to any situation
Patient and positive
Emotionally intelligent
Problem solvers
Motivated by success
Focused on teamwork
Excellent communicators
Customer service interactions allow an agent to find out exactly what a customer wants and presents an opportunity to sell them exactly what they need. When the customer service team member can double as a call centre sales representative, customers experience a seamless move from service to a potential sale.
#8 Create a Healthy Competition
Part of your call centre sales training should encourage a little friendly competition among your agents. Sales is considered a dog-eat-dog world, which is not an environment that everyone flourishes in. However, it can work when they are motivated to push harder as part of friendly in-house competition.
Whether you create teams that compete against each other every month for bonuses, or you offer weekly sales winners a special prize, competition is great motivation to help close sales. The key is to create a staggered rewards program and hand out awards throughout the year. That way, you consistently and constantly motivate your agents to keep the sales effort top of mind.
#9 Lean Into Text Analytics Data
Customer data is a call centre's best friend, and call centre text analytics provides robust customer-centric data. These insights become a valuable sales tool as they allow your call centre to use historical information to directly alleviate customer concerns, removing any potential barriers on the road to purchase.
Text analytics software analyses text to extract insight on sentiment, emotion, problems, trends, language, and key phrases. Through natural language processing and machine learning, the software automatically reviews every text-based channel—live chat, email, transcript, and customer support tickets—to provide a holistic view of the customer experience.
Using this data to offer real-time conversational guidance gives your products/services a leg up on the competition. It also helps your agents differentiate your offerings, shining a light on benefits and advantages. This aggregated information on all text interactions through text analytics also helps build predictive models to follow, making overall call centre operations more successful.
#10 Focus on Building Customer Trust
Training agents to recognize the similarities between customer service and sales is an important thing to consider. Closing sales is actually a pretty small part of a salesperson's day-to-day job. Fact is, it encompasses roughly a third of their time selling.
They spend the rest of their time nurturing relationships — just like customer service agents do. They listen to customers' concerns, address their needs, and consistently check in to ensure they feel comfortable giving (or continuing to give) the company their business.
Sales reps need to demonstrate empathy, understanding, and respect during an initial sales call to begin the process of trust. The goal of any good customer service agent mirrors this goal. Call centre sales training that focuses on gaining the trust of customers/prospects allows them to begin to envision a potential relationship with the company, the first step in the journey to closing a sale.
Ultimately, the goal should be to create a unified experience for the customer, whether they speak with sales or customer service.
Call centres are your primary source of customer interaction, providing your customers a chance to vent their problems, find a listening ear, and get assistance.
If you build a team of alert individuals who can anticipate customers' needs, call centres can provide true value through real-time conversations over the phone, via text, chat, and the web. And, with just a few minor adjustments, and the right training regarding those adjustments, you can use your call centre to boost sales.
Call centres are the front line for many companies. It only makes sense to consider their vast sales potential. By taking the time to truly create a service and sales-driven caller experience, you may find an incredibly efficient and effective way to generate more revenue.
This blog post has been re-published by kind permission of Scorebuddy – View the
Original Article
For more information about Scorebuddy - visit the
Scorebuddy Website