Comdata argue that customer feedback management (CFM) is key to put the customer back in the driving seat.
Stories about businesses putting consumers at the heart of their business have been around for a long time, so much that it has become a cliché.
However, advances in technology and the way people can interact with those technologies have made it possible to make the customer the focus in ways that have never been achievable before.
Studies conducted by Comdata Digital show that from all dissatisfied customers, less than 10% spontaneously make a complaint.
In other words, brands are blind to more than 90% of their dissatisfied customers… unless they ask for their feedback.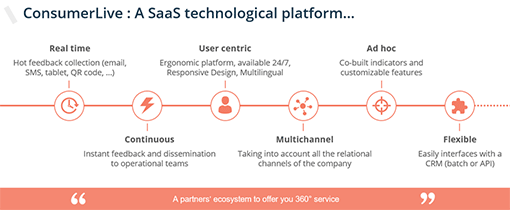 Stephanie Zanzucchi, Customer Feedback Director at Comdata Digital, explains that a major part of the move towards customer-centricity is based on CFM.
The new element of this, as people have been getting feedback from customers for decades, is the technology that enables the collection of this data in real-time – in Comdata's case, this is through ConsumerLive, its cutting edge SaaS solution.
Customer Feedback Management and the Omnichannel Solution

"We are talking about an omnichannel solution that takes all of the customer feedback from everywhere and brings it together," says Zanzucchi. "This could be after visiting the shop, contacting the customer service, or using the website."
The solution can manage emails, SMS, IVR, kiosks, QR codes and banners, and interfaces easily with a CRM system. The aim is to continue to improve businesses in real-time.
"Traditionally customer experience has been analyzed after hours or even days," adds Zanzucchi. "We call this a cold survey whereas what people need is a hot survey, immediately after an interaction or a transaction with the brand."
The logic is that if someone has had a poor experience (or even a good one), the sentiment is at its strongest immediately afterward, not after a couple of days' cooling down.
In fact, fewer people will bother leaving feedback when more time has elapsed.
This is important because, as Zanzucchi points out, people's buying decisions are based increasingly on their experience rather than on advertising and businesses without this real-time knowledge and with such a low response rate don't know what's going on in their company. This is why CFM as a component of a customer plan is of its time now.
Brands are acknowledging the limits of a cold survey as a way of engaging with clients and to take action with their customers in real-time whilst making the customer journey simpler.
The CFM allows hot analysis of customer feedback and triggers retention and loyalty actions in real-time.
Stephanie Zanzucchi: "In B2B There is a Risk to Not Getting Customer Feedback"
Research shows that without reacting to customers' experiences, customer retention becomes more difficult.
Cross-selling also becomes simpler if a business reacts to data.
"This is understood in the business to consumer market but I would add that it's increasingly important in business to business," says Zanzucchi. "You don't handle it the same way but in B2B there is a risk to not getting customer feedback."
"Usually we look not only at the financial return but to look also at other KPIs that brands needs to measure," she says.
"Some companies want to improve their Net Promoter score, others have different priorities like Customer Effort score; with a CFM tool they can see weekly or monthly evolution in how they operate."
Customer Feedback Analysis is the Key
Implementation is tailored according to the client's requirements; it can be based on an existing CRM, collection can come from emails (which work surprisingly well) and clients should be able to start re-engaging customers relatively quickly.
Internally it's important to come to such a project with shared metrics and targets at the outset, and as long as these elements are understood the results can be very swift.
An automotive company employed traditional research company across Europe for mystery shopping and customer satisfaction survey within their dealer network. It stopped because the cost was too high and the delay in getting the data meant it was not delivering improvements quickly enough.
Deploying CFM was the answer to what had become a daily need, understanding what was going on in the showrooms the whole time.
"We worked with their customer service, which we already ran," says Zanzucchi.
"There were three different ways of contacting the customer service team, in 15 different languages and it needed to be available 24 hours per day with analytics in real-time. And then we extended our solution to the dealer network to have a global overview on the customer journey."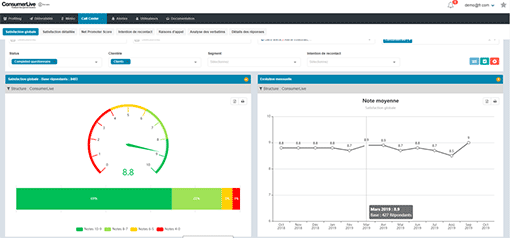 The management wanted to provide to the local country management concrete customer insights on products and services on a weekly base.
Zanzucchi says: "In ConsumerLive we have a feature that codifies and qualify customers feedback with text-based analysis."
The company was able to improve services in a complex environment very quickly, even when they were in the middle of deploying SalesForce as a CRM – Comdata Digital developed a SalesForce Connector for them.
Completing the Voice of Customer (VoC) Framework
Implementing a Customer Feedback Management approach (with Customer and Employees) would complete the Voice Of the Customer (VOC) framework to account for a full 360° vision.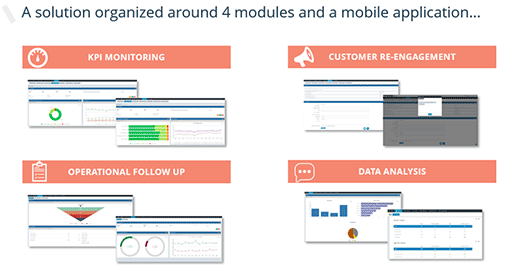 If your needs are complex like the car manufacturer, involving multiple inputs across different languages, it has to be worth simplifying them.
As a component of a customer-centric business, a CFM solution such as ConsumerLive will assimilate analyze the data, digest it and analyze it according to your individual KPIs and help all the areas of the company to drive the day to day business and oversee future improvement in products, services, and processes. The results will be evident very quickly.
Business leaders have understood that what is good for customers is also good for employees.
As a result, they have started implementing Employee Feedback Management programs as well. This way employee feedback becomes also crucial for the customer experience.
For more interesting insights from Comdata Group, visit: www.comdatagroup.com