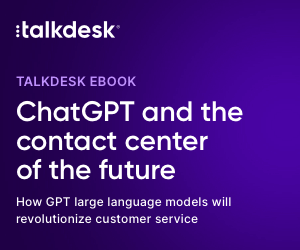 Talkdesk's Génesis Longo explains that when trying to drive brand loyalty, improving first call resolution (FCR) in the contact centre should be a retailer's top focus.
In this day and age, with e-commerce at the forefront of many retail experiences and the seemingly endless choices of products with competitive pricing, service is becoming the differentiator.
Loyalty is more than just a points system to reward customers. Customer loyalty is, ultimately, about creating connections with customers that keep them coming back because they feel heard and seen.
Retail itself has consistently higher standards and a greater complexity of channels than any other industry. Research conducted by Talkdesk earlier this year found that the number one driver of customer loyalty is first contact resolution.
So, how can companies prioritize customer service? Or better yet, how can they improve their customer service through FCR?
Three Tips on How to Improve FCR
A company is only as good as its employees, and ensuring contact centre agents are equipped and empowered to solve customer issues quickly and correctly is key to improving FCR.
1. Provide a Seamless Customer Experience
Arguably the most important thing a retailer can do for both its customers and employees is create a seamless experience across all channels—the physical and digital experiences.
Ten years after the buzzword "omnichannel" hit the market, retailers are seeing a shift in the commerce experience.
Many retailers have customer data stockpiled in different areas, creating a difficult environment for service representatives to resolve client concerns.
The shift from omnichannel to a completely unified experience will allow employees to access information across all channels with a 360º view. Unfortunately, the traditional retail tech landscape is not built for this transformation.
"If we go back to that concept of unified commerce, getting all the data right is the unlock to be able to deliver the objectives around seamless and personalized experiences…
"The implication of this is that you may not have the technologies that matter in place or integrated in other systems, but using your contact centre as the way to bring all of that into a unified view is going to help unlock the value." – Shannon Flanagan, global VP of retail, Talkdesk
Retailers can provide seamless and personalized experiences by relying on solutions that accelerate the speed of resolution. This can be done in one of a few ways:
Enabling communication with customers on the device of their choice.
Providing even greater self-service.
Identifying the proper associate needed for the customer issue.
2. Empower Contact Centre Agents
To improve FCR and create that seamless customer experience, retail brands need to ensure their contact centre agents feel empowered and prepared to face any issues that might come their way. Talkdesk research calls out five primary challenges facing contact centre agents.
1. Support
CX professionals cite inadequate support from executive leadership, particularly when working remotely.
2. Consistency
42% of CX professionals report that their biggest hurdle is providing consistent engagement with customers across all channels.
3. Time Management
Agents responded that replying to inbound customer queries in a timely manner was a difficulty for them.
4. Respect for Boundaries
It was reported that tailoring interactions specific to the customer and their personal needs became difficult while simultaneously respecting customer privacy.
5. Connection
While trying to maintain a meaningful connection to drive customer satisfaction, CX professionals reported it was difficult to do so virtually.
Remember: No one calls a contact centre because they are happy. So, as business leaders and owners, make sure you are empathetic to your agents' needs and ensure they have the tools and resources to do their job with as little frustration as possible. In turn, this will allow agents to be more empathetic with the customer.
As the importance of contact centres grows, CX professionals recognize their own responsibilities growing in tandem. The same Talkdesk research found that 85% of agents agreed they are expected to handle more complicated issues than a year ago.
Nearly 90% of CX professionals reported that they are expected to know more about their brand's stance on social issues than they were a year ago.
Another 86% foresee customer relationship growth as a KPI within the next five years. These findings indicate the importance of the contact centre agent's role in the success of the company.
3. Understand and Address Causes of Customer Issues
Another benefit of improving your FCR through AI-influenced solutions is that it works in real-time. There is no delayed understanding of the big picture or what the main causes of customer dissatisfaction might be.
There's also no waiting to see what's trending with returns, product issues, or logistics issues. All of the information is at the contact centre agent's fingertips—instantaneously. This also allows retailers to use accessible data when addressing entire CX teams about recurring issues.
To remain relevant, retail brands must streamline and automate common retail inquiries and provide self-service for customers who want it. Understanding common customer issues helps limit resolve time, satisfy the customer, and make the employee's job simpler.
Moving Forward: How to Improve FCR and Increase Loyalty
If retailers are trying to increase brand loyalty, they need to focus on the customer; they need to improve that first contact resolution rate for both the customer the employee's sake and the brand.
Ultimately, this begins with creating a seamless customer experience, in which customers have the option to contact an agent with their preferred method, having their needs met correctly and quickly.
Improving FCR requires employee empowerment—not just enablement—so they can efficiently resolve customer issues and optimize performance and operations to drive the profit and loss of the contact centre.
Lastly, FCR improvement requires retailers to streamline and automate common customer inquiries. For instance, common questions such as "Where is my order?" should not need to involve an agent. Customers especially want to self-serve for trivial issues.
Retailers need to keep the vision of service in their sight-line, tracking trends and focusing on the customer experience.
Because, ultimately, brands should move from reactive and transactional to proactive and conversational, all while improving the customer experience and focusing on first contact resolutions.
This blog post has been re-published by kind permission of Talkdesk – View the
Original Article
For more information about Talkdesk - visit the
Talkdesk Website