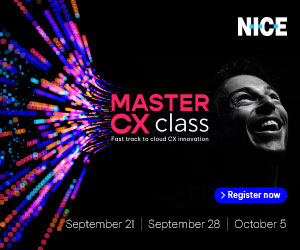 Richard Correia at NICE shares insights on how to improve the customer journey.
When a customer reaches out to an organization, they care about one thing – getting the right information, answer, or successful and rapid completion of a transaction. Customers are not concerned about which department they are supposed to contact, only that their issue is addressed and resolved.
If you ask someone in a company who a customer should reach out to in order to get something taken care of, they'll think about which product it is and which department is responsible.
This is understandable because companies have spent decades building separate functions in order to "streamline" the handling of transactions and interactions.
While this approach was necessary for decades and still works in some companies, it may no longer be the best approach for the company and is generally not ideal for customers or their needs.
Let me put it another way – companies that logically combine their front- and back-office operating departments are likely to reduce the operating costs of the combined departments by 20%–40%.
In other words, when contact center and back-office processing functions are combined, companies should realize the following benefits:
Reduced time to handle and process inquiries or transactions
Improved customer experience
Reduced cost of handling and processing inquiries
Improved agent experience
Intelligent RPA, IVAs and VAs Improve the Service Experience
There is a new generation of workflow-enabled solutions in the market that allow contact center agents to fully process transactions, instead of being the "welcoming committee."
For the past 5 decades, front-office employees answered calls (and in more recent years, digital interactions), listened to customers and figured out what they needed done, and then wrote up forms.
In more recent years, they automated work cases, which were sent to the back office for processing. This means that the same issues were handled by at least two people, which is expensive, as each time an inquiry is reviewed it takes time to understand what the customer wants/needs done.
Artificial intelligence (AI)-enabled solutions, including robotic process automation (RPA), intelligent virtual agents (IVAs) and virtual assistants (VAs), have emerged during the past few years, and are helping contact centers and back-office departments process transactions quickly and accurately.
These workflow-enabled applications are able to complete tasks that previously required live employees to handle.
It's a given that these solutions can automate tasks that do not require the cognitive capabilities of humans, such as data propagation, "cut and paste," accessing knowledge-base articles, bringing up next-best-action recommendations, etc.
These solutions can now do more, as they are getting more intelligent and can more fully automate the handling of interactions, further reducing the need for live agents or back-office employees. This is bringing an end to the days of passing or faxing forms between departments.
Now that contact center employees receive inquiries or transaction requests and the automated RPA application or virtual agent solutions automate their processing, the need for back-office resources will shrink in companies that make the necessary investments.
Getting Started With a Front- and Back-Office Consolidation
Combining front- and back-office departments is conceptually simple but practically difficult. Companies have done business with discrete front and back offices for decades, in some cases, for as long as 50 years. It's what the companies and their employees are accustomed to doing.
In order to make the necessary changes to simplify and improve the customer journey, the front office is likely going to become responsible for performing many of the tasks previously handled by people in the back office.
DMG recommends that companies be open as they explain and discuss the need for these changes with employees in both departments. The objective should not be to eliminate the back office but instead to automate the tasks that machines perform more effectively than people.
At the same time, companies should make new job opportunities available to back-office resources who are displaced by these initiatives.
Opportunities should include working in the contact center, building RPAs and IVAs, performing quality management to ensure that the systems are performing properly, as well as functions in other departments within the company.
As the salary ranges for back-office employees are generally low, this could and should be a good opportunity for advancement for many of these people, particularly if the company is willing to invest in their training.
DMG recently published a white paper entitled The Secret to Improving Agent Productivity and CX: Consolidate Contact Center and Back-Office Operations. This white paper provides a project plan with the phases and steps that companies need to undertake in order to succeed with their front- and back-office consolidation initiatives.
The white paper reviews the steps needed to kick off and prepare for the initiative and to get all employees engaged and involved. It then provides best practices for deciding what tasks and activities can be automated and how to prioritize them.
It presents a proven methodology for selecting the right systems and applications to perform the automations, and lastly, it presents guidelines for implementing the new AI-enabled intelligent automation applications.
This blog post has been re-published by kind permission of NICE – View the
Original Article
For more information about NICE - visit the
NICE Website