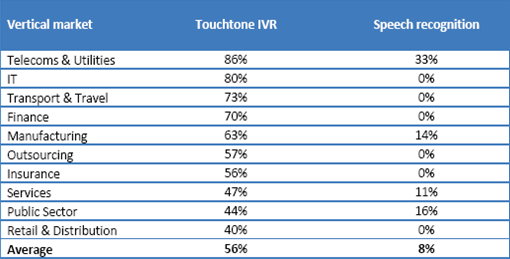 Despite a common dislike of touchtone technology, new research published by ContactBabel has found that IVR usage is still widespread in large call centres.  Touchtone technology is used to greet callers in 56% of contact centres.

In 2009 the number of call centres using IVR or speech recognition has shown a small decline to 64% (56% Touchtone IVR and 8% speech recognition), having peaked at 67% in 2007.  In contrast the 2004 figure was 46% Touchtone IVR and 8% speech recognition.

IVR usage is highest in telecoms and utilities and lowest in retail and distribution.

The report also highlights that in voice self service a mean average of 17% of calls that go into the self-service option are "zeroed-out", i.e. where the customer decides that they in fact wish to speak with an operator.
The report's author, Steve Morrell, commented:
"The use of touchtone IVR has probably peaked: it's a mature technology, and although it does a competent job in many cases, it is inflexible and unpopular with customers. Industries such as telecoms and utilities have been using IVR for many years, especially in cases where a large proportion of calls are repetitive (such as meter readings) or where call volumes are very high and reducing misdirected calls really cuts cost. However, for sales-driven industries like retail, many businesses have chosen to deal live with the customer as soon as they can, and in the public sector – a high-growth area of the contact centre industry – the need to improve customer satisfaction is paramount. However, we would expect speech recognition to continue its substitution of touchtone IVR, although the cut in many businesses' capital expenditure has put speech projects on hold."
The "UK Contact Centre Decision-Makers' Guide (2009 – 7th edition)" replaces the "UK Contact Centre Operational Review" as the major annual report studying the performance, operations, technology and HR aspects of UK contact centre operations.
Taking a random sample of the industry, a detailed structured questionnaire was asked to 210 contact centre managers and directors between April and July 2009. Analysis of the results was carried out July to August 2009. The result is the 7th edition of the largest and most comprehensive study of all aspects of the UK contact centre industry.
A free copy of the Executive Summary is available from the ContactBabel website (www.contactbabel.com).