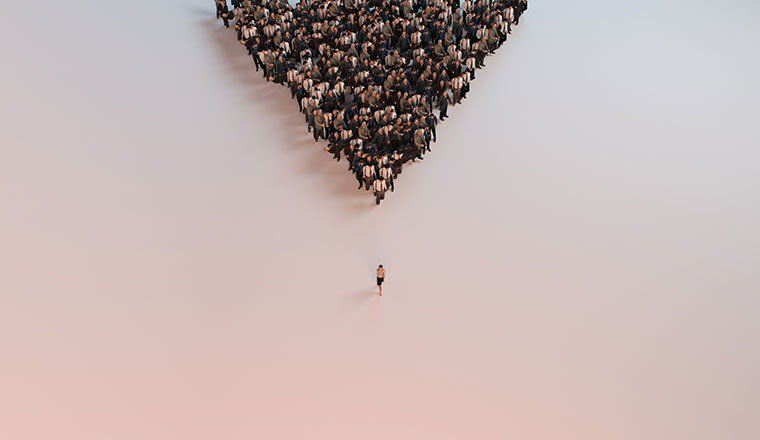 Mandy Holmes of Enghouse Interactive introduces four fundamental principles that must be in place in order to take full advantage of the opportunities of our ever-changing marketplace.
1. Leaders Must Recognise the Need for Change
Recognising the need for change requires more than mere lip service. Failure to adapt in today's marketplace means extinction for a company, or at the least, irrelevance.
Over the last decade, the way that members communicate with their credit union has changed dramatically.
In the past, if customers couldn't stop in at their local branch they would have to contact the call centre, navigate the phone tree, and hope they could find the right person to answer their questions without having to be transferred multiple times.
Today, most of the information customers need is available via the cell phone app in their pocket! This convenience and accessibility enhances customer satisfaction, but it also elevates customers' expectations.
Having become accustomed to such convenience, members who find they have to call in to a call centre no longer have the patience to endure long hold times, unnecessary transfers between departments, and inconsistent information.
To be a leader in the digital transformation of credit unions, companies must strive for consistency in the member experience.
2. Leaders Must Foster Cross-Functional Engagement
According to Forrester's US Banking Customer Experience Index, 2017, the top emotions that drive loyalty for direct banks and credit unions are feeling appreciated, confident and valued, and the impact of these positive emotions is significant – among customers who feel valued, 90% will advocate for the brand.
In order to achieve consistency in the member experience and drive customer satisfaction, leaders must facilitate cross-functional engagement that builds symmetry into the member's experience.
When a member contacts a call centre for assistance, getting the information in a convenient manner is of utmost importance, especially when using the app. In order to achieve this, the various stakeholders must be brought together to create solutions.
Too often, the systems that call centre team members are using have been patched and updated with bolt-on systems time and time again. What is needed is an investment in customer service-facing systems that bring them into alignment with member-facing systems so that customer service representatives are seeing what the members are seeing.
One of the best ways to achieve this outcome is to bring together digital teams and contact centre teams, and have them sit side by side to observe the member experience and thereby better understand one another's point of view.
3. Leaders Must Be Purposeful When Planning a Digital Platform
Author E.M. Foster once wrote, "How do I know what I think until I see what I say?" Such thinking may be fine for the essayist, but for those seeking to lead the way in digital transformation, a clearer picture of the desired outcome is necessary.
Do not fall prey to the miserly thinking that holds on to old systems in the hope of short-term savings, while sacrificing the advances in customer service and convenience that can result from a well thought-out and fully developed digital core system.
Planners should ask themselves how to provide members with the highest level of convenience while prompting them to reach out to contact centres for additional service as needed.
This goes for agents as well. While speed of service and convenient ways to contact a credit union's member experience team are crucial, most agents don't have fast, easy access to the insights they need to do their job.
According to Kiva Group's 6th Annual Credit Union Call Center Survey, almost 80% of respondents said they do not have single sign-on capabilities to access different data sources/systems.
By implementing an omnichannel system that has a single access point for agents, overall efficiency and effectiveness for any member experience team will improve drastically.
4. Leaders Must Take Full Advantage of the Data at Their Disposal
Data analytics are the key to understanding members' needs. There is a wealth of information available to industry leaders if they will look for it.
Contact centre representatives know what customers want. These team members are on the front lines, interacting with customers moment by moment, in ways that the executives who are making the decisions may not have done in a very long time. These representatives are the ones who will implement the systems that are developed and as such have a vested interest in their success.
Customer complaints, verbatims, touchpoints, digital surveys, and customer service representatives' observations should all be taken into account when developing digital platforms that will drive desired behaviours and help to shape the members' experience in a positive way.
The way that members interact with their credit union has changed, and will continue to change over time. Those companies and leaders who are set in their ways, satisfied with the status quo, and are holding on to outdated systems are likely to be left behind.
However, those who are committed to member satisfaction, excellence, and innovation have the opportunity to become true leaders in their industry through purposeful investments in digital transformation.
In a world that battles competition daily, the "members first" approach guiding credit unions comes as a breath of fresh air. Focusing on profit margins isn't what drives this industry, but an all-inclusive "what's best for the members" approach will.
In the hustling world we live in, the sense of community is exciting in the world of banking.
You may be wondering "How can credit unions keep this philosophy alive and thriving amidst a technology-filled world?" On top of that, how can credit unions guarantee expansion and member loyalty? The secret lies in creating a top-notch member experience.
This blog post has been re-published by kind permission of Enghouse Interactive – View the original post
To find out more about Enghouse Interactive, visit their website.
---