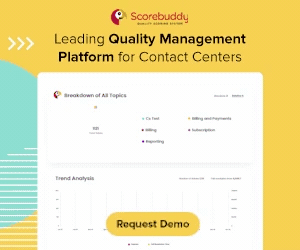 As the old saying goes, "you never get a second chance to make a good first impression." That quote sums up the importance of the first call resolution (FCR) metric in a call centre operation. When you consider that one-third of customers will drop you after just one negative customer experience, first call resolution becomes critical.
First call resolution is exactly what it sounds like, as it's all about how your agents handle a customer's issues during first contact.
This can mean anything from resolving problems during a phone call, first email, single social media contact, or live chat support. The goal is to eliminate the need for your customer to follow up with a second call.
FCR is also a measurement of operational performance and efficiency, helping you save money by ensuring your agents spend less time on unnecessary customer support.
While first call resolution is a simple concept on its surface, it's far more complicated and can be a very difficult KPI to assess correctly. It's important to clearly define what FCR means for your call centre and develop a framework to measure it consistently.
Measuring First Call Resolution
To accurately measure first call resolution, you first need to customize a process for your call centre. It should be tailored to your agents' skill sets, communication channels and organizational best practices.
For example, some businesses only apply FCR to phone calls (live interactions) where an agent can communicate directly with a customer and resolve the interaction.
For other businesses, live chat, email, and social media are included in FCR. There are also discrepancies on whether customer service inquiries that require a callback, transfer to another source of support, or escalation to a manager count as first contact resolution.
You need to define the above discrepancies and determine how your call centre will define specific FCR parameters. The key is to produce your criteria by answering a few questions:
What channels does FCR apply to?
What does it mean to sufficiently resolve a customer's problem?
Does a call/contact escalation negate FCR?
How does a standard callback requirement work within FCR?
Does a customer contacting the wrong department affect FCR?
What constitutes a repeat call?
How do you count abandoned calls due to wait times before an agent interaction?
The more specific you can be about what constitutes a resolved call and what does not, and within what channels you will include data from, the more accurate and effective your first call resolution rate will be.
Calculating FCR Rate
Calculating your first call resolution rate is simple using the standard formula that provides this metric. To calculate it, you simply divide the number of support issues resolved during your first contact by the total number of FCR-eligible issues.
FCR Rate = (total number of resolved support issues on first contact) / (total number of eligible support issues)
The keyword in this equation is eligible. You should not include issues that would be impossible to resolve on first contact. For example, if the customer told you about the incorrect problem over the phone or through email.
As you might expect, a high FCR is almost always associated with high levels of customer satisfaction. As for a percentage figure that represents a good FCR rate, the Call Center Industry average FCR benchmark rate is 70%. This means that 30% of customers have to call back the organization about the same inquiry or problem. The First Call Resolution industry standard for a good FCR rate is 70% to 75%. The World-class FCR rate is 80% or higher and only 5% of call centres are able to achieve the World-class FCR Rate.
Among the many benefits of measuring FCR are gaining a better understanding of your customers, identification of your strongest agents, increased revenue, and a decrease in overall call volume.
Companies that measure annual FCR rates saw a drastic improvement in overall performance. A study by the Ascent Group revealed that 60% of businesses that measure FCR for a year or more report up to a 30% increase in company performance.
CSAT & NPS Are Vital Follow-ups
Whether you're looking to measure FCR or just analyzing overall customer experience, your call centre should use a CSAT survey or NPS to see if your customer was truly satisfied.
This follow-up outreach can help you understand how satisfied your customers are with your support and what you can do to make improvements. These scores can also provide immediate insight into FCR and help prompt your contact centre to fix problems immediately.
This blog post has been re-published by kind permission of Scorebuddy – View the
Original Article
For more information about Scorebuddy - visit the
Scorebuddy Website