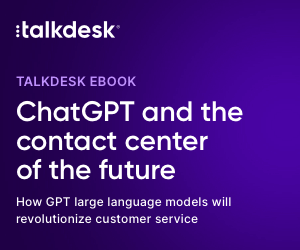 Lídia Dias at Talkdesk outlines the contact centre tools and features you can't afford not to have if you want to deliver a great customer experience.
The customer service landscape has changed a lot in the past few years: from having agents just answering phone calls to handling multiple customer touchpoints, modern contact centres are expected not only to solve customers' queries but also to contribute positively to the customer experience (CX).
Technology is fundamental to creating unforgettable experiences in which the customer feels heard, seen, and understood. But, knowing that companies don't have unlimited budgets, which features should they focus on to deliver great CX?
Below is a list of the top 8 must-have contact centre tools to improve customer service outcomes and deliver outstanding CX.
8 Must-Have Contact Centre Tools.
1. Interactive Voice Response System.
Interactive voice response (IVR) is a telephony menu system that allows caller identification and routes the call to the most appropriate agent. IVR systems are essential elements of contact centres.
They route specific calls to specific agents (e.g., tech calls to technical support agents and after-hours calls to after-hours agents), thus increasing the efficiency of every interaction.
They also ensure that no call falls through the cracks and callers are always routed to the right agent, helping to increase first call resolution (FCR). It can be the most important feature in your contact centre tool kit.
2. Cloud-Based Contact Centre Software.
Actually, cloud-based contact centre software is more than a tool—it is the foundation of modern contact centres.
Also known as cloud solutions, they ensure that all your agents are using the same technology and accessing the same level of information, and that quality standards are being met, no matter where agents are located.
Cloud-based contact centre software also facilitates accessing additional information sources by integrating with third-party systems (such as customer relationship management (CRM) systems) and interacting with customers on their favorite channels (such as voice and digital).
3. Real-Time Analytics.
Ensuring that your team is performing optimally requires accessing comprehensive metrics. Real-time dashboards allow you to make timely, data-driven decisions to improve CX.
With customized dashboards, you can see real-time metrics like service level, number of calls in queue, and average hold time, among others, to better tailor service to customers and manage your agents to improve their performance.
4. Call Monitoring, Whisper Coaching, and Call Barging.
With the increase of remote and hybrid workforces, contact centre managers and supervisors faced a new level of challenge when it comes to onboarding and training new agents.
To thrive in this new scenario, it's fundamental to have good training tools that require minimal effort from both supervisors and new agents, but still deliver all the information to provide top-notch customer service.
Three must-have features for any management team looking to increase the performance of their workforce are call monitoring, whisper coaching, and call barging.
Call monitoring allows a manager to listen to a live call without the agent or the caller knowing. This is helpful when monitoring for quality assurance and training purposes.
Whisper coaching allows a manager to coach the agent through the call, without the caller knowing—really useful when training new agents, or helping more seasoned agents through a difficult call.
Call barging allows the manager to listen in on calls without the agent or caller knowing and then barge in when the agent is struggling or the caller asks to speak with a manager. All three features are critical when managing a distributed workforce of call centre agents.
5. Call Conferencing.
Call conferencing is a helpful feature to support agents' interactions with customers. When an agent is struggling or would like the help of an agent from a different department, they can conference without having to transfer the call.
It increases the chances for customers to have a resolution in the first interaction (thus increasing the FCR rate) and improves team collaboration, allowing tenured agents to coach and teach less experienced peers.
6. Call Recording.
Contact centre managers and supervisors have a lot on their plates and need tools to make their daily responsibilities easier and more effective.
Call recording is a contact centre tool that allows them to keep a close eye on each agent, whether they work from the same office or time zone or not, listen to recorded calls when it is most convenient, and provide feedback to their team accordingly.
7. Automation.
Automation and artificial intelligence (AI) play a big role in today's customer service. Contact centre automation is a set of simple workflows that automates tasks and improves agent productivity.
There are many different ways to automate contact centre activity and reduce non-call tasks, such as information updates, survey emails, and other after-call tasks, to eliminate repetitive work and free your agents to focus on what matters most: the customer.
This often includes behind-the-scenes actions—such as finishing a post-call record, keeping or searching for the right next best action—but can also be customer-facing, such as a self-service chatbot that helps customers answer FAQs and automation will improve agents' efficiency and make their job easier.
8. Integrated Business Tools.
Integration with commonly used systems and software will increase agents' productivity and have a positive impact on customer satisfaction (CSAT).
Integrations connect your contact centre to a set of business tools that allow information to be shared between departments in real-time and reduce the workload for agents, as they won't have to update multiple business tools with the same information.
By integrating other systems with the contact centre solution, all customer data be gathered from several sources and displayed in one single workspace. Additionally, you will be able to configure your contact centre software to automatically trigger events in connected applications and save agents time.
Before You Go.
The eight aforementioned contact centre tools are step-stones to improve agents' efficiency and enhance your company's CX. They help your team to easily collaborate, communicate, and stay on the same page.
This blog post has been re-published by kind permission of Talkdesk – View the
Original Article
For more information about Talkdesk - visit the
Talkdesk Website