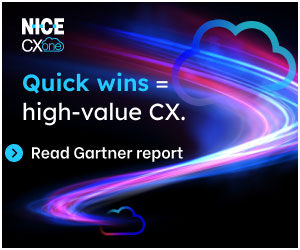 NICE have announced the launch of ElevateAI, a new AIaaS solution that brings the power of Enlighten AI, its purpose-built CX AI, to the developer community.
NICE is expanding its AI and Analytics leadership beyond the software market with AI services, enabling creators access to unrivalled data to enrich every moment of every customer interaction.
Now with ElevateAI, creators can quickly and easily tap into NICE's award-winning AI with developer-friendly APIs, instant sign-up capabilities, and affordable consumption-based pricing.
ElevateAI supports the booming demand for artificial intelligence to improve CX. In Forrester's publication, "The Three Customer Service Megatrends in 2022," the analysts report that "In response to the COVID-19 crisis, 52% of companies accelerated their AI adoption plans.
In 2022, being 'data-driven' must become more than just a slogan." Further, the 2022 Gartner Hype Cycle for Emerging Technologies states, "Expanding AI adoption is a critical way to evolve products, services and solutions." In today's ultra-competitive business environment, AI is now a must-have to turn CX into a real competitive differentiator.
ElevateAI gives the industry a new way to gain customer insights across audio, transcripts, and chats to build smart CX applications.
Through an easy-to-use API, organisations of all sizes can understand the voice of their customers with automated speech recognition (ASR) technology trained on billions of interactions from the world's leading CX dataset.
Pre-built CX AI models, developed with 20 years of research and proven outcomes, provide the ability to understand sentiment and behaviour on a massive scale.
An open and flexible architecture supports easy integration with any existing technology stack while powering limitless innovation. With ElevateAI, the creator community can use AI to define a new standard for CX development.
Barry Cooper, President, CX Division, NICE, said, "The data-driven, AI future is already here, with organisations heavily prioritising their investments in this direction.
As the leader in AI for customer experience, we are very pleased to announce the release of ElevateAI, enabling organisations to benefit from NICE's leading Enlighten AI models within their own developed software."
Keith Dawson, VP and Research Director, Ventana Research, said, "Today artificial intelligence is a top priority for customer experience teams. ElevateAI reinforces NICE as a leader in AI for CX.
This cost-effective and developer-friendly solution makes superior intelligence more accessible to the market for organisations of all sizes, helping NICE stand out in the market."
Click here to learn more about ElevateAI, where you can access a free trial and comprehensive product documentation to analyse your first interaction.
For more information about NICE - visit the
NICE Website