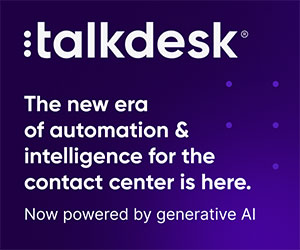 Taylor Grace at Talkdesk describes how an omnichannel contact centre helps your organization to exceed customers' rising expectations and provide exceptional customer experiences.
In today's on-demand economy, customers are increasingly digitally savvy and expect companies to know them, and their history with the company, in every interaction. Over 58% of customers say their expectations when interacting with a company are higher than they were a year ago.
Customers now expect to communicate with businesses using digital channels first, and then have the option to switch that conversation to another channel if needed. More than 69% of customers value this ability to transition to different channels while engaging with an agent.
On the other hand, 68% of customers agree that a single poor customer service experience will negatively impact their brand loyalty. So, how can companies leverage omnichannel contact centre capabilities to exceed customers' rising expectations?
What Is an Omnichannel Contact Centre?
To understand what an omnichannel contact centre is, you have to start with an understanding of its predecessor, multichannel.
The term multichannel defines the various channels that are made available to connect with an organization. Many of these channels, like chat and email, have been around for decades. In a multichannel world, the distinguishing characteristic is that the channels are siloed and often are different products altogether—chat is from vendor A, email from vendor B, phone from vendor C, and so on.
The lack of context sharing amongst these channels inevitably has led to serious inconsistencies in customer service experiences. The tell-tale sign is when the customer has to repeat their information and issue upon transitioning to another channel.
Omnichannel is an evolution of multichannel. It refers to a consistent relationship and preservation of context across all channels and connects the dots between each available channel. Customers can start a conversation on any channel anytime, and pick up from where they left off on any other channel at any other time.
The ability to move interactions seamlessly from one channel to another while maintaining context is what defines a truly omnichannel customer service experience.
A true omnichannel approach also creates additional opportunities for automation and leveraging artificial intelligence (AI) to accomplish repetitive tasks. Implementing voice and chat bots to automate common tasks such as checking on the status of an order or resetting a PIN or password is a win for both customers, who save time, and contact centres who save cost and drive up customer satisfaction.
But often conversations requiring more complex handling are handed off from bots to agents without any context, leaving both the customer and the agent frustrated. With true omnichannel, conversations with bots can be seamlessly handed off to agents with context, including a complete transcript of the interaction so that the agent and customer can continue the conversation.
Why Does an Omnichannel Contact Centre Matter?
All ties back to delivering a better customer experience. With true omnichannel support, organizations know who they are talking to and what information that customer has already shared. There's always context for every customer interaction. This means companies can not only support great customer experiences, but also empower agents to deliver those experiences.
Effective omnichannel contact centre support has multiple advantages:
Customers get channel choice and more effective support, as well as a more seamless, consistent relationship with your brand.
Contact centre agents gain the ability to handle multiple channels to assist a customer in a single conversation—leading to more successful engagements, which in turn results in higher agent satisfaction and retention.
Organizations get higher productivity levels, lower cost (call deflection), higher CSAT and NPS scores, and better customer insight, leading to increased customer loyalty and retention.
Many Companies Just Aren't There Yet
Despite the obvious benefits, not many companies offer a true omnichannel experience today. While companies can support multiple channels, it's not easy for their customers to move channels mid-conversation and, most importantly, have their data follow them to the different channels.
This means all context is lost or, at best, incomplete. The customer has to start from scratch with every channel they engage on, and every bot to agent handoff, leading to a disjointed and poor customer experience. Companies recognize there is a disconnect between channels: 82% of companies don't think they can support this seamless experience across channels that customers expect.
The primary reason for this is that most contact centres still run on outdated, legacy platforms that were never designed for the digital world. The majority of contact centre systems were built before digital channels were available. So, in an attempt to support their digital-savvy customers, they have had no choice but to "bolt-on" point solutions that operate in silos.
The result is:
Disconnected customer experiences.
Unhappy customers who are more apt to churn.
Non-existent or poor customer insights due to a lack of end-to-end customer journey data.
Companies are using omnichannel to improve CX.
At the end of the day, customers don't think in terms of "channels," they are looking for a consistent relationship with a brand. They want brands to know them, and they want brands to make it easy for them. Companies can't get there with outdated legacy platforms and siloed channel products.
Only a modern cloud-native contact centre platform and an effective omnichannel strategy and solution will deliver the optimal CX customers seek.
This blog post has been re-published by kind permission of Talkdesk – View the
Original Article
For more information about Talkdesk - visit the
Talkdesk Website