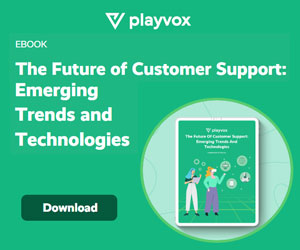 Rohit Rakkar at Playvox provides three tips for optimizing your contact centre schedule.
There's nothing more important than creating an optimal contact centre schedule to ensure you and your agents have the structure you need to provide the best service possible. But have you taken the time to check that your contact centre schedule isn't doing more harm than good?
A cluttered, complicated schedule can create inefficiencies and cost precious time that could be better spent with customers or even given back to agents for development activities.
What Is Contact Centre Scheduling?
A contact centre schedule is a breakdown of every task and shift your agent is expected to complete on any given day. A contact centre schedule provides structure and a clear outline of the day's activities, which keeps agents in the loop.
But a schedule also helps your resource planning department and contact centre managers understand where time is being spent each day to get a big-picture overview that will assist in future planning.
Optimal contact centre scheduling will help you improve your agent experience as well. In a 2021 Salesforce survey, 33% of contact centre agents said better/smoother scheduling was an important factor in their satisfaction.
How Do You Create a Contact Centre Schedule?
While you could use anything from a spreadsheet to a dedicated piece of contact centre scheduling software, I wouldn't recommend the former!
Scheduling software allows you to bring some automation to the process with AI learning to help you optimize your schedule. It provides a fine level of detail and ease you can only dream of when using spreadsheets.
All you need to do for your own schedule is outline the shifts of each agent and break down the tasks they need to complete throughout the day.
Now that we've covered the what and how, follow these three steps when building your schedule, whether you're using a spreadsheet or dedicated contact centre scheduling software.
Step 1: Break It Down
Let's take it back to the details of your day-to-day schedule. What's your typical roster? What are you actually required to do each day, week, or month to keep your call centre running? Write it all out into a list. Or if you're using our WFM software, check to see that you have each relevant task created and ready to apply to your schedule.
Once you've got a list ready, let's make sure all of this can be scheduled. You won't know if your contact centre schedule is optimized if you aren't accounting for every task that needs to be done.
Planning this way gives a realistic overview of the available time you have to cover your forecasted volumes. This is because scheduling isn't only about accounting for time on the phone but also covering all of the smaller tasks needed to keep everything running smoothly.
Robust scheduling software will allow you to view the number of agent hours spent in productive, shrinkage, and leave tasks, as well as to decide how effective evaluating and optimizing your schedule has been.
I would recommend taking note of the average for each type of task with your current schedule.
Step 2: Cut the Excess and Schedule Everything
You can only weed out repetitive or inefficient tasks in your scheduling by taking an honest look at your daily operations. Remove duplicate or ill-planned tasks that aren't necessary. This is the easiest way to cut out inefficiencies and recover lost time, which can add up to better productivity in the mid to long term.
It's also time to account for those miscellaneous tasks that are being completed each day but aren't on your schedule — the 15 minutes spent here checking an inbox or the 15 minutes spent there completing an admin task. Remaining blind to these is just as detrimental as inefficient scheduling of ad hoc tasks.
The time lost, which otherwise could be assumed to be available for productive tasks, can add up. Minutes become hours, hours add up to an FTE, and suddenly your well-balanced day becomes understaffed, thanks to unaccounted-for shrinkage tasks.
There are no shortcuts at this stage of optimizing your schedule. You'll need to make adjustments to your staff roster configuration now to save time down the line.
But the hard work is nearly done. You've taken a step back and written it all out, visualized your day-to-day needs, and adjusted tasks to streamline and optimize your operation. Time for the final timesaver for you — the resource planner.
Step 3: Automate and Reap the Rewards
Now it's time to make scheduling easier. Whether you're still using a spreadsheet to highlight what should happen each day, updating calendars, or using a demand-based event planning configuration, use automation in your chosen tool to ensure tasks aren't missed.
An optimized schedule isn't restricted to the content of the schedule but also how the schedule is produced. Automation frees up your time to analyze and plan ahead.
Rather than wasting time manually inputting in daily or weekly events, spend it looking at detailed reporting on how your current staffing projection will satisfy your future forecast and what hiring plans will be required to make the most of the seasonal peak.
Now What?
Time to circle back to step 1 where I advised you to take note of your typical roster and the time spent in productive, shrinkage, and leave tasks. With all of the changes made, it's time to compare these base figures to see where the same agent time has been redistributed.
The end goal isn't to see a massive bump in productive task hours. Instead, it's about improving both the adherence to what was originally scheduled and saving your time producing schedules.
WFM allows you to compare your agents' actual data to what was originally scheduled and to create detailed schedules at the press of a button.
Using extensive reporting, you can provide tangible evidence of improved adherence and even increased efficiency. Most importantly, WFM gives you the tools to provide an optimized schedule you can trust so you can make more reliable future decisions.
With these three steps, you can take your schedule to the next level. It's not just the tasks themselves that can be optimized but your entire schedule. Turn your organization into a leaner, more efficient, open environment where there's end-to-end clarity in your agents' day.
This blog post has been re-published by kind permission of Playvox – View the
Original Article
For more information about Playvox - visit the
Playvox Website