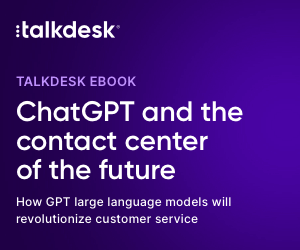 Lori Stout of Talkdesk discusses how the growing focus on the customer experience will impact customers and employees.
It's hard to believe that Talkdesk's Opentalk18 event was already three months ago, and planning for Opentalk19 is in full swing.
As I start thinking about the agenda for this year's event, I've been reflecting on some of the lessons I personally carried away from Opentalk18.
If you were there, you might remember hearing the term "Experience Innovation" as part of the Talkdesk keynote. I was intrigued from the moment I heard it. I am a total word nerd, so my first thought was, "'experience' as a verb or 'experience' as a noun?" The answer is "both".
Let me explain.
Experience, when used as a verb, invites the opportunity to encounter something. When used as a noun, it refers to a memorable event.
At Opentalk, the theme of creating CX Magic Moments was abundant in every session and with every speaker. The prevailing message? When customers receive the kind of service that constitutes a magic moment, suddenly they've encountered something special instead of patiently enduring one more bland support experience.
But is it really magic?
I like a good card trick as much as the next girl, but what we're talking about isn't magic at all. It's innovation. It's personalised service. It's thousands and thousands of contact centre leaders who decided that "good enough" isn't good enough any more and sought something better.
You'll hear a lot more about Experience Innovation from the Talkdesk team this year, and I can't wait for you to see what we have planned. We're making it the drumbeat for everything we do, and here's why:
1. It Will Change Employees
At Opentalk, keynote speaker Nicolle Paradise spoke about employee experience and why it means the difference between winning and losing for organisations of all types and sizes.
Nicolle says: "Employee experience (EX)—and specifically, the environment that those employees work in—is the driving force for winning products that come from winning companies."
In other words, if we focus all of our efforts on the customer experience and completely ignore the teams who deliver that experience, we completely undermine our own efforts to delight customers.
So how do we offer experience innovation to agents? By handing them the right tools, data and feedback they need to do their jobs well and with the least amount of friction.
Let's face it. Customer service is a tough job on a good day. Would you rather work for an employer that values and invests in your experience as an employee or one that spews threats in the form of metrics without giving you the right tools to succeed?
2. It Will Change Customers
Some of my favourite brands are Talkdesk customers. Peloton, Stitch Fix, HotelTonight–just to name a few. They are companies I am extremely loyal to as a consumer–and have been for years preceding my time at Talkdesk. My service experience is always top-notch (and given my line of work, I have a fairly critical lens when it comes to customer service).
One thing these companies have in common is a drive to innovate for the benefit of their customers.
As Zac Jacobson, VP of Member Experience at Peloton, says: "We came to Talkdesk because we were looking for something more than just a contact centre solution. We were looking for a partner who wanted to innovate as much as we do."
Brands such as Peloton know the value of customer loyalty. Zac describes it this way: "We are committed to providing experiences that are so good our members will never want to leave."
When a company wears its heart for customers on its sleeve, customers notice. They stay. They tell their friends.
When consumers say they want faster, frictionless service, what they're really demanding is experience innovation. They want us, as CX providers, to solve their problem before they even know it's a problem.
Experience innovation is changing the way we use and act on customer data. It will make us proactive and personal and change our customers from consumers into evangelists.
3. It Will Change Things We Haven't Even Thought of Yet
We announced some big news recently. We've launched a $10 million innovation fund and a new TDX Innovation Lab, dedicated solely to the mission of creating audacious, disruptive customer service solutions. It's a blank slate, waiting for the world's best developers, problem solvers and CX experts to fill it.
Experience innovation—noun and verb.
As Albert Einstein put it: "The true sign of intelligence is not knowledge but imagination." Talkdesk are literally putting our money where our mouth is when it comes to imagining better customer experience.