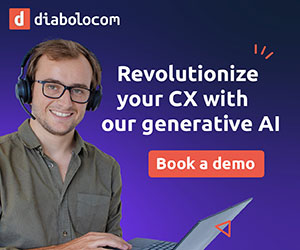 After-Call Work (ACW) in the telephony sector refers to all the administrative tasks and additional activities that a call centre agent carries out immediately after completing a telephone conversation with a customer.
These tasks may include updating databases, documenting call details, sending follow-up emails or finalizing transactions.
The primary purpose of post-call processing is to ensure that all relevant information is correctly recorded and that all necessary actions are initiated to respond to customer queries or concerns.
Post-call handling time is a crucial component of call centre operations management, as it directly influences agent productivity and efficiency.
While post-call handling time varies from sector to sector, the general rule is that it should not exceed one minute. To optimize this processing time, Diabolocom has developed artificial intelligence systems that automate tasks and focus on the quality of the advisor–customer interaction.
Transcription for greater post-call efficiency
Analysis of satisfaction during the call and its evolution
Topic detection and monitoring
Detecting weak signals
Improving the performance of post-call agents thanks to AI
1. Transcription for Greater Post-Call Efficiency
Once the call has been completed, a traditional advisor equipped with a standard CRM will record the reason for the call, describe the actions taken, define the steps to be taken next and update the customer file and the CRM.
Carrying out all these actions in less than a minute means that the call is not dealt with in the best possible way, information is forgotten, and customer satisfaction is reduced.
Thanks to the integration of call transcription functionality, the agent benefits from artificial intelligence to transcribe the exchange in real time or post-call.
This transcription functionality reduces the time wasted on manual documentation, allowing the agent to focus on meeting the customer's needs as effectively as possible.
As well as improving post-call processing times, transcription improves accuracy, as it uses the customer's exact words thanks to voice recognition. This accuracy is crucial to better understanding the customer's requests and proposing the appropriate follow-up.
2. Analysis of Satisfaction During the Call and Its Evolution
A call to customer service is never a smooth ride. Customer satisfaction, the advisor's absolute priority, fluctuates as the conversation progresses. The aim is to turn an unhappy customer into a satisfied one in just a few minutes.
The integration of a post-call Artificial Intelligence solution makes it possible to assess fluctuations in customer satisfaction at different points in the conversation so that preventive action can be taken, for example.
At the end of the call, not only is every customer response recorded with its time and date, but the satisfaction associated with each intervention is also measured.
This wealth of data enables companies to adopt various analytical approaches, whether it's an overall average, a weighted average focusing on the end of the call, for example, or a comparative analysis between the beginning and end of the conversation.
3. Topic Detection and Monitoring
As part of post-call processing, artificial intelligence (AI) is proving to be a powerful tool for identifying the themes raised during exchanges, thanks to its advanced ability to understand natural language.
This data generates a set of relevant indicators that reveal clear customer trends and preferences. These insights enable us to better understand and anticipate customer needs and expectations, optimizing our customer service strategy.
4. Detecting Weak Signals
At the same time, AI plays a crucial role in detecting weak signals during telephone conversations. These signals, which are often subtle and easily overlooked when analyzed manually, are valuable clues reflecting customers' latent expectations or dissatisfaction.
Thanks to its finesse of analysis and speed of processing, artificial intelligence is able to identify these subtle nuances in communication, providing deep and relevant insights into the customer's experience and feelings.
Improving the Performance of Post-Call Agents Thanks to AI
Optimized Preparation: by providing detailed analyses of customer trends and detecting weak signals, AI effectively prepares agents before each call, boosting their confidence and efficiency during interactions.
Customized Training: The insights generated by AI can be used to develop tailored training programs. These programs can focus on areas where agents must improve based on challenges and trends identified from previous calls.
Real-Time Support: AI can provide real-time support to agents during calls, suggesting answers and solutions based on analyzed data. This instant support helps agents deal with difficult or unexpected situations, improving their performance and customer satisfaction.
Improved Resource Allocation: By anticipating customer needs and understanding what topics are likely to be discussed, AI enables better resource allocation. Agents with expertise in specific areas can be assigned to calls that match their area of expertise, maximizing the likelihood of effectively resolving customer issues.
Call Report Generation
AI-powered call reporting transforms the way call centres document and manage information from customer interactions.
Automatic Mailing
Following a call, an AI-based system can automatically generate and send an email to the customer, without human intervention.
This email can contain a summary of the conversation, the key points discussed, and any next steps. Automatically generated emails can be personalized according to the specifics of each customer and interaction, providing targeted and relevant communication.
Agents save valuable time by not having to manually compose these emails, allowing them to focus on other important tasks.
Summary of the Major Issues Raised
Advanced AI algorithms analyze the call transcript to extract and prioritize the key information and main points discussed during the interaction.
This summary serves as concise and accurate documentation, making it easy to quickly consult and understand the salient aspects of the conversation without having to listen to or read the entire call.
It also provides a structured basis for call follow-up, helping agents and supervisors to quickly understand customer needs and expectations for future interactions.
Detection of Next Best Actions
Machine learning algorithms analyze data extracted from calls to predict the best actions to take to maximize customer satisfaction and achieve business objectives.
Agents receive recommendations on the next steps to take after the call, based on analysis of past interactions and observed trends, guiding them towards more effective actions and positive outcomes.
The detection of Next Best Actions supports real-time decision-making, enabling customer service strategies to be adjusted and optimized in a proactive and informed way.
AI significantly improves the productivity, accuracy, and efficiency of call centre agents in post-call handling. It also contributes to a more consistent and satisfying customer experience, strengthening the relationship between the company and its customers. To find out more about our AI solution, request a demo.
This blog post has been re-published by kind permission of Diabolocom – View the
Original Article
For more information about Diabolocom - visit the
Diabolocom Website