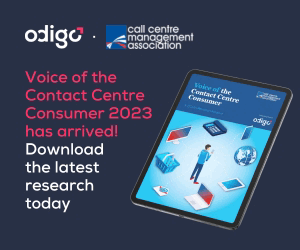 Delphine Bolus of Odigo discusses three ways in which Artificial intelligence (AI) can help to improve customer experience.
AI is a key component of the digital transformation of customer experience that is occurring across all sectors.
Though the evolutionary nature of AI development means that its capabilities are continuously improving, the verdict on the most talked-about development is that AI is a tool that all forward-thinking organisations should implement.
The substantial benefits of AI include strengthening sales, boosting operations, engaging customers and generating insights, according to a Capgemini study.
That's why investment in this field is skyrocketing as contact centre directors look to enhance customer experience through AI that can work around the clock.
According to Tech Nation, UK investment in AI reached £19 billion in 2019, making AI a driving force behind the digital transformation of customer experience.
The dynamic nature of AI and the broad scope of implementation is as exciting as it is daunting.
Here are the top strategies for enhancing customer experience through AI.
1. Transforming Customer Experience Into Efficient and Accessible Do-It-Yourself (DIY) Operations With AI-Based Self-Service
Contact centre managers are all too aware that customer expectations have changed dramatically, with consumers wanting instantaneous answers and responses to queries, complaints and requests.
Tolerance for waiting is low and expectations of swift processes in customer experience have never been higher.
This is why increasing numbers of customers turn to self-service options, which may require interactions with AI-powered bots.
AI progress, especially in terms of natural language processing (NLP) and machine learning (ML), mean that customers can express themselves naturally (through either voice or text) and AI bots can understand and reply appropriately.
Additionally, bots can assist human agents in customer experience by giving them key information. The desires for immediacy, availability and autonomy have accelerated the trend towards self-service.
Increasing numbers of British consumers are turning to self-service, as 64% of UK consumers begin with self-service if given the option, according to Microsoft.
Providing rewarding self-service options is crucial for contact centre managers hoping to enhance customer experience.
A digital transformation of customer experience is truly underway as self-service meets customers' needs for timely answers and lightens agents' workloads, allowing them to focus on high-value requests.
2. Enhancing Customer Experience by Implementing AI-Backed Sentiment Analysis
Algorithms that identify a customer profile (income, location, new vs. old client, gender, age, interaction history, etc.) have accelerated the digital transformation of customer experience.
However, deploying sentiment analysis can raise customer experience to a higher level entirely. How? By relying on speech to create an emotional connection with customers.
Sentiment analysis can identify and analyse customer emotions, be they expressed over the phone or via chat. Empowered with emotional analysis capabilities, AI-powered tools will offer advice to an agent as to how to respond.
This support will be invaluable to agents trained to manage a bot's socio-emotional signals, both on the generation and detection sides.
Agents will then enjoy the increased communication skills bots provide that enhance customer experience.
Despite the digital transformation of customer experience, agents will always play a vital part in customer service. But now, the combination of the human touch with the precision of AI is ushering in the era of augmented agents, which means empowering them with AI-based tools that raise their performances and increase their capabilities.
Interactions turn into conversations and agents become the best possible brand ambassadors, able to provide customer experiences that are efficient, helpful, rewarding and personal.
Contact centre directors understand that enhancing modern customer experience means tailoring strategies to individual customers' needs, which is why personalisation is the most essential component of any customer journey.
Microsoft explains that 68% of UK consumers expect customer service agents to know who they are, what they have purchased and to have insights from previous interactions.
To summarise, AI-based sentiment analysis allows for greater personalisation, which is a key component of customer experience since the levels of customer engagement are higher when brands make efforts to personalise relationships with their clients.
Contact centre managers who want to enhance customer experience must focus on greater personalisation through AI tools.
3. Leveraging AI for Unprecedented Customer Insights That Lead to Elevated Customer Experience
If personalisation is the way to enhance customer experiences, this can only be achieved through leveraging data to maximise insights and present a complete view of a customer. Phone conversations, emails, social messaging and customer history must be factored into any engagement.
This data helps contact centre managers uncover new reasons for interactions that might soon become repetitive. Knowing about these new types of requests ahead of time helps contact centre managers to organise their contact centre workforce and tools accordingly, thus strengthening the overall customer experience strategy.
Highly proficient customer experience requires analysing vast amounts of data in minutes, which is something AI-based software can do in seconds. All effective contact centre managers will explain that, for customers who do not want to wait, every second counts.
The faster and more accurate an agent's engagement, the higher the customer satisfaction and the more likely a positive review will be given. Significantly, the Temkin Group points out that 77% of customers are likely to recommend a brand based on a single positive experience.
Modern customers are savvy enough to recognise the brands that make an effort and those that fall short. Tellingly, customers are willing to pay more for better service and enhanced customer experience, which is confirmed by a Walker study which shows that customer experience will overtake price and product as the key brand differentiator.
To meet these expectations, a digital transformation of customer experience should be every contact centre manager's goal.
Achieving a Digital Transformation to Enhance Customer Experience, Through AI
Despite the impact of COVID-19 on the economy, research indicates that 44% of UK businesses are investing in a digital transformation strategy.
Contact centre managers know that this is the best way to achieve increased operational efficiency, introduce new revenue streams and meet changing customer expectations.
AI's role in this digital transformation of customer experience is significant.
Interested in learning more tips for enhancing your customer experience through rewarding, friction-less customer journeys?
Turn to Odigo, a contact centre as a service (CCaaS) industry leader in helping organisations improve their customer satisfaction scores and achieve more rewarding customer experience and memorable customer journeys through smooth, channel-less communication.
This blog post has been re-published by kind permission of Odigo – View the
Original Article
For more information about Odigo - visit the
Odigo Website