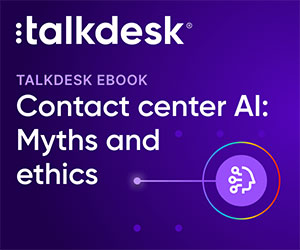 Antonio Gonzalez of Talkdesk discusses what customers can expect from the retail contact centre of the future.
The line has officially blurred between digital and in-store experiences for consumers.
With that comes big pressure on retailers to deliver a better customer experience (CX), with more than half (58%) of retail customers telling us that their expectations for interactions with their preferred brands and retailers are higher than a year ago.
For The Customer Experience (CX) Revolution in Retail report, we talked to more than 180 full-time professionals, including leadership and management for customer service, customer experience, and IT, as well as more than 1,200 retail customers.
Ease, speed, and ability to transition across channels of choice during interactions rate among retail customers' top priorities. Retailers are, accordingly, making investments to elevate their CX.
The contact centre plays a huge role in elevating and unifying the customer experience. Most CX professionals (74%) said that customer interactions with the contact centre have a significant influence on CX—a share anticipated to rise to 90% within two years.
We learned that:
58% percent of customers felt their last retail experience was not personalized for them.
72% of customers said that their preferred channel for communicating with a company varies depending on the context.
62% of CX professionals report that legacy contact centre technology is limiting their ability to improve customer experience.
72% of CX professionals are experiencing an increased demand for customer data analytics.
Looking at this data, it's clear there's a need for change, for transformation. Ask any retail CX leader and they'll tell you that delivering great CX today has never been harder, yet filled with more opportunity. But what's the plan?
Moving your contact centre to the cloud is a huge step forward. A cloud contact centre offers retailers rich insights on what customers want and don't want, as well as reams of product and services feedback.
Leading retailers are determined to unlock data from their contact centres in order to make it available to the wider organization and inform the brand's CX strategy. The cloud can help with that.
That's just one of many ways moving to the cloud can help retailers take a more proactive approach to customer experience. AI-powered predictive recommendations for next best actions and upsell and cross-sell suggestions represent another opportunity.
Don't miss the chance to hear directly from customers and CX professionals. Download The Customer Experience (CX) Revolution in Retail.
This blog post has been re-published by kind permission of Talkdesk – View the
Original Article
For more information about Talkdesk - visit the
Talkdesk Website