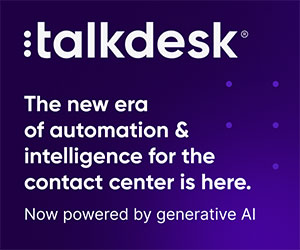 Marta Lima at Talkdesk explains how listening, tracking, and learning from your customers and their feelings is the key to shaping your CX strategy and building happy and long-lasting customer relationships.
Every customer experience (CX) expert knows that the quality of the product or service is essentially important—but the ability to answer customer inquiries and issues and deliver a delightful experience is everything. 49% of consumers stopped working with a company because of a single poor customer service experience.
With customers' increasingly high expectations of service and a world of options at their fingertips, CX is the key factor for companies to stand out.
Delightful customer experiences make not only happy customers but also build long-lasting relationships and grow business. So, how do you know if your customers are happy with your brand and what should you be improving to offer them a better experience? Analyzing customer sentiment is the answer.
Anger, happiness, rage, excitement, and disappointment—these are some of the emotions that people can feel towards your brand.
The quality of the product, service, customer interactions, or even your company's values dictate how customers feel about your brand, making customer sentiment an important part of your business. If you are not tracking and analyzing your customer's feelings about your brand and using it to improve your CX, this is the time to start.
Find out everything you need to know:
Definition of customer sentiment.
Customer sentiment analysis: how does it work?
Four places for customer sentiment analysis.
Use customer sentiment analysis to improve CX.
What Is Customer Sentiment?
Customer sentiment is a key performance indicator (KPI) that shows customers' emotions towards a product, service, or brand.
It shares some similarities with other KPIs, such as customer satisfaction (CSAT) and Net Promoter Score (NPS), but instead of being a quantitative measure, customer sentiment is a qualitative, crucial metric.
It is connected to nearly every other KPI— if customers are unhappy with your brand and service, chances are CSAT is low, and you can use customer sentiment to understand why!
When customers engage with your brand—by using a product and leaving a review online, interacting through phone calls and voice and chatbots, talking about your company on social media, or others—there's always a predominant emotion involved.
Knowing how customers feel about your brand is one of the keys to business success. Sentiment analysis helps to understand what works best—and should be kept—and what needs to be improved to suit the needs of your customers.
With sentiment analysis, you can collect information about customers' feelings and opinions on your brand or product and use it to make smarter decisions to improve customer satisfaction and loyalty.
How Does Customer Sentiment Analysis Work?
Customer sentiment analysis is an automated process that analyzes interactions between your customers and your brand to discover the emotions they feel about a product, service, or the brand as a whole.
Using artificial intelligence (AI), natural language processing (NLP), and other algorithms, sentiment analysis models detect patterns in voice or text and classify customer emotions in three different categories—positive, negative, or neutral—but these analyses can be more or less precise or be set towards a specific goal.
Here are some of the different types of sentiment analysis:
Standard Sentiment Analysis
Most common process for sentiment analysis. It uses AI and NLP to extract a positive, negative, or neutral sentiment from unstructured data in support tickets, phone calls, survey and feedback forms, social media comments, voice and chatbots, and other channels.
It analyzes specific words that might lead to a sentiment such as "love", "hate", "good" and others to classify the emotions.
Fine-Grained Sentiment Analysis
More concrete type of sentiment analysis—it analyzes the customers' emotions more closely and precisely than the standard sentiment analysis. These emotions can be classified as very positive, positive, neutral, negative, or very negative.
Emotion Detection
Often associated with customer feedback of frustration, anger, happiness, and other emotions. The main difference between this and other types of sentiment analysis is that it focuses on things, such as tone and punctuation to differentiate specific emotions.
For example, the sentence "This product was unbelievable!" might have a different connotation from "This product was unbelievable".
Intent Analysis
The main purpose of intent sentiment analysis is to identify the action or opportunity for improvement from customer feedback. For example, analyzing sentences such as "this feature is not working", "I'm not being able to", or "you should help me with this" allows you to easily target customer issues and make smarter decisions.
Four Places to Analyze Customer Sentiment
Now that you have a clear idea of how customer sentiment works and how to analyze it, you might be wondering where to find the information that brings more value to your customer sentiment analysis. Here are four scenarios in which you can collect insightful customer sentiment analytics.
1. Contact Centre
You already know that your contact centre is a great source of customer data, but do you know how much it can do for your customer sentiment analysis?
Your contact centre is one of the main points of interaction between you and your customers. AI-automated tools can, during a simple conversation, analyze the tone and sentiment of the customer, which can be particularly useful during stressful situations or more complex issues.
If you know how your customers feel, you are able to provide them with the appropriate response. Besides phone calls, you can also use tools, such as chat and voicebots, to analyze the customer sentiment and intent and provide the most personalized automated response.
2. Social Media
Customer sentiment from social media can come from a comment on a post, a review on a social media page, or even direct messages. With all these different types of interaction, social media has become one of the most common sources for collecting customer feedback.
3. Reviews
Reviews are a great place to collect customer sentiment insights. Usually, people who write a review on the company's website or a website specially dedicated to reviews, for example, are committed to letting everyone know exactly how they feel about a product or service.
You can boost these reviews by adding a simple form in your company newsletter or on follow-up communications with questions, such as "would you recommend this product?" or "how would you describe your experience with this product".
You can even incentivize customers to give a review on your service with a discount or additional benefits on their purchase/ use of service.
4. Surveys
Surveys are great tools to connect with customers directly and get accurate feedback.
Deliver customer surveys with questions, such as "How was your experience with us?", "How was your experience compared to your expectations?", "What would you change in our product or service?", and use automated text analysis to make the best out of customer responses.
Avoid closed-end "yes or no" questions and bet more on open questions that can motivate your customers to say how they truly feel about your service, product, or brand as a whole.
How Does Customer Sentiment Analysis Improve CX?
Customer sentiment analysis can boost your business from diverse angles. The better you know customers and their needs, the better you are at responding and offering suited customer service. Use the analysis of customer sentiment thought interactions to improve your customer experience as follows:
1. Deliver Delightful Data-Driven Experiences
Use customer sentiment analysis to identify your customers' feedback about a specific issue. Here are some of the scenarios in which you might benefit from sentiment analysis:
You may find that the reason for customers being unsatisfied with your service is due to a long problem resolution time and focus on improving contact centre metrics, such as average speed of answer or average handle time (AHT).
With the support of an AI-powered virtual assistant, you can also receive insights into the customers' emotions during a conversation and handle the call more efficiently.
Access to the customer's historical data and information from previous interactions allows you to provide a better and more personalized experience. Knowing exactly the customer's pain points helps you solve their problems in a more agile and rapid manner. It also allows you to proactively reach out to customers—through phone calls, email, or voice and chatbots—with relevant information.
2. Improve Products and Services
Is there a better way to know which new feature to add to a product or service than by knowing exactly what do customers need the most? You can use customer comments about missing features to give them exactly what they need. You can also use this information to detect issues and bugs.
3. Optimize the Marketing Strategy
Customer insights are what drives marketing strategies. Marketing teams can keep an eye on market trends while getting to know what customers are saying about your brand.
Knowing the customers' opinion towards a specific product or feature can highlight opportunities for new market campaigns. It can also be particularly useful for marketing teams to see what customers are saying about their competitors.
4. Monitor Brand Reputation
It's important to know what your customers are saying about your brand. With sentiment analysis, you can monitor brand mentions in real-time—for example, on websites, app stores, and social media—and address negative comments before they spiral into a bigger problem.
To Wrap Up
Customer sentiment is one of the most important metrics for your business—and for your CX strategy. Track it to know exactly how customers feel about your company, product, or service and use that knowledge to improve.
It works both ways: You'll know what to adjust if you find the majority of your customers struggling with a particular aspect or step of your product or service; you'll get useful insights on what you are doing right—and should keep pursuing.
It may seem a complex process, but the right technology enables you to improve the relationship with your customers, turning them into brand advocates.
This blog post has been re-published by kind permission of Talkdesk – View the
Original Article
For more information about Talkdesk - visit the
Talkdesk Website