The problem:
No visibility of the value of your customer in the queue, so that important calls can often be missed, and no way of knowing if that caller hangs up.
The solution:
Route important calls
Rather than treat all callers in the queue with the same importance, Dynamic Routing allows you to decide which calls should be prioritised, meaning you route your customers based on what matters to them. The simple user interface enables you to choose which CRM fields (e.g. Salesforce fields) are used to route calls, opening up a multitude of routing possibilities.
How it works:
Dynamic Routing allows you to intelligently route incoming calls based on data from within the CRM database.
For example, a team handing inbound sales calls…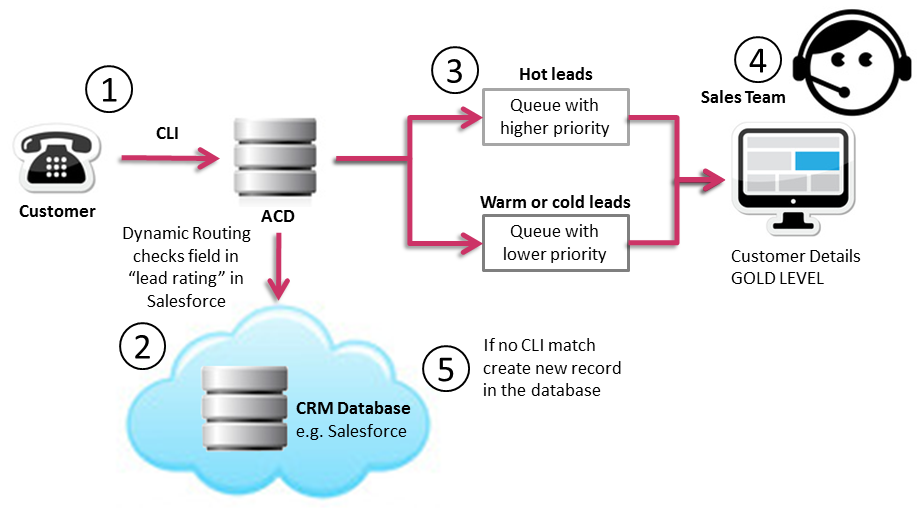 You recognise the incoming caller by their telephone number (using Caller Line Identity (CLI) or by an account number or reference number entered in the IVR.
Then, based on their personal data held in Salesforce, as well as pre-determined business criteria, Dynamic Routing can identify VIP callers, hot prospects, callers with high SLAs, critical issues or outstanding payments, and intelligently route them to the correct agent or team.
Customers with a 'Gold Level' service entitlement, for example, can be automatically prioritised and routed to experts in the Gold Service team. Equally, loyal returning customers or hot prospects can be prioritised in any queue and then either routed to the agent they spoke to previously, or to a specialist agent with honed closing skills.
On call connection, a screen pop provides the agent with the caller's details based on call history, IVR or CRM data, enabling them to provide a personalised service to the customer.
It is likely that there will be no CLI match the first time a caller phones the business, but with ContactWorld, the agent can create a record for them after that first call, so that they are known the next time they make contact.Dynamic Routing is a feature offered by ContactWorld for Salesforce, and offers customers full visibility of their business metrics through deep reporting – including detailed statistics around call abandonment, such as the 'value' of the customer, and the length of time they were on hold.
Benefits of this solution:
With Dynamic Routing, you can prioritise warm leads and VIP customers, resolve existing service calls more quickly and provide specialist support for specialist products. It also enables the agent to recognise international callers and route them to agents that speak their language.
Companies using this solution:
There are a number of companies using this solution, including car dealership H.R. Owen. The business, which specialises in selling the fastest and most prestigious cars in the world, from Aston Martins to Bentleys, can now direct calls based on the type of car the customer owns. Combined with targeted messaging, the company is delivering a completely personalised service to its customers.
This Technology Toolkit was provided by NewVoiceMedia