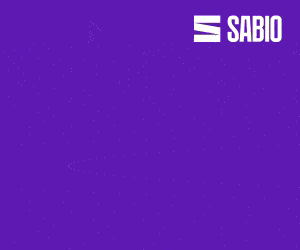 It's very easy to get confused by all the different routing techniques and approaches currently available.
Which one is likely to be most appropriate for your organisation's current state of development? Or perhaps you want to use a combination of routing strategies.
We've identified ten different routing types – each of which has an important role to play depending on the complexity and maturity of your own customer contact operation.
1. Direct Routing (Hunt Groups)
Typically, those organisations that are just establishing themselves have a more basic approach to customer service, they just want to connect customer calls with the right department within their business.
Here direct routing is the standard model: if you want sales you call the sales number, and if it's busy you wait. For service you call an entirely different number.  The call is always connected to the first person on the list and if they are busy it goes on to the next person.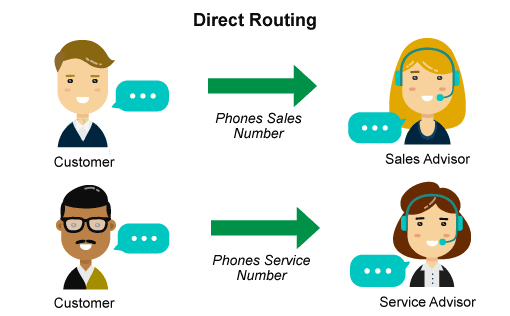 2. Least Idle
Using an automatic call distributor (ACD), configurations can change from more basic 'hunt groups' to slightly more sophisticated routing strategies, such as least idle routing. This is where calls are placed with the advisor who's been waiting for a call the longest.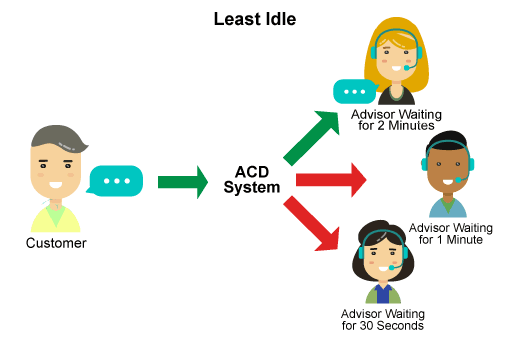 3. Least Occupied Routing
With least occupied routing the next call gets sent to whoever's been least utilised throughout the day.  This gets around the back-of-the queue game where advisors who do not want to take calls hit the ready state and then hit the idle state (thus making them no longer available).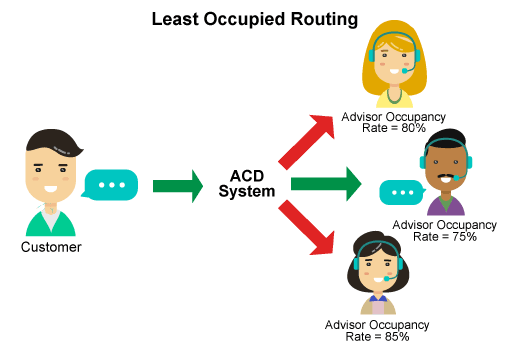 The term "occupancy rate", which is used in the graphic above, is the percentage of time that an advisor spends on the phone over the course of the day.
The total occupancy rate of all advisors is also useful to calculate as it helps you to work out how many staff you need in a contact centre.
4. Skills-Based Routing
Selecting a skills-based routing environment helps make sure that your resources are utilised efficiently, so that you do not have long wait times for service calls.
You can help improve the customer experience by matching the highest skilled advisor to the caller.  As a result, multiskilled advisors need to be assigned different skills as well as a skill level for each skill assigned.
An example of this, as shown below, is routing an international caller to an advisor who can speak the customer's first language.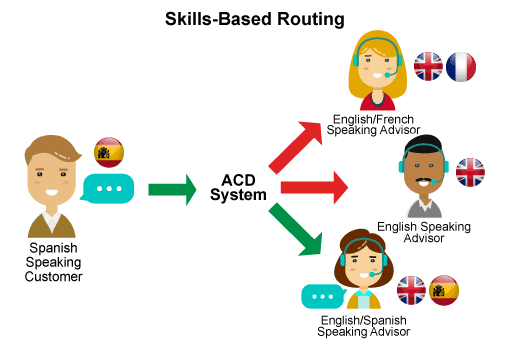 5. Dynamic and Service Level Routing
Selecting by skills alone won't necessarily guarantee a happy customer. Does the advisor really have all the skills needed? Is the advisor really empowered to answer the customer's query, or will they have to pass the call on to a supervisor for completion?
In addition to skills-based routing, we're also now looking at expected and predicted wait times to provide a better customer experience within service level thresholds. Here dynamic routing can help to make the right choices.
In conjunction with dynamic routing, if expected wait times for a specific skill are in danger of being breached, 'back-up' or 'reserve' advisors can be pulled into the queue to preserve the service level.  This type of routing is known as service-level routing.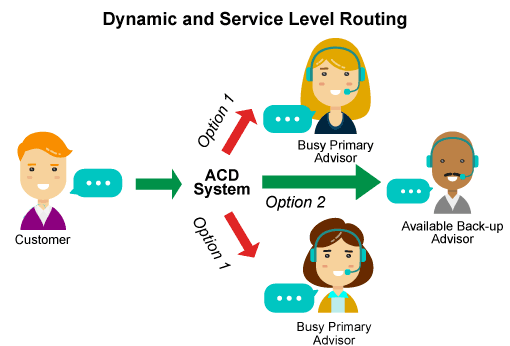 6. Business Rules Routing
Once your ACD and routing engines are in place, organisations can start configuring their call routing strategy to support specific business objectives.
Examples here could include:
Routing higher value customers through to specialist advocate advisors
Connecting customers with low customer satisfaction scores to specialist advocate advisors (as shown below)
Providing callers with an option to be connected to the advisor they spoke with last time they called.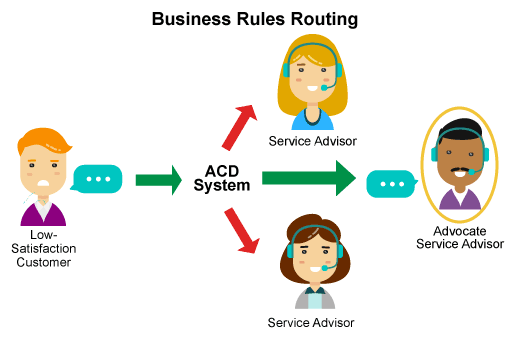 Vax use this strategy of routing customers who had previously given low customer satisfaction ratings to an advocate advisor. An advocate advisor, in the case of Vax, is an individual who has achieved high quality scores over the last two consecutive months.
Also, if their previous contact was in the last 30 days, Vax route the customer back to the same advisor they spoke to before.
To find out more tips from Vax, read our article: 14 Best Practices from the Vax Contact Centre
7. Data-Directed Routing
Taking intelligent call routing a stage further, organisations can now build in the intelligence to help make data-directed routing choices about customer calls, based on their current status.
Organisations can now build in the intelligence to help make data-directed routing choices.
For example, a credit card customer might call with an inquiry but if their account is overdue, this will get flagged up during the initial ID and the contact will be routed first to the payment collections function.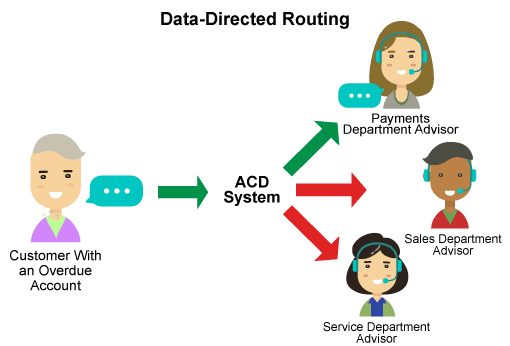 Integrating the initial IVR ID process with current customer data can provide a powerful solution for businesses. Identifying customers early in the call opens up lots of opportunities – community call centres and more personal relationship routing of calls to advisors or service specialists that have dealt with a customer before.
8. Value-Based Routing
This combination of the customer ID with more detailed CRM-style information opens up new opportunities for value-based routing.
These routing decisions go beyond cost and quality to introduce a value or revenue-based element into the equation.
It might be a mobile phone customer calling in three months before their contract comes up for renewal to check on its details. A value-based routing system would recognise that this customer has a higher propensity to switch at this point and would route the call directly to a retention team to ensure that the caller stays with their existing provider. Or it could be a credit card company up-selling a customer into a consolidated loan based on their current outstanding balance.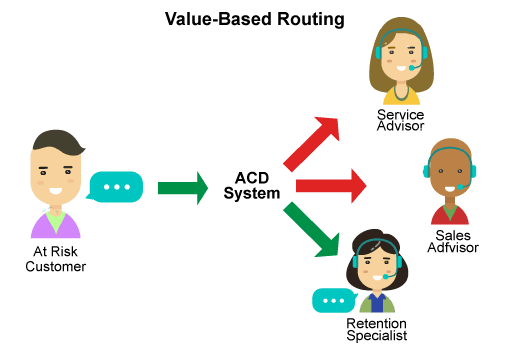 9. Outbound Routing
Another important development is that routing decisions don't always have to be on inbound interactions.
While we still acknowledge the importance of traditional metrics such as Average Handling Time, many organisations are turning to newer measurements such as Net Promoter Scores, which track how many customers recommend the service they receive.
Innovative services like outbound routing would enable a mortgage provider to text a customer immediately after their loan application has been approved. This initiative should make it more likely that the customer will make recommendations.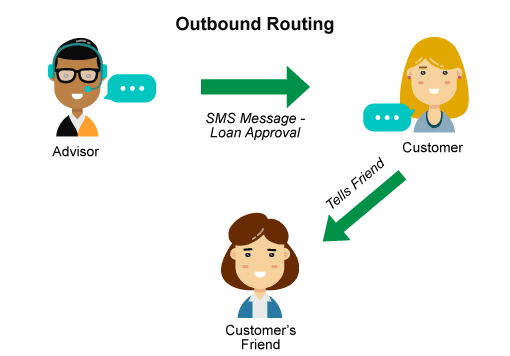 10. Multimedia and Multimodal Routing
As individual consumers we're all now interacting with our suppliers across multiple channels. We may get a great voice service, but that doesn't always work when we contact an organisation by email or by SMS.
The key routing challenge many businesses now face is not just how to support multimedia routing across multiple customer contact channels but also how to route those transactions consistently whether it's voice, email, IVR, speech, web or SMS. This becomes even more acute when multimedia extends to embrace multimodal routing, where a customer might be calling or emailing from a specific type of device or location.
At this level the emphasis has clearly switched from cost-effectiveness to a process that integrates a customer's ID with their CRM history to enable real-time decision making that can translate into significant revenue gains.
Technology is obviously a key enabler for this, but it is also essential that organisations get their people and processes in place to make this next generation of multimedia, multimodal customer interactions really work for both their customers and their own organisation.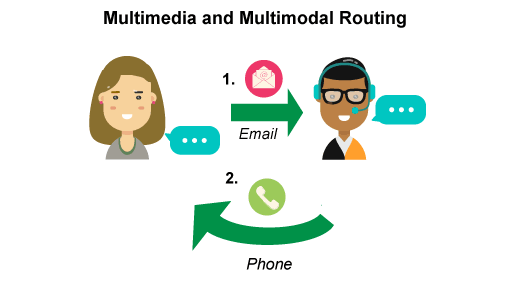 With thanks to Adam Faulkner, a Director at Sabio 
Have you heard of any other call routing strategies?
If so, please share them with us in an email to Call Centre Helper.
Originally published in July 2008. Recently republished.