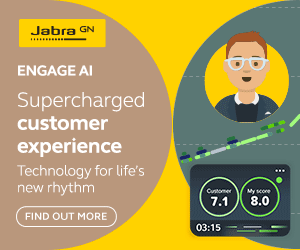 A new translation technology that allows direct conversation between speakers of 26 global language has been released today.
Speechly, which uses artificial intelligence (AI) to translate spoken word and audio, is configured to work with devices made by headset company Jabra to support one-to-one conversations.
The technology can be applied in a wide variety of scenarios and is designed to help organizations cut interpretation fees and simplify the translation process to improve communication.
As people across the globe interact more than ever, public and private sector organizations frequently encounter communication problems which reduce their ability to provide services effectively.
Speechly is designed to support a wide variety of users, from police who cannot communicate with victims of crime, to tourist offices that are unable to address enquiries.
The technology can also support paramedics, family doctors, business meetings, inter-governmental negotiations, disaster response, hotels, journalism, academic research and much more.
Until now, the only options for translation were either to use online text translation tools (which are often inaccurate, slow and unhelpful for people who cannot read/write) or to hire expensive interpreters who charge high fees to businesses and taxpayers.
This technology uses AI to recognize the language used by the first speaker and translates this instantaneously to audio in the second speaker's language. They can then reply in their own language and Speechly will translate for the first speaker.
In its first iteration, Speechly will work with compatible Jabra professional headsets and speakerphones for conversations between two individuals. All Speechly conversations can be recorded, and a transcription of the conversations is also provided.
Lee Davis, Enterprise Software Sales Manager, EMEA North at Jabra, says: "We are continually seeking to enhance our hardware with solutions that bring added value to our customers."
"By partnering with FITTS to launch Speechly, we are offering a unique service to Jabra customers who can now communicate even more effectively than before."
Speechly can be configured to work with compatible Jabra professional devices and in the future will be enabled to support conversations with multiple parties in a room, or remotely over Microsoft Teams.
The translation element of the service utilizes Microsoft's "natural language processing" AI services. All conversations are stored securely in the cloud and billing is based on usage.
For more information about Jabra - visit the
Jabra Website