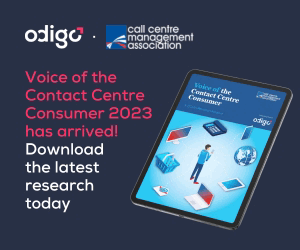 Melissa Cowdry at Odigo looks at how low engagement is both a driver and consequence of quiet quitting, and improving it is a fundamental part of the solution.
No doubt about it, agent engagement influences contact centre success. After looking more generally at the quiet quitting trend in our linked blog, employee engagement deserves further discussion.
According to the Gallup State of the Global Workplace: 2022 Report engagement levels are relatively stable but not great. Only 21% globally are engaged at work and in Europe it's worse: 14%. Why is that important, and what are the implications?
How Employee Engagement Affects Quiet Quitting
Observant supervisors at contact centres with low engagement levels often notice several major effects. First, disengaged agents are less likely to feel a sense of connection to their company, and as a result, career planning and brand ambassadorship reduce.
Second, employees are less likely to feel satisfied with their work-life balance, which can increase resentment and active disengagement.
Finally, when you're not engaged or invested in the outcome, there is nothing to help mitigate the stresses of working life.
The Gallup study above asked employees which negative emotions they had experienced during the previous day. In Europe, worry was experienced by 37%, daily stress 39% and daily sadness 21%.
During a typical 40 hour working week with the recommended amount of sleep, 36% of your waking life is spent at work. If a large proportion of that time is disengaged and filled with negative emotions, the result is unlikely to be a positive one.
A quote attributed to Fyodor Dostoevsky makes an interesting point. "Deprived of meaningful work, men and women lose their reason for existence; they go stark, raving mad." That's perhaps a little extreme but making a living and job security are important.
When agents can't see meaning or value in the work they do, mental well-being suffers. The result? A conscious decision to detach and do the bare minimum, quiet quitting, and employee engagement worsens as a result.
Boost Employee Engagement and Reduce Quiet Quitting
Communication is the foundation of engagement, and it needs to be two-way. Agents need to share their ideas and concerns and receive objective feedback and appropriate recognition.
In fact, there are a great many things that can positively influence levels of employee engagement and quiet quitting, and they all rely on effective communication:
Making performance relevant with updates on company progress.
Embedding a supportive company culture including social events.
Defining values and mission to give time spent at work meaning.
Providing personalised feedback using contact centre analytics.
Changing the focus for improvement regularly to maintain attention and engagement.
Encouraging team dynamics and networking.
Maintaining open dialogues so agents feel confident providing their own feedback.
Showing agent feedback and involvement makes a difference by acting on feedback to improve working processes.
The regular team meetings and one-to-ones needed to communicate these tactics can be easily organised and conducted with the right technology.
Quality contact centre software includes or integrates unified communications tools. This ensures no one is left out or isolated when it comes to addressing employee engagement and quiet quitting, even with remote work.
Regardless of location, advanced analytics keep supervisors informed on agent performance as well as contact centre conditions making meaningful recognition easier.
The Performance Benefits of Employee Engagement
Contact centre software doesn't just measure performance, it can also track it. The effect of any engagement drive, new touchpoint or change to working processes should be assessed across a range of parameters.
When it comes to employee engagement the publicised benefits are clear. Here's what to watch for when assessing the effectiveness of engagement strategies:
Reduced Turnover and Absenteeism
Gallup showed that highly engaged business units achieve an 81% difference in absenteeism while the effect on turnover can range from an 18-43% improvement.
Better Customer Outcomes
The same study showed that high engagement improved customer ratings by 10%. Low employee engagement and quiet quitting effectively block outstanding service. Agents don't go that extra mile or pick up on subtle customer cues.
Improved Profitability
Gallup also showed that the 14% improvement in productivity and 18% difference in sales contributed to highly engaged business units improving profitability by 23%.
How CCaaS Solutions Help Engage Agents
Contact Centre as a Service (CCaaS) solutions not only facilitate great customer interactions, but they also help keep teams connected and motivated. A cloud-based solution can also integrate unified communications like Microsoft Teams so contact centres can chat, problem solve, grow and develop as a team.
Motivating agents with the right goals and kind targets is also easier with quality management software and data visualisation.
Supervisors stay informed with alerts and easy to digest visual summaries making tackling quiet quitting and employee engagement simpler.
This blog post has been re-published by kind permission of Odigo – View the
Original Article
For more information about Odigo - visit the
Odigo Website