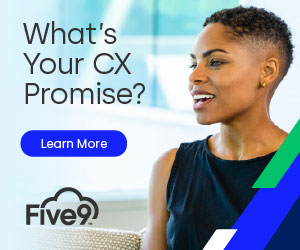 Allison Wilson at Five9 shares insights on the three habits that make effective CX leaders.
When a friend (or stranger) describes a bad encounter with customer service, the polite response is somewhere between shock and scandalized ("What?! How dare they!"). 
Yet many of these stories aren't particularly shocking because we've heard it, and probably experienced it, all before ("I waited around forever." "I had to call back a bunch of times." "They kept transferring me." "The agent was rude and couldn't solve my problem…").  
We hear much less often about efficient, satisfying service encounters. There just isn't enough drama or scandal in those stories to captivate friends and strangers.
That's because good service is seamless, and it's not always obvious why the experience went so well. But behind the scenes of every untold CX success is a leader who has put all the pieces in place. Let's look at some best practices those leaders live by.     
1. They Help Agents Reach Their Full Potential.
Success-minded service leaders deeply understand the connection between agent experience and customer experience. They know that repetitive, monotonous contact centre tasks have been proven to negatively impact agent engagement and performance. 
And they know that in 2021, voice and chatbots can take these rote and routine issues off agents' plates altogether. The right mix of automation creates a better experience for everyone (more on that later).  
Leading organizations also provide their agents with AI-powered digital assistance and real-time coaching to help guide consumer conversations. Agents are trained and empowered through gamification, real-time coaching, and career advancement opportunities. 
With a reduced workload and more time to spend on the interactions that can help them build their skills, agents are incentivized to get better and better at what they do. 
2. They Give Customers More Agency. 
Companies with exceptional CX provide self-service options that allow customers to resolve their own issues – but in a way that feels effortless. 
They leverage the latest conversational AI technology to ensure customers can speak or chat with an Intelligent Virtual Agent (IVA) in the same natural way they speak to their Alexa or Google Home device. 
Customers can engage in multiple ways (mail, chat, SMS/ messaging, voice), and their experience is frictionless and consistent across channels. 
For example, they could start their interaction asking a web chatbot about flight schedules then later call the 800 number and engage with a phone-based virtual agent.
The IVA would know who the customer is (perhaps by their phone number) and ask if they'd like to complete the interaction that they started on the website.
The customer doesn't need to repeat any information or wait for live assistance to get what they need. 
 Customers are delighted with the experience of processing payments through automated, voice-response self-service. They like using the technology for scheduling appointments, getting product information, checking inventories, placing orders, changing their account address, and countless other applications. 
Savvy service leaders know that this type of interaction is subtle but powerful path to earning customers' loyalty.   
3. They Turn Insights Into Action. 
The most effective CX leaders not only implement advanced contact centre reporting that provides a 360-degree analysis across all channels, they ensure that the analytics can be effectively used to guide customers and agents to the best outcomes.    
Analytics and insights are provided in real-time with dashboards and reporting that can be customized and integrated with other Business Intelligence tools.
AI is utilized to accelerate data analysis and feed dashboards. Multiple AI engines may be in use as customer data and insights are shared and used, not just in the contact centre but across the business.
This allows the service organization to measure metrics daily, monthly, quarterly, or annually – and to make adjustments when necessary. The most successful leaders know that tracking trends to gain actionable insights and credible data helps support strategic changes that require executive buy-in.    
This blog post has been re-published by kind permission of Five9 – View the
Original Article
For more information about Five9 - visit the
Five9 Website