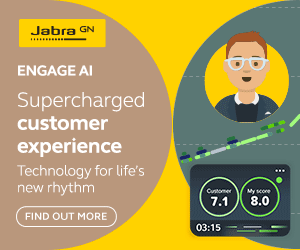 How do we keep everybody working flexibly and get employees back together in the right way?
As we plan our longer-term flexible working strategies, safely returning to office spaces whilst further enabling remote working will be key to organizational success.
As technology investments continue to drive this, we spoke to Sandhya Rao, Principal Product Manager at Microsoft Teams, to ask her how, when used with the right devices, Teams can help.
How do we give safety and peace of mind to people who are going back to work? This is something we think about all the time, both for our collaboration bars and for the Microsoft Teams rooms many people have started using now.
Look (and Hear) With No Contact Required
Now when people walk into the office, the first thing they'll think is: 'Am I safe?' That's why we're working on a number of touchless solutions right now. Also, people may be reluctant to touch consoles and shared devices. That's why we're finding contactless ways for people to use their personal mobile phones to connect to the room device and start the meeting in the room. You can even adjust the volume for that device.
You can mute the entire room. You can turn the camera on or off in the room and you can close the meeting too. You will never have to touch that console, which should help put your mind at ease.
Home, But Never Alone
But what about people at home? Well, we're definitely in a hybrid work environment, and I don't think that's going to change. While there will be people going in to work, there will still be a large number of people who will be working from home.
We need to think about how to bridge the gap between people in the room and people at home. It's really important to ensure there is always an inclusive 'working together' kind of mentality.
We are always thinking about ways to make remote workers feel included, with features like 'raised hands' and live captions so that they can hear exactly what's going on, and people who are in the room can see the people at home via video and updates made to our stage for better connections.
Tech Is Getting Us Back in the Room
In general, the trend for more collaborative spaces will continue and, we believe, grow. We will also see a rising need for smaller physical 'huddle' and conference room spaces, especially if the people in a physical work space want to connect with the people at home.
You wouldn't want to do virtual chats in an open office all the time, disturbing other people, right?
Working From Office, or WFH?
In terms of the future strategy of peripherals, I do think that COVID-19 has provided a significant shift in how we think about them, at least in the enterprise space. Historically, we were very focused on office devices which you might have taken home occasionally.
Now the balance has switched, and we have found ourselves needing to think about the optimal solutions for devices we're using at home, because there will still be a substantial number of people working from there for a while.