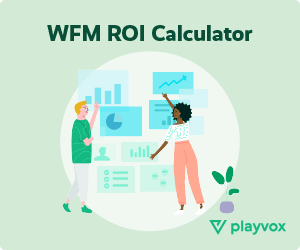 Engaged contact centre agents are essential to the success of any customer service operation. When employees feel connected to their jobs and have meaningful goals, agent performance increases. And happy agents tend to deliver experiences that delight your customers.
But disengaged agents create challenges in a customer service center. A 2021 Gartner study found that disengaged customer service reps create a high-effort customer service experience three times as often as engaged employees do. They're also 84% more likely to be looking for a new job — a big hit to your agent retention rate.
Keep contact centre agents engaged and dedicated to delivering world-class customer interactions by implementing these best practices today.
1. Give Contact Centre Agents a Purpose
Everyone wants their work to mean something, so make sure agents understand how their work connects to the bigger picture of your company's success.
Map your agents' performance goals to your business goals — and make sure agents understand how they align.
When agents are clear on their priorities, they become more engaged, according to the Gartner study. Managers should make it clear how their team's work impacts the customer journey and, ultimately, the long-term health of the company.
2. Offer Feedback
Regularly offering agents feedback is key in helping contact centre agents understand how they are performing. Feedback should always be a mix of positive comments and opportunities to improve.
Link any improvements that need to be made with a larger objective so agents understand why it's important.
Managers should foster an environment of dialogue between themselves and their team members so that any difficulties can be resolved before they develop into larger issues.
3. Invest in Coaching
To keep contact centre agents engaged, investing in training and coaching is essential. Ongoing learning opportunities keep staff updated on industry trends, best practices, and customer service techniques. They'll be better equipped to meet customer needs while outperforming competitors.
Coaching is a critical aspect of agent engagement in contact centres. With the right coaching solution, managers can give individualized feedback to agents and identify areas they need to develop so they can grow within your organization.
According to a 2022 Gallup report, employee feedback should happen a few times a week. Unfortunately, most contact centres (54%) are only evaluating agents monthly.
Using a coaching solution lets you address opportunities to improve as they happen and keep feedback frequent and useful. Then your one-on-one meetings can be focused on building relationships with your agents.
By investing in effective coaching strategies and technology, contact centres can be cost-efficient and maximize employee engagement levels at the same time. You'll also improve customer satisfaction scores, lower agent attrition, which can lead to increased profitability.
4. Use Gamification
Gamification can be a powerful tool for keeping contact centre agents engaged. By providing incentives, you can motivate agents to strive for excellence. This approach is a proven way to help employees stay focused on important goals while still having fun at work.
In addition to motivating agents, gamification also adds a sense of friendly competition and accomplishment to everyday tasks. This can help contact centre agents — whether they're in-office or remote agents — feel more engaged and motivated while they work.
With a motivation solution, you can create leaderboards to show which team or agent achieved a certain goal in a given period of time, such as getting the highest customer satisfaction ratings during a particular shift.
Gamification initiatives don't need to break the bank, but companies should provide incentives like gift cards, extra vacation days, or even a prime shift for top performers who reach specific goals set by management teams.
It's important to make sure everyone feels included, so there should be multiple ways people can participate in these types of activities, regardless of their skill level or job title.
5. Listen to Your Team
To keep agents engaged, it's important that they feel heard. When contact centre leaders listen to their ideas and suggestions, it can go a long way in improving customer service.
Offering agents the opportunity to share their ideas and thoughts can help foster an atmosphere of trust, respect, and collaboration in the contact centre.
When connecting with customer service representatives, offer a variety of group, individual, and anonymous opportunities to share their ideas, suggestions, and other agent feedback.
Your coaching solution can even help your team feel more heard and understood if you choose one that offers closed-loop feedback.
Giving agents a chance to respond to coaching helps you be sure they understand the improvement they need to make and lets them provide feedback to you as well.
6. Recognize Employees
Everyone enjoys being recognized for a job well done, including contact centre agents. When you acknowledge your team's efforts and celebrate their success, you help boost morale, increase agent engagement levels, and reduce employee turnover.
Ensure the acknowledgment is substantial and regular. For example, you could set up a reward system for meeting certain performance targets or completing specific tasks on time.
Provide a tangible reward for reaching goals and demonstrate the value of their effort. You should also be sure to recognize individual accomplishments, along with team efforts, so that everyone feels appreciated for their contributions.
Using different forms of recognition — from verbal praise from contact centre managers to a formal ceremony with certificates or trophies from upper management — can go a long way in making team members feel valued and respected within the organization.
Don't overlook the value of non-monetary rewards such as extra days off or flexible working hours. Showing your team how much you appreciate their efforts doesn't have to cost anything other than some thoughtfulness.
In fact, sometimes just taking the time out of your day for an informal chat over coffee can make all the difference.
Conclusion
By focusing on these proven ways to keep contact centre agents engaged, you can ensure you're building an efficient team of motivated agents who are dedicated to providing the best customer service possible.
This blog post has been re-published by kind permission of Playvox – View the
Original Article
For more information about Playvox - visit the
Playvox Website