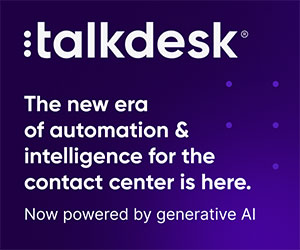 Talkdesk's Shauna Geraghty explores the main call centre performance metrics to be monitored by agents and managers.
Managing thousands of calls and handling thousands of questions while keeping a high standard of customer service: it may sound simple, but it's not. It's not always easy to keep productivity high in stressful environments. And call centres can be really stressful, especially in peak workloads and seasonal rush.
Productivity is a major challenge in contact centres because when productivity decreases, your customer service satisfaction metrics start dropping. To keep your call centre productivity high and your customer service in shape, you should frequently evaluate your call centre performance metrics.
Performance metrics can give managers and agents useful information to:
Increase their productivity.
Improve call centre efficiency.
Improve customer satisfaction.
Enhance the customer experience (CX) strategy.
Train the Entire Team to Understand Call Centre Performance Metrics
Maintaining excellence within a call centre requires educating the entire team on how to analyze and act on the most appropriate call centre metrics and empowering them with the right tools to do so.
Train agents and managers to recognize trends, anticipate problems, and engage in reparative action. This will give you an entire team that is capable of effectively making informed decisions and demonstrating tactical and strategic adeptness, as well as agile flexibility during critical moments.
Empowering your agents and managers with a dashboard that displays the most appropriate call centre metrics to monitor in real-time is the first step to ensuring they will excel.
The metrics displayed on the manager's dashboard will help them make informed decisions based on comprehensive real-time data and help them improve service quality.
It's not about pointing fingers at those who perform low but, instead, giving agents the data and tools to take a comprehensive look at the individual and team performance.
5 Relevant Call Centre Performance Metrics for Managers and Agents
There are several key performance indicators (KPIs) that measure efficiency in customer service and call centre operations, but a handful of metrics are enough to give a picture of agents' daily performance.
Below you can find the most significant metrics that managers and agents can use to track performance.
Service level
Service level can be a quality indicator for your call centre and is defined as the percentage of calls answered within X seconds. Managers can use this to inform workforce management decisions, identify inefficiencies, and reward top performers.
Agent status
This shows each agent's status (available, busy, etc.). When using this metric along with the "calls in queue" metric, managers can more effectively assign tasks to their team. For example, having a few available agents isn't a problem if your team is only receiving a few calls. Managers can then assign agents to work on other tasks.
Average waiting time and average time of abandonment
These indicators reflect recent trends and provide context to the number of calls in the queue and the longest waiting time. Thus, supervisors can compare current metrics against historical data and easily identify trends.
Number of calls in queue
This displays the current backlog. It is the metric that is most sensitive to changes and trends. Managers should decide what action should take place when this metric reaches a predefined cutoff.
For example, when agents notice this metric exceeds a predetermined threshold, they can place their current caller on hold or expedite their current call to accommodate a caller in the queue.
Longest waiting time
This is the length of time that the longest waiting caller has been in the queue. Agents can use this metric as an indicator that they should expedite the call or spend more time with the current customer.
Managers can use this metric along with the calls in queue metric to anticipate a critical time for them to engage in preventative action.
For example, if there are far more calls in queue than normal but the longest waiting time is short, the team is starting a downward trend, and the service level will decrease. This is an important time to engage in preventive action
Best Practices for Measuring Call Centre Performance
Training your entire team to interpret and act on call centre metrics effectively can be an important step to increasing your company's service quality and efficiency. In addition, it can result in a team that is well prepared to handle high volume call times and will take the initiative to work on other tasks during low call volume periods.
But call centre performance metrics alone don't help anyone, so make sure that the metrics work for the teams and not the other way around. Intuitive monitoring software and some grounding rules can help managers and agents use metrics to make informed decisions.
Here's a checklist of best practices to meet when measuring call centre performance:
Define a goal beforehand.
Be clear and transparent when communicating with the team.
Set up a benchmark with industry data.
Deploy analytics software with real-time, intuitive dashboard access.
Analyze quantitive and qualitative metrics.
Always compare metrics against each other.
By leveraging strong analytics and powerful call centre software that displays real-time call centre metrics to both agents and managers, your team will go from good to great.
This blog post was originally published by Talkdesk in January 2013, and updated in October 2021.
This blog post has been re-published by kind permission of Talkdesk – View the
Original Article
For more information about Talkdesk - visit the
Talkdesk Website