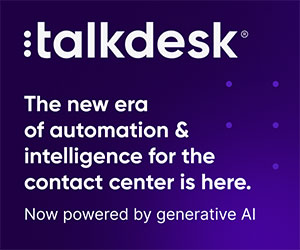 Lídia Dias at Talkdesk shares insights on customer support solutions, the benefits they bring to your contact centre, and the top factors to consider.
Poor customer service drives away customers. Sixty-eight percent of customers agree that a single poor customer service experience will negatively impact their brand loyalty.
In a highly competitive environment, top-notch customer service is a priority. By investing in customer service, companies turn first-time customers into returning clients and extract more value from them.
This makes the customer service department a pivotal part of the business. Recognizing the importance of customer service and engagement, companies invest in customer experience (CX) rather than solely relying on marketing and sales as a source of value.
We'll guide you through:
What is a customer support solution?
The three main benefits of a customer support solution.
The top factors to consider before deploying a customer support solution.
How to choose a customer support solution for your business.
What Is a Customer Support Solution?
A customer support solution, or customer service solution, is a platform or software that helps track, manage, and respond to customer queries in a timely, successful manner. Customer support solutions allow you to track performance and dig into analytics.
Its most basic function is to provide a centralized system to manage calls, emails, messages, and other forms of customer service requests. A customer support solution helps agents track, prioritize, manage, and solve client queries while facilitating access to customers' relevant and contextual data.
A customer service platform can benefit companies of all sizes. Whether your company answers hundreds or thousands of customer requests every day, you need a solution that keeps your contact centre running smoothly.
The Three Main Benefits of a Customer Support Solution.
You can deliver a good customer service experience without specialized software, but soon enough, you'll feel the limitations of not having a dedicated solution for your contact centre:
Difficulty in scaling to meet customer demands.
Stressed and disengaged agents.
High rates of employee turnover and absenteeism.
A large volume of callbacks from unsolved problems.
Low customer satisfaction.
Below you can find the three main benefits of using a customer support solution in your contact centre.
1. Boost on Productivity and Performance.
Connecting all the existing systems, from customer data management systems to ticketing and billing software, the customer support solution pulls the client information from other platforms and gives agents access to contextual customer data on a single dashboard, boosting agents' productivity and efficiency.
With a consolidated view of all digital channels into a single interface, agents can have quick access to customer profile information and complete customer interaction history, while meeting customers in their channels of choice.
Most of the contact centre solutions also provide analytics on the overall contact centre key performance indicators (KPIs), so managers and team leaders can keep an eye on the agent's performance.
2. Improved Agent Experience.
In a high turnover environment, improving the agent experience is crucial. AI-powered solutions can have a significant impact on agents' happiness and engagement.
Automation does a great job in taking over repetitive after-call tasks, like automatically updating CRM with call details, adding relevant tags, and collecting customer feedback through SMS.
If repetitive, manual work is automated, and agents are free to focus on high-value tasks, they will feel more appreciated, motivated, and productive.
The integration with collaborative tools also improves communication across the entire organization, fostering transparency and agility within and between departments.
3. Reduced Operational Costs.
With a customer support solution, you can cut operational costs. Automation tools allow you to save time and resources in managing your customer service operations.
Leverage tools like text messages and live chat to reduce the cost and time of a call. You can even create self-service channels, such as knowledge base and conversational self-service, to have customers solving routine inquiries like changing a reservation or tracking an order without the cost of having a call.
The Top Factors to Consider Before Deploying a Customer Support Solution.
Usually, software decisions in contact centres are driven by two main factors: requirements and budget. For customer service software, solutions range from low-cost to a high price tag.
But, instead of looking at price tags, search for the capabilities that will future-proof your investment, avoiding the need to change the software in the near future just because the team grew or the business changed.
These are the top factors to consider before deploying a customer support solution:
Type of call centre software. Whether it's cloud-based or on-premises, the type of software should be able to answer future industry and workforce demands.
Features. Once you've decided the type, there are some features you should look for in a customer support solution, including:
Automatic call distributor (ACD).
Interactive voice response (IVR).
Automated workflows.
Power and predictive dialler.
Voice and screen recording.
Workforce management tools.
One single dashboard.
Business intelligence.
Business tools integrations. Whether we're talking about a billing system or a CRM tool, your platform should leverage existing technology seamlessly.
Scalability. When selecting your customer support solution, make sure it can scale with your business. Look for flexible platforms that are easily customizable through simple, drag and drop interfaces (no code skills needed).
Ease of use. Make sure that your agents can be proficient in navigating the software in a few hours. Training and coaching might be necessary, but the learning curve should not look like Mount Everest!
Flexible deployment. The implementation process shouldn't interfere with customer satisfaction or daily operations.
Regulatory compliance. Your software should stay compliant with local and industry regulations and customer requirements.
Technical support—Look for responsive, on-the-clock customer service and technical support.
How to Choose a Customer Support Solution for Your Business.
Not every solution will fit your business model, but you can surely try several solutions to find what works best for you. Analysts' reports, like Gartner Magic Quadrant for Contact Centre as a Service (CCaaS), are a great source of information on software and its providers.
They give you a shortlist of interesting provider options to look at for your customer support solution and a preview of the software's main capabilities and shortcomings.
Most providers offer a free trial period in which you can use the software, make and receive calls, run reports, observe the different dashboards… You name it. The goal is to provide you the same experience you will have if you buy the software to be sure it fits your organization's needs.
This blog post has been re-published by kind permission of Talkdesk – View the
Original Article
For more information about Talkdesk - visit the
Talkdesk Website