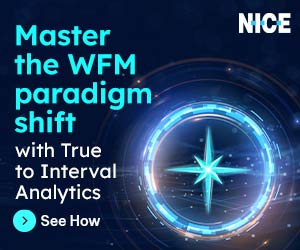 Abby Monaco of NICE shares some practical uses of Artificial Intelligence (AI) in the contact centre.
Looking into 2019, enterprises will take data analysis to the next level with the help of AI. AI will transform the technology landscape.
Whether providing useful self-service tools or offering detailed help through live agents, call centres make effortless customer experience one of their highest priorities.
Speaking of big data, the contact centre is a rich reservoir of customer data, made up of call recordings, agent notes, voice of the customer surveys, and the possibility to reach into information on every touchpoint customers have with the business.
Diving deep into all the data at hand presents a full view of customers' journeys, but only the application of AI can and will truly transform every part of the contact centre and beyond.
The uses of AI to boost contact centre operations abound:
"Smart" virtual agents are replacing interactive voice response (IVR)
The router can use AI and machine learning to match customers to agents best equipped to handle their personalities and the issue at hand
Predictive modelling can be used in real time to prompt live agents with the next best step.
All of this stems from the power of digging into ever more data sources that were previously untapped, and applying sophisticated algorithms to improve business operations across the entire organisation.
How Can Big Data and AI Help Your Organisation?
How does your organisation view AI?
Imagine it as a toolbox rather than a foolproof process. Make sure your box is loaded with the best possible and quality tools available, and start by implementing AI and NLP in your contact centre effectively – but aim for a future where your business analytics programme reaches into the entire organisation, far beyond just the contact centre.
Not loading up your toolbox with the right knowledge and tools now is useless. Unused data will only become more powerful.
Data previously siloed in different areas of the organisation are now coming together revealing crucial insight about consumer behaviour.
Imagine what your organisation can do with that extremely focused and detailed information, and don't forget that if you aren't working toward a full analytics programme today, your competitors are.
AI is playing a critical role in the future of the contact centre and business operations as a whole. Not only will your agents be able to quickly resolve common issues, your customers and business will benefit.
There is much to do with AI, and the possibilities are intriguing to say the least. The sooner you get going on your own understanding of what AI can do for your contact centre and your business, the better able you will be to keep up with today's fast paced and rapidly evolving marketplaces.
For more information about NICE - visit the
NICE Website