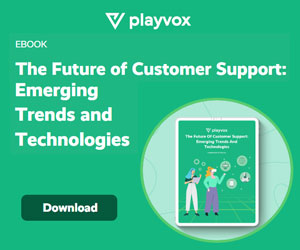 Rohit Rakkar at Playvox explains five tips for WFM scheduling that can make the most of your agents.
WFM scheduling can easily be thought of as something you do to benefit your customer experience, but it's so much more than that. Effective scheduling is also a way to accommodate your customers and your agents. And, you can reduce turnover just by being more considerate of your agents' needs.
What Is WFM Scheduling?
WFM scheduling in the contact centre is the act of planning your team's day, week, or month, either to the shift start and end times or at the intra-day level. While the smallest contact centres can manage this with a spreadsheet, centres with more than 50 agents will see big benefits using WFM scheduling software.
Although a software solution costs more than a spreadsheet, the right WFM software will deliver a significant return on your investment.
A study by Salesforce and Forbes showed that companies that had both high customer experience scores and high employee experience scores were growing twice as fast as companies with low scores in each category.
It pays to keep your team happy, and better contact centre scheduling is a way to do it. Here are five WFM scheduling tips to help you take care of your agents so they can better take care of your customers.
1. Vary Their Day
This is our top WFM scheduling tip. No one likes to complete the same task over and over all day, and agents are no exception. Take it from my experience working as a collections agent — there's no enjoyment in dealing with non-stop calls from start to finish.
Customers who contact your team at the end of the day deserve the same attention and energy as the ones who contact them at the beginning of the day. Breaks and lunches being scheduled to split up a day are a staple, but go beyond these expected pauses.
Schedule your agents to work in a variety of channels per day, moving them between chat, email, SMS, and phone so their work doesn't become repetitive. As part of your omnichannel strategy, this scheduling tactic will increase your agents' skills and your contact centre's overall efficiency. It's a win-win.
2. Pre-Plan Regular Meetings And Administrative Tasks
Managing an individual's time inside of work hours helps to set expectations and give structure to their day.
For example, consider pre-planning a 1:1 meeting so it isn't a last-minute decision to take the agent off the phone at the expense of the agent and your customers.
Monthly and weekly meetings should also be accounted for and regularly scheduled for consistency and to give agents an accurate expectation for their day.
Meetings are a common example, but daily administrative tasks are a broader and more consistent issue to your scheduling efficiency and your agents' efficiency.
Give your agents structured time to complete administrative tasks so they can give customers their best during interactions.
Creating a block at the end of their shift to focus on any remaining tasks without interrupting their flow throughout the day can leave them better organized and focused on your customers.
3. Allow For Preferences
One of the benefits of using a contact centre scheduling software is the ability to set agent preferences. That makes it easy for you to give your hardest-working agents the first pick for their contact centre shift schedule. Let them know they're valued when generating your weekly/bi-weekly/monthly schedules.
A 2021 ICMI survey revealed that just 32% of contact centres were offering scheduling as a performance incentive, but this is an overlooked opportunity to deliver a valuable perk with no cost.
The right contact centre scheduling software will help you take into account agent preferences for working times, days off, and desired channels (chat, phone, email, tickets, etc.) so you can give top agents the hours and days they'd like to work.
Small gestures like this allow your agents to better plan ahead in their personal lives, which goes a long way to maintaining a happier work-life balance.
4. Allow Contact Centre Agents To Self-Manage Leave and Shifts
I've touched on the theme of allowing agents to self-manage, and I believe it's one of the most important WFM scheduling tips for making the most of your contact centre agents.
A happy agent is a loyal agent and a hard-working agent, and it's much better to retain your staff than deal with the costs of re-hiring and training replacements.
Providing autonomy on leave requests and shift swaps is a good way to let them know you have their interests in mind. It saves time for both you and your agents — time is better spent focused on your customers and your business.
5. Use Real-Time Adherence
This is where a solution comes into its own. Not only is it great for creating a realistic schedule for your agents automatically, but it also helps team leads and other analysts ensure everyone is staying on track.
The most effective way to make the most of your agents is to track them in real time. Using a WFM Work Summary page, you can see the actual tasks each agent is completing and how many tickets/chats/calls they're completing throughout the day.
The true benefit of improving your scheduling is agents adhering to it — and a spreadsheet can't guarantee that.
Make Scheduling A Positive Agent Experience
WFM scheduling plays a massive role in your agents' lives by defining their work day. Using these WFM scheduling tips isn't just about how you can get them to work for you, but also how you can schedule your contact centre to also suit them.
Inconsiderate or incomplete scheduling can create a jarring experience and poorly divide their work time — which then affects your customers and your bottom line.
This blog post has been re-published by kind permission of Playvox – View the
Original Article
For more information about Playvox - visit the
Playvox Website