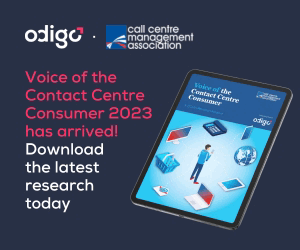 Steven Harris at Odigo looks into what to bot and what to not and why contact centre automation should be at the forefront of technological transformations.
Artificial intelligence (AI) is one of the most talked-about technological advancements of the moment, but how can organisations in the public sector use it to power a self-service bot strategy that drives results for customers, while improving internal efficiency and regulatory compliance?
In the wake of Covid-19 and a business landscape radically altered by Brexit, how can public sector organisations harness technology to deliver automated customer experience and enhance service provision?
AI is helping to transform business and society as we know it. Once the preserve of sci-fi novels and films, AI is now very much a reality, and is changing the way we work and deliver products and services to customers on a daily basis, as highlighted in a recent report commissioned by the UK Business Secretary.
The pace of this development is driven by a growing demand for increased accessibility, faster service and enhanced personalisation, combined with operational efficiency and cost optimisation – all of which AI can deliver through the intelligent automation of rules-based and time-intensive tasks, as well as the provision of analytics and insights to contact centre agents.
This demand is felt particularly acutely in the public sector, which faces consistent pressure to reduce costs while providing the optimum service to citizens.
For public sector businesses, this delivers an imperative to deliver contact centre automation by providing customer contact teams with timely, insightful, automated customer experience data on which to act in real-time.
The relationship between AI and data is a symbiotic one; AI is driven by data, and the more data it has, the better it performs. This performance is seen in the enhanced capabilities of chatbots and voicebots, for example.
The Benefits of Contact Centre Automation
The benefits of getting this approach right are clear, particularly in the contact centre, which sits at the heart of customer data collection.
A report by UK-based research firm Davies-Hickman confirmed the importance of AI in business executives' plans, as 9 out of 10 want to invest in AI. Moreover, "9 in 10 see value in smart data management to optimise the analysis of big data for forward intelligence, customer insights and proactive actions."
If the collection of that data can be automated, it can empower public sector agents to do more with less and optimise the service levels they can offer to their customers with greater analytics and insights. This means contact centre workers can offer more personalised services, managed seamlessly across channels, and take the right action every time.
Making these business functions more efficient and enhancing customer satisfaction will, in turn, reduce costs. This automated data collection imperative has driven the adoption of Contact Centre as a Service (CCaaS) platforms, which offer baked-in automation capabilities and help to empower agents to become more sophisticated, intelligent and analytical.
How To Deliver Automated Customer Experience in the Public Sector
But where do organisations start? A well-known maxim in the tech world states that it is best to "fail fast and move on", but that's easier said than done for public sector organisations that provide essential services and therefore cannot be allowed to fail at all, lest the political consequences roll downhill.
As such, when working out what to bot and what to not, or which CCaaS platform to choose to adopt, these institutions need a comprehensive strategy for introducing AI-powered automation into their operations.
Such a strategy must:
Identify the areas of service most in need of cost and performance optimisation,
Abide by stringent protocols around the collection, storage and protection of customer data.
To this last point, public sector organisations looking to deliver contact centre automation should ensure that any systems or platforms introduced into the contact centre abide by the SOC-2 framework. SOC-2 focuses on a business's non-financial reporting controls as they relate to Security, Availability, Processing integrity, Confidentiality and Privacy.
It is applicable to all technology service organisations and ensures the effective safeguarding of any customer data stored in the cloud. Customer data security is paramount, especially for public organisations.
Once the security and resilience of any chosen automation solutions are assured, leaders – such as transformation directors or CFOs responsible for procurement – can begin to plan which services to apply automation to.
Key Areas for Contact Centre Automation
The key areas that can be considered for contact centre automation include:
Services that require 24-hour availability, such as emergency contact channels for local authority housing residents,
Consistent and programmable answers, such as common tax, licensing or application queries,
Instant transactions, such as payment receipts and appointment booking confirmations,
Auto-recommendations, such as payment or documentation reminders.
Even with the broad potential of automation, it's important to remember that there are also certain services or queries that remain best handled in person-to-person interactions.
In the public sector, these include sensitive or complex family or housing-based services, and potentially difficult health and social care enquiries. That's not to say that automation can't also be applied to these areas, but that the types of service selected for automation must be chosen wisely and with respect to customer preferences.
While the decision on what to bot and what to not, coupled with concerns around data security, can seem a daunting one, it doesn't have to be.
Despite the time and cost constraints faced by many public sector organisations, which often preclude attempts to build these capabilities internally, technological advances have seen a rise in the number of third-party vendors.
The proliferation of cloud-based contact centre solutions in the market means that organisations have a wide and varied selection of providers to choose from to deliver improved, automated customer experience, whether it be on a public, private or hybrid cloud model.
Choosing the Right CCaaS Platform for Contact Centre Automation.
Transitioning to a cloud-based CCaaS solution can deliver increased flexibility to meet not only internal needs, but external legislative requirements. Customised software applications are easily implemented, giving organisations the power to decide which features and functionalities will optimise their contact centre automation strategy.
In addition, the innate scalability of cloud software enables storage to meet real-time needs, guaranteeing sufficient room for data without worrying about space.
Moreover, CCaaS solutions offer robust regulatory compliance, powered by intelligent automation (IA) and other AI models, offering public institutions the chance to deploy standardised processes rapidly, which helps them keep on top of new rules and regulations.
What this means for organisations and leaders in the public sector is a hard imperative to deliver a new form of customer service, one that prizes automated customer experience and delivers smart, powerful new tools into the contact centre to reflect the changing way people are living their lives and accessing services.
The rising adoption of CCaaS solutions is evidence that this imperative is being recognised. Cloud contact centres are more efficient, with 35% less downtime than on-premise tools, in addition to being 27% cheaper than on-premise contact centres.
So that's cheaper, more efficient and scalable; these will be three vital elements for public sector organisations to achieve in their operations, as the UK looks to recover economically and socially from both the Covid-19 pandemic and a business landscape radically altered by Brexit.
This blog post has been re-published by kind permission of Odigo – View the Original Article

For more information about Odigo - visit the Odigo Website