This month we bring you news from Ford Retail, Jabra, Webhelp TSC and award wins for Flight Centre UK, Firstsource and contract renewal for RESPONSE.
Firstsource wins award for best practice in employment in Northern Ireland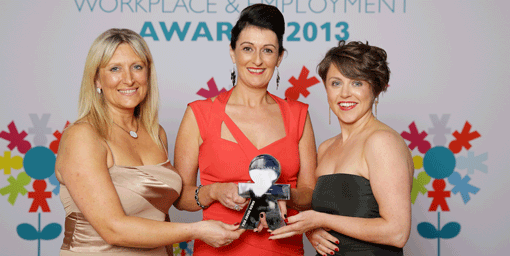 Firstsource Solutions has been recognised for its best practice in employment and recruitment. The Irish News Workplace and Employment Awards has awarded Firstsource the accolade of Innovative Employer Award 2013.
Laura Hourican, General Manager, HR, Firstsource Solutions, said: "We are delighted to have won a second award in a week for our employment programme. This Innovative Employer award demonstrates our commitment to develop new and exciting initiatives to attract and retain talented employees. With over 2,000 employees in four centres in Belfast and Londonderry, we aim to be the employer of choice in the region."
---
 Ford Retail celebrates 20,000 'Moments of Truth'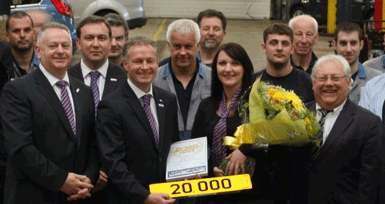 Ford Retail has announced its 20,000th 'You Made The Moment' award – a customer service focused scheme that rewards colleagues for going the extra mile.
The reward and recognition scheme allows colleagues and customers to nominate members of staff if they experience or observe a positive Moment of Truth.
The award marks a major milestone for the company and represents three years of hard work for all of Ford Retail's 3,000 employees across its network of 65 sites nationwide. The 20,000th award winner, Kirsty Lynch, has shown the dealership group is committed to providing their customers with the best experience possible.
Stuart Kerr, Chairman and CEO of Ford Retail, commented: "We are delighted to have reached such an important milestone for the Moments of Truth programme, and Kirsty's display of going that extra mile is just one in 20,000 examples of our team displaying their commitment to our customers."
---
Jabra backs the winners at the UK & Ireland Partner Forum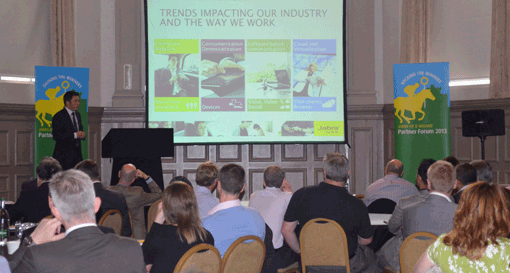 Jabra played host to a number of Distribution, Gold and Silver Resellers and Strategic Alliance partners recently at the Jabra UK & Ireland Partner Forum.
The programme featured speakers Andrew Doyle, Managing Director, Jabra Business Solutions UK & Ireland, Martin Hill-Wilson, Guy Clapperton, Dr Matt Murray, Glen Foxton and Lori Haggart.
Andrew Downes, Partner Account Manager, Insight UK, also commented, "Jabra's annual partner forum is an important event in Insight's calendar each year. Not only does it keep us up to date with Jabra's latest developments and strategies, it's also a great way to reinforce an already strong and thriving business partnership. By aligning ourselves with Jabra's own market initiatives we continue to achieve market beating growth across the Jabra portfolio."
…and named among finalists for Microsoft Award
Jabra announced it has been selected as a finalist for the 2013 Microsoft Communication Partner Award.
"Being recognised by Microsoft as a finalist for the Communication Partner Award is an important milestone for Jabra," said Andrew Doyle, Managing Director, Jabra Business Solutions, UK & Ireland.
---
Customer Experience experts crowned best in UK at Webhelp TSC Hero Awards
Six customer experience experts from Webhelp TSC have been crowned the best in the UK at a gala awards ceremony held at Stirling Castle.
The attendees were nominated by their fellow colleagues as the company looked to find star performers in six main categories – with the enticing prize of a £1,000 cheque waiting for the winner of each.
The winners were announced by Webhelp TSC CEO David Turner and Steve McKenna from Real Radio. They were:
Team Leader of the Year – Suzanne McGinty (Rothesay)
Role Model (Operations) of the Year – Mark Cowan (Glasgow)
Role Model (Support) of the Year– Luke Kinsella (Warrington)
Customer Experience Advisor of the Year (As voted by Line Manager) – Shane Oates (Dearne Valley)
Customer Experience Advisor of the Year (As voted by Colleague) – Craig Sheppard (Derby).
Innovation Award  – Jaclyn McKenzie (Warrington)
---
Flight Centre UK has been awarded a place in the Top 100 Places To Work in Europe
Flight Centre UK has been selected as one of the 100 Best Workplaces in Europe for 2013, by Great Place to Work, for the first time. The company qualified in the category of the 25 Best Large Workplaces in Europe.
Chris Galanty, Flight Centre UK Managing Director, says, "We are delighted to be recognised as one of the 100 Best Workplaces in Europe. This accolade highlights the importance of promoting a positive workplace culture, which we continually strive to achieve by providing our people with a clear pathway for progression, offering a wide range of benefits and ensuring every member of our team receives the support they need to achieve their career goals."
---
RESPONSE secures contract extension with Hiscox
RESPONSE has secured a contract extension with specialist insurance product provider, Hiscox UK & Ireland. The new multi-million-pound deal will see the successful six-year partnership continue until July 2014, with the option to extend the contract further thereafter.
Brian Bannatyne, Managing Director, said "We have built a very strong relationship with Hiscox over the past six years and this has enabled us to develop specialist expertise in the insurance market.  Our culture of continuous improvement has significantly improved the customer experience and increased the value we bring to Hiscox."