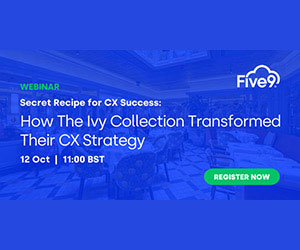 Five9 and WTG have announced their strategic partnership at the CX Summit EMEA in Porto.
Both partners bring many years of expertise in different areas that complement each other perfectly.
Together, the partners will enhance their customers' cloud, digitization and customer experience projects.
Through the combination of Five9's cloud-based contact centre and AI solutions with WTG's technology expertise and consulting and integration services, customers will benefit from a broad portfolio of innovative solutions and services.
The joint expertise of both partners helps their customers to optimize individual business processes and increase their efficiency.
Communication and customer experience are increasingly becoming a key factor for the success of a company. Once customers have had a bad experience, they often decide against doing business with the company in the future.
This is where the two partners come into play:
WTG, as a full-service provider, brings more than 100 years of experience in IT and communications, security systems, and control centre technology, as well as software development to the partnership.
Five9 is a provider of cloud-based contact centre solutions for businesses of all sizes. Its intelligent CX Platform offers a comprehensive suite of applications to improve the customer experience, increase productivity and optimize business processes.
A strong network
In the rapidly changing IT and communications industry, a logical development is emerging. Businesses that have the needs of their customers in mind do not develop all applications and services internally but use synergies for joint projects. Strong partner networks are therefore becoming increasingly important.
In Europe, Five9 embraces this approach and has established a strong partner ecosystem. WTG brings a great deal of experience as a digitization expert. All customers benefit from this.
"We are very pleased to be working with WTG and offering the benefits of our solutions together. From our first contact with WTG, we recognized the care with which WTG approaches the selection process of new partners. Our collaboration helps customers to effectively drive their digitalization and optimize their customer experience," comments Roland Lunck, Senior Director Channels DACH at Five9.
High Goals Set
The collaboration has already started, and the companies are planning many joint cloud, digitization and customer experience projects before the end of the year.
"WTG is excited about the innovative Five9 Intelligent CX Platform, with its flexibility and performance," comments Dirk Walla, CEO at WTG.
"As experts in analysis, optimization and implementation of customer specific UCC strategies, we are eager to offer companies the best possible support in digitization and process optimization to deliver outstanding customer experiences in joint projects with Five9."
For more information about Five9 - visit the
Five9 Website