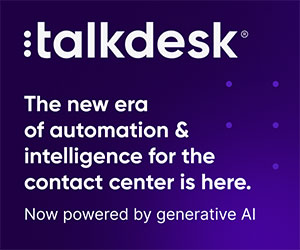 Adriana Carvalho at Talkdesk outlines three benefits of contact centre gamification to improve agent performance.
Developing happy and motivated agents reduces turnover, improves productivity, and leads to better, more personalized customer interactions.
If you evaluate the experiences you've had as a customer so far, how many situations can you think of that influenced you to stop working with a company?
From inexperienced and unfriendly agents, to long wait times on hold, most of us can probably recall a few situations that have made us rethink our loyalty to a company.
In fact, a global survey from Talkdesk Research found that 49% of consumers have stopped working with a company after just one instance of poor customer service.
But what truly makes a good customer experience? According to those same consumers, easy interactions and quick resolutions are the key drivers of loyalty to a specific brand or company.
For contact centres to provide service that meets customer expectations, they need experienced, highly engaged agents with the right skills and knowledge to provide exceptional support.
To develop a workforce that meets these criteria, contact centres need to deliver a great agent experience that helps motivate and retain their most important investment: their people.
According to ICMI, agent satisfaction is one of the most important metrics that contact centres can focus on, because it directly influences all of the other KPIs related to customer experience, including customer satisfaction, agent absenteeism, and turnover.
While the benefits are clear, developing a motivated team of high-performing agents can be a challenging endeavor.
Since the pandemic, employees have been moving from company to company faster than ever before, making it more difficult to retain experienced agents over time.
McKinsey reports that nearly half of customer care managers experienced increased attrition in 2021, which made it more difficult to provide great customer experiences in the face of rising customer demand.
Adding to the challenge is the fact that onboarding new agents is expensive and time-consuming—it can take up to six months for agents to get up to speed and become fully contributing members of a team.
So, what can CX leaders do to reduce agent turnover and develop their teams more effectively? One strategy that's becoming increasingly common is the use of gamification to boost agent engagement in the contact centre.
In fact, 73% of CX leaders expect to increase their use of gamification over the next three years. To understand why, let's explore some of the potential business benefits that engagement and gamification can provide for your contact centre.
What Is Contact Centre Gamification?
Contact centre gamification is a broad concept that can be used to describe a variety of different strategies and programs designed to introduce friendly competition, social recognition, and a sense of progression into the day-to-day activities of your agents.
These strategies make what can too often be a repetitive and stressful job more fun, engaging, and rewarding.
Gamification can contribute to a better agent experience by breaking up the daily routine while promoting collaboration and a greater sense of community amongst contact centre teams.
The Business Benefits of Contact Centre Gamification
Implementing gamification strategies that improve agent engagement and morale can lead to a variety of outcomes that improve the overall performance and efficiency of your contact centre:
1. Reduce Costs by Reducing Turnover
Gamification can help to make work more fun and break up agents' day-to-day work routines in unexpected ways.
In fact, there is a correlation between the planned use of gamification and expected employee satisfaction (ESAT) rates in the contact centre.
Among organizations that plan to increase their use of gamification over the next three years, 79% expect a rise in ESAT scores over the same period. By contributing to a better employee experience, gamification can boost employee retention, leading to lower turnover.
2. Drive Customer Loyalty
Offering a better agent experience will take your relationship with your customers to the next level as agents play a key role in driving customer loyalty.
Engaged and motivated agents will feel empowered to be more proactive and resolve customer issues faster. This translates into better service.
When agents are engaged, they're also more likely to go the extra mile by providing personalized experiences that make customers feel heard and appreciated.
3. Boost Contact Centre KPIs
Agents can struggle to meet defined KPIs when their goals are not actionable and clear. Introducing friendly, transparent challenges that put agents to work toward a common goal can help inspire them to meet challenging KPI goals more consistently.
On the other hand, giving agents visibility into their results in achieving these goals can help them recognize areas for improvement and allow managers to take the necessary steps to help them with training and coaching.
Engage agents through gamification, recognition, and opportunities for advancement.
A Performance Management solution provides managers with a comprehensive toolkit to maximize the potential of every agent.
Leaderboards, automated data-driven goals, performance notifications, and coaching workflows make it easy to track and analyze performance over time, while clearly identifying opportunities for targeted, personalized coaching.
Other capabilities like social recognition, time-based challenges, and merit badges make it easy to deploy an effective contact centre gamification and engagement strategy.
Embrace a culture of recognition and a greater sense of community across the workforce by empowering agents and supervisors to recognize their peers and team members for notable achievements.
Make agent work more fun, while also unifying entire teams around an important strategic objective. For example, friendly, time-bound competitions encourage agents to compete as they work toward a common goal.
Inspire agents to exceed their performance goals and go the extra mile for your customers by recognizing outstanding achievements with public merit badges that can even be tied to tangible rewards.
Are you looking for a better way to improve the agent experience, drive engagements, and cut costs?
This blog post has been re-published by kind permission of Talkdesk – View the
Original Article
For more information about Talkdesk - visit the
Talkdesk Website