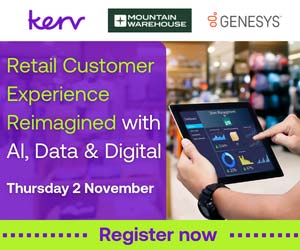 Today's customers are becoming ever more demanding as inflation, energy costs, and the like continue to hit their most basic needs.
And with 87% of agents feeling stressed, choosing best-fit channel strategy is paramount as they're increasingly being asked to fulfil an empathetic, emotionally intelligent problem-solver role.
A hot topic at the Kerv Experience event held in the Manchester Imperial War Museum in November 2022, was exploring how combining Genesys and Microsoft solutions can crack such conundrums.
Improve Your Channel Personalisation
Extroverts tend to enjoy more frequent social interaction and feel energised after spending time with other people. That makes them better suited to voice and video communications.
On the other hand, introverts tend to be more reflective and may prefer interacting via chat or self-serving over a bot. That sounds obvious but is often overlooked.
So, in designing an omnichannel model, ensure you take account of customer personas in offering appropriate choices.
Naturally, they should include demographic details (age, gender, income, and so on) along with answers to more intimate questions such as their passions, concerns, challenges, and buyer motivations.
Once gathered, that personalised data should live in one system of truth and directly feed things like AI-powered routing strategies. That becomes much easier to do with a fully integrated Genesys and Microsoft contact centre architecture.
Alleviating Stressful Situations
In addition, customer experience (CX) leaders must prepare for shifts in reasons to make contact. For example, issues like late payments, order cancellations, and product returns are set to rise.
One of the most effective ways to do that is combining the intelligence of Genesys Cloud CX journey orchestration with Microsoft AI and Dynamics CRM solutions.
66% of customers would welcome proactive assistance if they exhibited signs of financial distress – Source: Censuswide May 2022
First, using a voice or chatbot to triage intent. And second, surfacing relevant knowledge articles in the process of transferring to a live agent.
Such things eliminate the need for the customer to repeat basic information, while empowering the agent to better manage and resolve stressful situations. The result is reduced need for follow-up and better outcomes.
Those are two simple use cases showing where using Genesys or Microsoft technology together helps. Also, when comparing this data-driven experience with traditional IVR queuing it can be up to 5X more efficient in terms of time saved.
Listen, Predict, Act, and Learn From Your Customers
McKinsey said personalised experiences make 78% of consumers more likely to repurchase and/or refer friends and family.
Similarly, Merkle found 86% of customers are willing to pay slightly more for products offered along with a personalised experience. And that requires actionable customer intelligence.
Empathy and personalisation play to the strengths of Genesys Cloud CX . As well as unifying customer and agent experiences across phone, email, chat, text, mobile apps, websites, and social channels, customers benefit from analytics and AI tools that uncover opportunities to:
Listen not just to what customers tell you, but also how they're feeling
Understand and Predict what they want based on their behaviour
Act by connecting them to the right agent or self-service resource, first time, every time
Learn from all interaction outcomes and continuously improve
In fact, data from Qualtrics show businesses that rate highest for listening to customers outperform others in both satisfaction and customer purchase intent.
Best Practice
One Kerv Experience client getting personalised CX right is Vision Direct. They recognised early on that you can only do things better when all systems work as one.
Now, agents can juggle chat and email conversations. All tasks are presented at their Genesys desktop with cases and responses stored in one place. Intelligent routing determines whether the customer needs to be connected with a highly-skilled, ophthalmic-trained specialist or not.
Finally, best of all, managers can measure contacts per case (rather than first contact resolution) enabling them to see and fix problems that originate in downstream processes or as part of outside-the-contact centre business.
This blog post has been re-published by kind permission of Kerv Experience – View the
Original Article
For more information about Kerv Experience - visit the
Kerv Experience Website