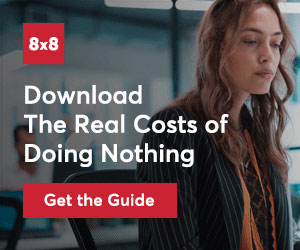 Tricia Morris at 8×8 outlines five digital predictions you need to read.
Workplace evolution is constant and remote work demands have skyrocketed.
This means the days of triaging your workplace strategy for another few months of remote work or for the latest workplace policy are long gone.
Even with a smattering of layoff announcements popping up in LinkedIn's news feed, employees aren't backing down on permanent work-from-anywhere expectations or demands.
After the Dutch parliament recently adopted legislation that makes remote work a right in the Netherlands, 82% of approximately 700 LinkedIn poll respondents agreed that remote work should be a right globally for all whose roles allow for it.
Should You Be Gearing Up for Return-to-Office or the Future of Work?
So are organization-wide return-to-office plans and strategies simply a waste of time? Signs from recent surveys point to yes. Seven out of 10 knowledge workers say they now view the physical office as a social amenity rather than a mandatory workplace, according to the Harvard Business Review.
Related, in research commissioned by 8×8 around the future of work, just 7% of approximately 500 IT and CX leaders said the future of work will return to predominantly in-office.
What's Next for Workplace Transformation?
In the on-demand webinar, The Work from Anywhere Future – Trends and Best Practices for Digital Business, Ventana Research CEO and Chief Research Officer Mark Smith and Ventana VP and Research Director Keith Dawson emphasize that organizations must now support their workforce with a digital business mindset, accelerate digital transformation, and lead with a cloud-first, digital-first strategy for communications.
To that end, the analysts offered five digital business assertions, along with advice and best practices around each:
By 2023, one-quarter of organizations will look to UCaaS and CCaaS technology to collaborate in the enterprise and with customers more effectively.
By 2024, one-third of organizations will embrace business continuity planning to align digital technology investments to meet the demand of a virtualized customer, product and workforce environment.
Through 2024, over one-half of organizations will have overlooked information security's role in evaluating digital technology, introducing unnecessary risk to corporate information assets.
Through 2025, one-half of organizations will establish digital business as the new digital transformation agenda to meet the needs for organizational readiness and business resilience.
By 2026, one-fifth of organizations will establish a Chief Experience Officer to guide the digital improvements to experience management throughout an organization's business processes.
This blog post has been re-published by kind permission of 8x8 – View the
Original Article
For more information about 8x8 - visit the
8x8 Website