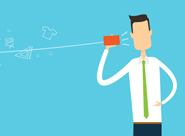 Nick Applegarth explains how you can make the most out of your Unified Communications technology.
1. Drive more efficient customer interaction in the contact centre
Legacy call centres typically operate as isolated silos, with little in the way of seamless connectivity with the rest of the business. Today's contact centres need to be a fully integrated part of the business and link to existing UC infrastructures.
That allows you to call on expertise across the connected enterprise to quickly resolve customer queries, often in real time – rather than being deferred for future resolution when the answer has been obtained.
2. Migrate to an approach that combines the contact centre and the connected enterprise
Combine technologies to create an infrastructure that supports unified communications. Cloud computing and IP-based networking enable a virtualised environment, while UC delivers insight into the presence of customer-facing staff.
In addition, directory and database integration enables you to know who is available to support your customers. The result – quicker call resolution leading to happier customers and agents.
3. Choose the best delivery mechanism for your business needs
Look for a migration plan that transitions you smoothly to UC.
Some vendors offer the flexibility of both cloud and on-premise contact centre 'flavours' and support this through a one-stop shop for a business's complete communication needs.
4. Choose vendors who have already 'gone the distance'
If you want to future-proof your approach or need a hybrid approach now, look for vendors that can provide a comprehensive service offering, have a track record of successful migrations and an extensive range of UC case studies and success stories to share.
5. Create an effortless experience
Put yourself in your customer's shoes. The customer may start off online but they can't find what they're looking for, so they start a chat or simply phone in to the contact centre. Then, they need a file emailed, adding another interaction channel into the mix.
The customer will often move from one form of communication to another. But with a UC approach all this can be wrapped up in one bundle, enabling closer, more effective customer communications. The result – happier customers and agents – and ultimately a more profitable business into the bargain.
With thanks to Nick Applegarth at Enghouse Interactive
---