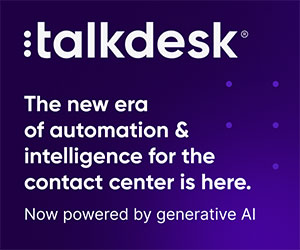 Lídia Dias at Talkdesk looks at how the call centre is one of the industries with higher turnover rates. On average, one in four call centre agents leaves their positions each year. That means investing lots of time and effort in agent onboarding and training.
Implementing the right processes can save the company a considerable amount of money. This blog gives guidance on the call centre agent onboarding process, as well as free resources with additional insights and strategies.
What Is the Typical Call Centre Agent Onboarding Process?
The way you onboard new employees has a profound impact on their experience while on the job; therefore, supervisors and managers spend much of their time trying to improve and adjust the onboarding process to employees and market needs.
They often lean on other industries' onboarding best practices to implement in their call centre agent onboarding process.
This is typically divided into four different moments:
1. During the First Day:
Collect employee's personal information.
Prepare paperwork.
Provide agents with the hardware and software access they'll need.
Inform existing employees and integrate agents into the team.
2. During the First Week:
Schedule an introductory meeting.
Provide access to the training materials—recorded calls, knowledge bases, and more.
Assign someone in the team for the agent to shadow.
Schedule an end-of-week meeting.
3. During the First Month:
Share main difficulties.
Start transitioning to solo call taking.
Access further training needs.
4. During the First 90 Days:
Review progress.
Set long-term plans and expectations.
Seven Insights on Call Centre Agent Onboarding.
Below, you will find seven insights on how to optimize agent onboarding and training processes, with additional resources to dig deeper into each topic.
1. Soft Skills and Personality Traits Are More Important Than Technical Skills.
Hiring customer support agents requires choosing candidates who can effectively assist customers, cooperate well with others, and fit into the team's culture.
The people you choose to handle customer service queries will have a direct impact on performance metrics such as customer satisfaction, Net Promoter Score, and other important rates.
If the agents are unhappy, unfitted, or unmotivated they will monopolize managers' time and energy, decrease team morale, and ultimately tarnish the image of your company.
While technical skills can be trained, it's highly difficult to change one's personality traits. The so-called soft skills have a major impact on agents' and team performance—so you should know what to look for when hiring a new agent.
Soft skills to look for when hiring:
Knowledge retention.
Attention to detail.
Flexibility.
Empathy.
Calm under pressure.
Effective communication skills.
Active listening.
Quick thinking.
2. Listening Skills Are Essential for Your Agents.
For many industries, the agent is at the forefront of the company, sometimes the first and only touchpoint.
That makes it imperative for them to be trained on the brand's stance and product/service. However, what they say is not as important as what they hear—and they hear a lot.
Even the most experienced agent finds it difficult to deal with customers' frustrations and listen to all the complaints.
Agents need to be prepared to deal with odd situations and provide empathetic customer service that makes the client feel understood.
Listening skills enable agents to:
Recognize, accept, and understand callers' frustrations.
Encourage the caller to share more information and be as open as possible.
Promote cooperation between the agent and caller.
Learn about customers' opinions, desires, and needs.
Help build stronger relationships.
3. Building a Process Will Help Agents to Deal With Angry Customers.
In a call centre, it's really common to get calls from angry customers. Handling angry callers is part of the job. Knowing how to deal with these challenging interactions effectively can go a long way in improving the customer's experience with your company.
Listening, staying calm, repeating information, avoiding the hold button, and making your caller happy are all essential when you have an angry caller on the line.
It's crucial to provide call centre agents with the proper tools, software, and training to handle difficult customer personalities.
Regardless of your industry or the size of your contact centre, you should build a process so agents, tenured or new, can easily deal with this type of caller.
This will not only allow agents to help the customer but will also improve customer satisfaction and reduce handle times.
4. Training New Agents Is Easier With an Intelligent Knowledge Base.
If you don't have an intelligent knowledge base for agents to use, consider implementing one. New agents may have difficulty getting the information they need during a live interaction without a central source of information.
Intelligent knowledge bases help agents in real-time by typing keywords and phrases, providing accurate answers to customers' requests faster and more effectively.
This drives significant return on investment (ROI) by reducing agent training time and improving first call resolution (FCR), Net Promoter Score (NPS), and average handle time (AHT).
Knowledge bases aren't a tool specifically designed for agent training, as they are beneficial even to the most tenured agent, but supervisors can use them to train and empower agents to handle calls very early in the onboarding process.
5. Virtual Agent Assistants Help Agents to Reach Their Full Potential.
We're all used to virtual assistants that recommend alternative ways to avoid traffic jams or a new show to watch based on our preferences. But what if agents could have a virtual assistant to help them during customer interactions, too?
Virtual agent assistants enhance the agent experience by providing the most accurate and data-driven suggestions, so they can make the best decisions when handling customer interactions.
They help agents to resolve complex customer issues correctly and quickly with tools such as automated assistance, contextual recommendations, and the next best actions during live calls and chat interactions.
Moreover, an agent assistant will be very helpful if you have several customer touchpoints available (chat, SMS, phone, and others) by connecting all the dots and keeping the agent on pace with customer information and interaction history.
6. Gamification Steps Up the Onboarding Process and Inspires Agents to Increase Productivity.
Friendly competition, recognition, and milestones are proven tactics that make the contact centre a more fun and exciting place to be, helping to elevate team culture and performance.
Using gamification to infuse energy among new and tenured agents will spark motivation and increase the team's productivity.
However, you may need to set different standards for agent onboarding, aligned with the stage they're in and their current capabilities—or you will risk creating frustration instead of excitement.
7. Focusing on Agent Engagement Will Pay Off Later.
Engaged agents develop stronger relationships with customers, leading to better customer experience and more sales and profits. Additionally, engaged call centre agents are less likely to leave, resulting in lower turnover and onboarding costs.
To thrive in the future of work, organizations need to develop strategies focused on employee wellbeing and empowerment.
When agents feel valued and empowered, they're more committed to developing the skills they need to deliver high-quality customer service.
A few things that highly contribute to agent engagement are:
Feedback (given or received).
Incentives, awards, and recognition.
A strong company culture.
Wellness policies.
A happy and fun environment.
Technology that supports their job.
Concluding Thoughts on Call Centre Agent Onboarding and Training.
Many companies are embracing the benefits of self-service and automation, artificial intelligence (AI), and digital engagement to meet customer demands and expectations.
However, technology isn't the only determining factor for the level of service or customer satisfaction—human interaction is also crucial.
While ignoring the technology potential for agent engagement and centralizing all digital transformation investments in customer-facing tools, most organizations are losing the opportunity to compete in the high-stakes labor market and create a superior all-around experience.
This blog post has been re-published by kind permission of Talkdesk – View the Original Article

For more information about Talkdesk - visit the Talkdesk Website