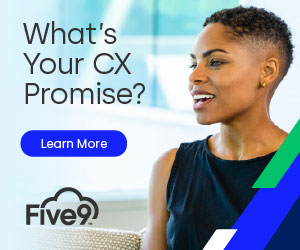 Erin Wilson at Five9 looks at the blueprint for the contact centre and a new path for IT professionals.
When I first exited school with a degree in applied math, the job market wasn't great; I was happy to take whatever job I could get.
But shortly thereafter I thought, "If this is what a bachelor's degree gets you, I need a master's!" So, I went back to school part-time and pursued a degree in computer science.
Unfortunately, the lesson with the most impact was how much writing code made me want to gouge out my eyes. I'm an idea-haver, not a debug queen.
So my career wandered a bit. I went from tech support, to sales engineering, to evangelism – but always staying near to software. What can I say? I'm still dazzled by the magic of clever technology.
Maybe you've had a similar experience? Where the job you imagined while at university bears no resemblance to the one you perform now? If so, hopefully the change was for the better.
Either way, your ability to pivot, to adapt to the situation you find yourself in, has – and will – certainly set you up well for what's to come.
The IT role has already changed a dozen times. Ask anyone who started their IT journey 30 — heck, 15 — years ago how many "digital transformations" they've been through. Luckily, when the dust settles, the addition of this technology typically results in more interesting, if not more vital, roles for IT.
No One Ever Needs Less IT.
As with the digital transformations before it, the transformation from call centre to contact centre brings opportunity. An opportunity to carve your own path. To learn new skills.
To explore emerging technology. To become the agent of change you imagined when first considering a career in IT.
Increasingly, contact centres will need forward-thinkers who can see the big picture while still catching all the details that our business partners seem to miss.
We no longer must fit into one of the four, stereotypical IT Pro boxes: telephony people, network people, software people, or internal IT people.
This is a chance to break free and ask yourself: What aspects of the latest digital transformation trend or next-generation technology platforms pique your interest? Will you become an artificial intelligence (AI) specialist? Will you master machine learning? Does process automation make your heart go pitter-patter?
Or are you like me — more thinker than doer, who loves conjuring creative ideas and inspiring people around me to bring them to life?
IT's role in the contact centre of the future will be consultative. A role that requires expert-level big-picture mindfulness. One in which technical zeal fuels strategic ideas. One that inspires business leaders to try new things and adopt the latest technology.
With the rise of software-as-a-service (SaaS) applications like Five9, the mechanics of managing business software shifts to the laps of the individual line of business owners, leaving your team some (hopefully) much-appreciated space to advise more, (physically) do less, and track project results more than the minutiae.
This blog post has been re-published by kind permission of Five9 – View the
Original Article
For more information about Five9 - visit the
Five9 Website