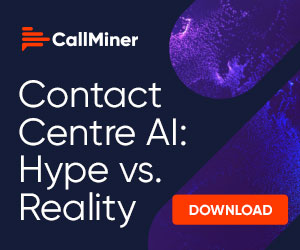 CallMiner reached out to a panel of call centre managers and business leaders, asking them to answer this question: "What are Your Favorite Call Centre Leadership Activities?"
Below are the responses given by 21 respondents, which include some practical leadership advice.
---
Adeel Shabir
Adeel is a Content Marketing Executive at GigWorker, a media outlet focused on the gig economy.
"Productivity and creativity come from the outside…"
If the environment is effective enough to make you creative, then you are in a great working environment. This also leads to being more productive and efficient in your work.
Here are a few tips for call centre leadership activities:
Create a stimulating environment. This is necessary because the employees need a working space that boosts creativity. Hang inspirational artwork inside your workplace. This costs nothing, but when the employees are working, it helps them be more productive and creative.
Empower a flexible work environment. Working 9 to 5 is good, but when you have the option to work from home, make sure that employees consider this option. It's 2020, and many businesses are utilizing remote work. This is highly effective and boosts your productivity and creativity.
Build a diverse team. Employees are different, based on their unique work and life experiences. If you are looking for team members who are all the same, then the company won't grow. Sometimes the DevOps team will have a great idea for the graphic design team – you never know.
Embrace failure. Failure is inevitable. The best approach is to take failure as a lesson. This way, you can learn from the mistakes that you have already made and become more educated in that area.
---
Dylan Max
Dylan is the Head of Growth Marketing at Netomi, a Conversational AI for Customer Service company.
"Customer service is about finding a balance between efficiency and personalization…"
One of the best call centre leadership activities that helps address efficient and personalized support is to run a report on the most frequently asked questions to make sure your team is up to speed. Since many call centres record conversations, this is an excellent opportunity for leaders to highlight strong examples of excellent customer service to share with the rest of their team.
Leaders can track progress on key metrics like average resolution time and overall customer satisfaction ratings to see how their team members improve over time.
---
William Taylor
William is the Career Development Manager at VelvetJobs, with over 12 years' experience in career advising, coaching, and recruitment.
"One really effective leadership activity is to get personal and involved with the team like you're a part of it…"
Your team has to know you as a person, not just a supervisor. And this goes both ways. Just as organizations now foster relationships with their customers, they should also understand that fostering the same types of relationships with employees is just as important. Your team members have to believe that you care about them as people. You should know about their families and their hobbies so that you can occasionally ask a question about them.
Bottom line: Get personal and involved with the team.
---
Joe Bailey
Joe is the Business Development Consultant at My Trading Skills, with over 17,000 unique visitors per month.
"My favorite call centre leadership activities are…"
Spending a few hours each week actually receiving calls and handling customer queries. This enabled me to get closer to my team and understand the unique challenges they were facing.
Having one-on-one discussions with each team member bimonthly to discuss their performance and the struggles they are going through.
Looking for ways to make my team's job more engaging and rewarding.
I thoroughly enjoyed my time as a call centre leader, and most of the leadership skills I now have stemmed from this role.
---
Syed Ali Hasan
Ali is a Digital Marketer with expertise in SEO and Content Writing.
"My favorite call centre leadership activity is…"
Creating vision by defining how goals are achievable. There is no team or work when there is no vision. It's not about working 9 to 5 just to pay bills; you need to tell your team why you got out of bed today. A good team player always makes the goals visible and tells his team how they are achievable. It's simple – when there is a goal, sit with your team members, share ideas, and motivate your juniors, so they know that it's possible to achieve if you work together as a team.
---
George Kocher
George Kocher is the Founder & CEO of Brand North.
"Burnout is prevalent in call centres because there are so many decisions that need to be made throughout the day…"
Each phone call can have many different decisions on which way to go and how to handle it. Good scripting can lessen the amount of decision making, but another way to counteract burnout is by having good leadership to keep things fun and interesting. Inviting call centre leaders to provide input in larger company discussions can broaden their view of the company, get buy-in, and help them to be a more positive and well-rounded leader within the call centre.
Inviting leaders to retreats or conferences with the executive team is a great way to foster a collaborative environment.
---
Frank Spear
Frank Spear is a content marketer for several brands under the Awesome Motive umbrella, including RafflePress.
"I worked for several call centres as a manager, and my favorite leadership activity involved roleplay between agents…"
We would work with our representatives and create real-life examples that they may encounter while on the phones. The presentation is shown to everyone in the training class, and I think that helps keep our leaders at the top of their game while getting representatives to think about new ways to handle their conversations with customers.
---
Rob Drury
Rob Drury is the Executive Director of the Association of Christian Financial Advisors.
"My favorite and by far the most important activity is coaching and motivating team members…"
At the end of the day, team or site success comes down to individual performance and team cohesion.
A true synergy, where the whole is greater than the sum of the parts, is not genuinely possible in a typical call center environment, where the overall production is in fact identical to the sum total of individual production. However, in an environment where the individual is valued, and each team member is able to understand and appreciate the significance of his contribution to the overall worth of the operation, there is perpetual improvement to site performance. Instilling this into the team is what I consider the primary purpose of the team lead.
Effective coaching is the result of competence (in the job functions of the team), team cohesion, and a sincere interest in the worth, contributions, and potential of every team member.
---
Ben Winter
Ben Winter's first job out of college was in a call centre. Since then, Ben has owned several businesses, including Success Improv.
"One of the best tools I have seen and used for call centres is improv training…"
The transformation a call centre rep can have once they learn some simple improv training is amazing. On a phone call, you never know what's going to come at you, and people who call a call centre are typically calling because something isn't working for them. They are often upset. The simple improv rule of "Yes, and…" is crucial for this type of interaction.
---
Saurabh Jindal
Saurabh Jindal is the Founder of TalkTravel.
"Based on my experience, I can say that the best leadership activities in a call centre are…"
Be as honest as you can be to your team and customers. Your team is your family, and your customers will be the backbone on which you will get other customers and build your career.
Lead by example. Your team and others involved with business look up to you and also judge if you are the right person they should be following. Set an example for them so that they are proud to be associated with you.
Leaders need to be clear about the call-to-action or the task they want to be performed. Sometimes, they are not clear in giving directions, and this leads to confusion for others, thus resulting in unintentional and incorrect output.
Praise in public and criticize individually. This helps in morale boosting as well as better handling of personal relationships when things are not going well. Along the same lines, praise first and criticize later.
---
Matt Skoglund
Matt Skoglund is vice president for Call Centre Operations for LawnStarter.com.
"Call centres can be stressful organizations…"
High activity and a strong focus on results can add to the pressure for representatives and management. One way to relieve this stress and make a call centre a fun environment is through team or individual contests. Focus the contest on an obtainable stretch goal that can be easily measured. You'll enhance the team's energy level – and meet your company's goals, too!
Contests should be based on a specific metric or group of metrics so they can be easily measured. Contests do require that management take notice of results and play an active part in the importance of the contest. The more involved management is, the more successful the contest will be.
---
Jeremy Harrison
Jeremy Harrison runs a blog called Hustle Life.
"There are many different leadership activities I have done in the call centre industry…"
What I liked the most are the seminars and workshops we did all year round. If you put your mind to it, you can learn a lot about leadership.
I used to work as a call centre trainer. One of the workshops I attended was about identifying the type of trainee you're dealing with so that you can customize their learning.
From that point forward, I made sure that I recognized and tailored my teaching techniques to develop my trainees better. I also saw vast improvements in my trainees and got excellent feedback.
---
David Miles
David worked for companies like AOL & McAfee training managers about sales and team management.
"Among the call centre leadership activities, my favorite is the offsite team-building activities…"
It can be a team dinner held in a private function where the team can also have a meeting before/after the meal. They may have a toast afterward to celebrate the team's success.
Another fun activity is an offsite picnic with lots of games. Many agents also love a day at a beach with team games such as volleyball, relay games, and many others.
These activities allow managers to work with their teams and get to know them better outside of the office premises. This also helps make the employees feel valued and provides an opportunity for their ideas to be heard.
These fun offsite activities also help managers in increasing their employees' skills by leading simulated challenges. They can spark ideas, creativity, and effective communication that the agents can bring to work for the months to come. The environment in a call centre can sometimes be intense and leaving the work premises can be helpful in allowing the team to have a refreshed feeling.
Everyone needs to take a break from all the stress and pressure from work once in a while. It can also have a long-term benefit for the team as it strengthens bonds and connections among members and promotes team spirit. It inspires employees to work as a team to reach a common goal.
---
Smitha Baliga
Smitha Baliga is the CEO of TeleDirect.
"Two of my favorite leadership activities are…"
Leadership Envelopes and Leadership Advice from your Role Model.
Leadership Envelopes is an activity that helps groups translate abstract leadership principles into practical on-the-job behaviors.
Participants work in groups to come up with real-life applications of leadership principles. The groups take multiple rounds to build upon the ideas of each other, and in the end, evaluate the best ideas to identify the most useful behaviors.
Leadership Advice from your Role Models is a sharing activity that requires you to explore different pieces of advice on leadership styles, characteristics, attitudes, behaviors, and skills. Participants are required to identify and analyze similarities and differences among these pieces of leadership advice.
---
Hassan Alnassir
Hassan Alnassir is the founder & owner of Premium Joy.
"One great activity for call centre leaders is to…"
Engage their team members in a local charitable event every month. Collaborating with non-profit organizations allows you to work with your employees outside the formal job while developing their customer support skills. When your staff members serve needy people in the community, they feel good about themselves and improve their abilities in helping those who require assistance including customers.
---
Lisamarie Monaco
Lisamarie Monaco is a National Independent Life Insurance Agent.
"Our favorite call centre leadership activities are actually through incentives…"
Everyone gets a car detailing at work if they all get a sale. Our employees get bonuses as well, but again, they all must get a sale and get on our board.
We also do the en-of-the-month dinners together. At these dinners, we celebrate the month's achievements and growth and moving forward to the new month and the next level.
---
Margie Brickner
With 35 years of experience, Margie Brickner is a trusted advisor in the collections industry.
"We try to create a culture where every employee is valued and reflects Reliant's core goals when interacting with a caller…"
We make sure to give instant recognition when an agent receives positive feedback. We also have spot contests where agents can win a free lunch from the food truck that is onsite that day. This keeps the environment fun and provides a sense of accomplishment.
Our executive team regularly spends time on the floor and meets weekly with the leadership team. This allows for more effective organizational communication and information to flow to staff with the intended company message.
---
Tracy Montour
Tracy Montour is the Director of Marketing at Arbeit.
"Get your team talking…"
In as little as a few minutes per day, you can review specific accounts, challenges, and accomplishments with your entire team.
Your agents are the ones making the calls, and they can develop incredibly valuable strategies that they can share with the rest of the team.
Agents love this because they feel they have somewhere to turn, they are contributing more than just time, and they get praise from their peers for success, which is a powerful psychological tool that motivates people to do extraordinary things.
---
Healy Jones
Healy Jones has run marketing and calling teams for a variety of venture capital funded startups.
"The best people want to learn and get better, but that can be hard when you are working the phones…"
Your responsibilities really don't change very much, and you are judged by your effort and output, so there isn't time to work on self-improvement.
That's why, when I was leading a team of callers, we had a time every afternoon when we listened to each other's calls and helped come up with improvements for each other – or simply celebrated our successes. It's just 15 minutes of your team's day, but this time is really motivating!
---
Craig Borowski
Craig Borowski is a former call centre leadership and strategy analyst and current managing editor of The Motley Fool's The Blueprint.
"My favorite call centre leadership activities all have two elements in common…"
They're gamified and they're focused on the technology. Modern call centres rely on complex software platforms, and the caller's customer experience lives and dies based on how fluent call centre agents are at using the software.
So the best leadership activities help call center staff increase that fluency, by challenging agents and team leaders to complete complex software operations.
The challenges work best when gamified, so teams compete against one another to, for example, increase KPIs like first-call resolution and after-call satisfaction surveys.
Activities like these can be implemented as part of an on-the-job training program, during onboarding of new staff, or when switching to a new tech stack.
When teams are better at using their call center software, not only does efficiency improve, but so does customer and employee satisfaction. It's a win, win, win.
The biggest challenge is finding the time (and gaining C-suite buy-in), but the leaders who do are always rewarded.
---
Lee Davis
Lee Davis is the director of telesales at HealthMarkets.
"Keep your ear to the floor…"
It's very important in a call centre environment to communicate beyond your management team. You need to foster relationships from the reps who are performing the processes you have a hand in developing.
I often call reps to my office to ask their opinions on new systems, scripts, processes, etc. just to get their thoughts. It's vital to be keenly aware of things from their perspectives. Is this new system better? Does it make your job easier? How does it impact the caller's experience?
Along the same lines, being transparent with the 'why' with open communication is key. It's important to keep everyone informed of changes, direction, new campaigns, and the like. But I've noticed better results when we take that a step further.
Instead of communicating to your team something like: "We're changing the script starting Tuesday. Attached is the new script and you'll be trained on Monday. Please be aware," I prefer to communicate something more along the following:
"After further analysis and feedback from several agents we have met with, we've decided to make some changes to the script starting Tuesday. We noticed that the current script doesn't address X, Y, or Z and is leaving our callers confused."
"To alleviate this problem and make the experience smoother for both the rep and caller, we've collaborated with our lead script writers and reps to insert language to help eliminate this confusion."
Approaching changes where the employees have 'buy-in' and they know the 'why' behind it increases their ownership and productivity.
This blog post has been re-published by kind permission of CallMiner – View the
Original Article
For more information about CallMiner - visit the
CallMiner Website