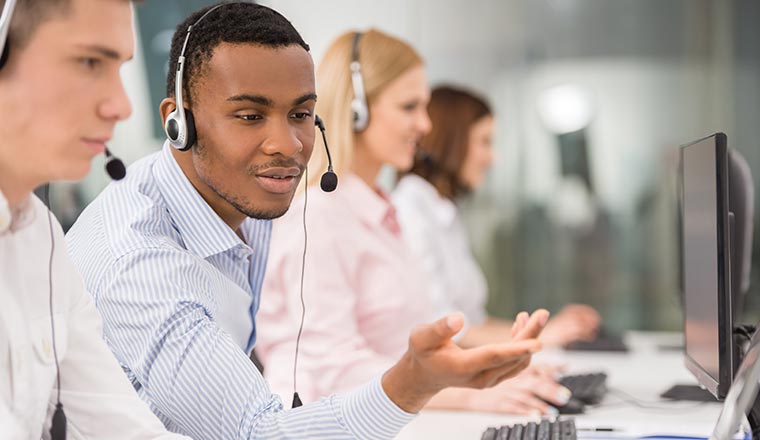 Dick Bourke discusses the benefits of asking the contact centre team to design the Quality Assessment Framework (QAF).
There's no question that quality assessment (QA) is critical for the call centre today. Goals of improving customer engagement and Net Promoter Scores (NPS) lead the way, but brand loyalty, productivity and efficiency also get big boosts when quality drives the centre.
When the smoke clears, it's always customer service that companies are looking for because that's where anything happens – sales, loyalty, ROI – everything.
"There are many who subscribe to the convention that service is a business cost, but our data demonstrates that superior service is an investment that can help drive business growth.
"Investing in quality talent, and ensuring they have the skills, training and tools that enable them to empathise and actively listen to customers are central to providing consistently excellent service experiences."
– Jim Bush, Executive VP at American Express
The Quality Assessment Framework Balances Quality and Quantity
Underlying any successful quality initiative in the call centre is a QAF with goals and objectives clearly aligned to your organisation's overall strategy.
Typically, the QAF focuses on the touchpoints where your customers interact with live advisors through channels such as phone, email, chat, etc.
From this, a multi-dimensional QAF can be created to promote a balance between quality and quantity, incorporating the characteristics of each channel. Goals and objectives should reflect your broader business strategy, pulling in advisors to ensure that they understand the rationale behind operations and methodologies.
Advisors With Self-Awareness Improve Engagement and Performance
A good QA programme allows coaches and managers to identify and correct advisor behaviour that doesn't fully support the centre's level of customer service. And, while this can be very helpful, there is also a huge advantage in giving advisors the opportunity to improve their performance by identifying shortcomings in skills or behaviours and suggesting where coaching or training will deliver improvements.
Self-awareness allows the advisors to participate more fully in the customer service experience and feel more vested in the operations and outcomes.
Certain QA features contribute to improving advisor performance in important ways. Transparency of scores and attached interactions (audio, thread, screen) increase understanding and trust.
Real-time feedback accelerates performance improvement while self-scoring enhances autonomy, self-directed learning and upskilling. Advisor dashboards (where scores are visible in real time) keep advisors informed, giving them the opportunity to modify their behaviour immediately.
During training of new advisors, there are opportunities to identify elements they have successfully implemented and those they need to focus on for improvement.
It's also imperative to identify advisors who are meeting their targets and those who are struggling with QA. This knowledge is helpful for peer-to-peer training, gaining insight into best practice and highlighting pain points for advisors.
Engaged Advisors Have Vested Interest in Customer Engagement and Business Success
Highly engaged employees are 48% more committed to helping their company succeed. Companies with high levels of employee engagement improved 19.2% in operating income while companies with low levels of employee engagement declined 32.7%.
Advisor engagement is critical for call centre quality assurance. Attrition can be a big challenge for call centres, but highly engaged organisations can dramatically reduce staff turnover by instituting just a few ways that advisors can be more engaged in their careers and the business overall.
What does an engaged call centre advisor look like?
Gives discretionary extra effort
Exhibits a positive attitude towards employer
Shows a clear understanding of his or her own role
Remains motivated and satisfied by job
Understands business goals
Shows consistent high performance and productivity
Cultivates a two-way relationship with managers
QA is a process that has a significant impact on advisor engagement because it helps advisors understand how their behaviours impact the outcome of an interaction with a customer. Advisor's performance is greatly enhanced when advisors are engaged with their quality scores and understand what their scores are based upon and why.
Giving advisors access to real-time quality scores can allow them to adapt behaviour continuously rather than having to wait until the end of the month for their review.
Given the benefits of advisor self-awareness as well as business objectives, it's a smart move to involve advisors in the design of the QAF. Engaged advisors feel that they have more input and impact on the future of the business and understand that the QAF is the daily tool toward that major objective.
Advisors also want more control over their personal financial success. If they participate in the design of the QAF they will have a vested interest in how the business fares and whether or not their personal financial objectives may be realised by staying with the company.
The principle of engagement is very simple, but the rewards and outcomes can be huge for the business and for the advisors themselves.
This blog post has been re-published by kind permission of Scorebuddy– View the original post
To find out more about Scorebuddy, visit: scorebuddyqa.com
---