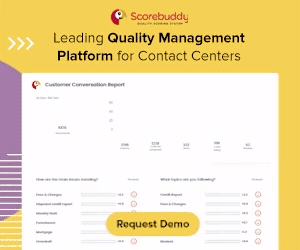 Dick Bourke discusses how agents can go the extra mile for customers, giving his best practices on doing so.
If you ask your call centre agents what their goals are, you will get different answers. Some might say "answering the phone quickly." Others might say "making more calls than anyone else." Still others will want to "making my quota." And a few might actually say "keeping the customer happy."
Keeping customers happy by exceeding their expectations is really the definition of quality service. The goal of every organisation should be to keep customers happy.
But let's take it one step further. Do your call centre agents know what it means to keep customers happy? Do your agents know what quality means? Giving customers what they think they want may satisfy their immediate needs. But this may not be enough for long-term partnership.
Customers often really don't know what is best for them. They look for information and advice. They want to talk to someone who really cares about them and their problems. They want recommendations from an expert, but not just any expert – it has to be someone who knows their business and their personal agenda.
The mindset for your agents has to be "listen and learn" first, and then show "real interest" and "genuine concern" for the customer's problems. The early objective should be to build trust and establish a rapport with the customer so that a meaningful conversation can occur.
The customer–agent partnership starts with mutual interest and mutual respect. Can your agents establish the level of customer intimacy required to have that meaningful dialogue?
Quality Service Means Delighting Your Customers
Steve Curtin has authored a book, "Delight Your Customers," in which he outlines several ways for agents to raise their service level from ordinary to extraordinary.
Curtin quotes a survey which said that 80 percent of companies think they deliver superior service, but only 8 percent of customers agree with them. Why the discrepancy? Even one of the world's largest airlines had this problem.
While agents are focused on carrying out their responsibilities, making their numbers, keeping their boss happy, and keeping their jobs, they don't see far enough down the road. They are transaction-oriented, and they are falling short of that extra mile.
What is it that agents aren't quite seeing yet? They need to get acquainted with the customer as a person first.
Customers Are Real People
The customer wants someone who expresses genuine interest in him or her. A compliment is always welcome. It's good to recognise and appreciate the customer's hard work and accomplishments – as well as business challenges and roadblocks.
The customer likes someone who shares valuable knowledge and insights and is looking for an informed consultant.
The customer's job is hard, and it is nice to see someone who wants not only to solve a problem but to do it enthusiastically and confidently. The customer load may seem a little lighter if the agent is ready to go through a brick wall for him.
In some cases, delivering the product as requested may take just that – some kind of almost-miracle to get it done. But if that is what's needed, that is going the extra mile.
These are examples of taking the personal road to be where the customer is. And when they learn the technique for one customer, they are ready to repeat that success.
Best Practices Deliver Best Customers
Once your call centre agents have found the behaviours and the conversations that work best, they can move that model to the assembly line for more customers. Once they have found that vehicle that will take them the extra mile, they can use it to assist every customer, to visit that personal space and to discover and discuss what keeps each customer up at night.
Recognising each customer for who he or she is, reinforcing the behaviours that delight the customer, and creating a model of best practices will take customer service from ordinary to extraordinary.
Management should reward agents who come up with those best practices. Any process that makes it easier for customers to work with you should be promoted throughout your organisation.
Customers who are pleased with their experiences will be less price-sensitive and more likely to do repeat business with you. They will also become your advocates and your best salespeople by recommending you to their business associates.