With many businesses out there offering some form of customer service (CS) these days, it can be easy to fall in amongst the crowd when you should be fighting to stand out. Whether it's through personalisation, using a customer's name throughout an interaction, or looking up their details so you know what their situation is, those little extra details can make the difference for your customers' experience of your CS. It's even been proven that 58% of customers are willing to spend more with companies that provide amazing CS over ones who offer sub-par CS.
Helping your operators can only benefit your business and make them feel like they're truly assisting every customer they talk to.
Why is going the extra mile important?
Employees who work in CS deal with high pressure and work in a fast-paced environment every day. So, trying to get them to embrace going above and beyond can be tough, but it's worth it in the long run. Whilst training your operators, you need to emphasise why exceptional CS is important. You should also explain how it benefits the business, the customer and the operator. If you provide examples of where others have done more than what is usually expected and the positive outcome it had, you'll be motivating your team to replicate them – potentially doing an even better job than the examples!
You should incentivise your operators with rewards and chances for them to develop themselves (which could eventually lead to promotion). If employees show spark and originality through their interactions, you can help them achieve their own goals by putting them top of the list when a new role comes around, or even just giving them an extra day's leave as a treat! Giving employees recognition can lead to them working harder, with 69% of employees saying they'd do so if their efforts were better appreciated.
Besides it being beneficial for employees, it also can have a huge effect on your business. The way your CS is viewed by your customers is important. You'll want any potential customers to be wowed by the work you're doing, especially if the interaction occurs in a public domain.
Three ways to do more for your customers:
So, going the extra mile when offering CS is important, yes. But what are the best ways of doing this?
• Respond as fast as possible
No one wants to be sitting around on webchat for hours upon end just because the top they ordered in blue turned up in pink. CS is all about offering fast responses, especially as 64% of consumers expect an answer within the hour (on Twitter). If you leave a customer waiting and mulling over their issue, they're more than likely to get annoyed. Act quickly and defuse a situation before it gets out of control.
• Understand your customers
It can be easy to see every customer as just another number on a screen, but businesses need to offer a personalised service to customers and show they understand them. Use your customers' names, understand what service or products they've been purchasing/are interested in and any previous interactions they've had with the CS team. Knowing your customer's history with the company can save you both time and energy trying to work out where the issue lies.
• Offer loyalty incentives
If you have an upset or angry customer visiting your CS channels, a good way to keep them coming back is rewarding their loyalty. It can be easy to forget about keeping your existing customers happy when you spend so much time trying to create new ones. So, by offering incentives to keep their custom with you, you should (hopefully) improve their chances of returning to you! It even costs more to find new customers (up to 20 times more), so that's a better reason than any to remember those customers you've already got.
Examples of brands who have gone the extra mile and benefited from it
Now we all know the proof of the pudding is in the eating, but who's seen success come from implementing this tactic within their CS? We're sure many businesses have seen gains in many ways, but a few have been reported on over the past few years:
Sprig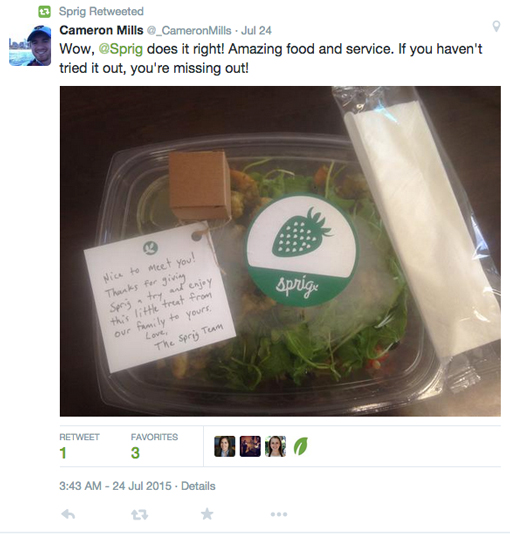 Source: Brand Embassy
Customised salad bar Sprig has created quite a name for itself in America by including handwritten notes with most of their food deliveries (alongside tasty food and good service). These friendly messages have been snapped by many of their customers and shared across the web, which means Sprig gained itself some free marketing as well as impressing the customers.
Pizza Hut
If your local pizza store noticed you'd stopped ordering, would they get in touch to make sure everything was okay? Pizza Hut did exactly that when one of their customers refrained from ordering for over two weeks. After ringing the customer, they offered him a "free complimentary welcome-back pizza" and he swiftly shared the saga on Facebook. Free advertising and a returning customer in one.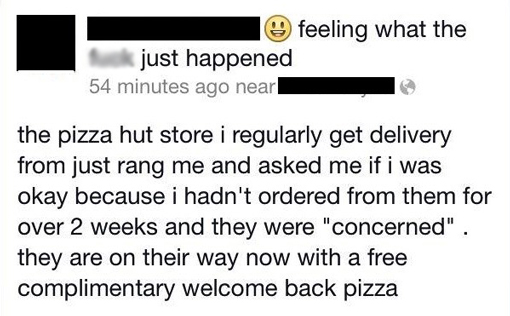 Source: Imgur
JackThreads
CS operator Jill, who worked for JackThreads (think back to the nursery rhyme "Jack and Jill") had a customer wishing to return a shirt. He had ordered this item months ago, but it turned out to have a hole in the front of it. Now, the reason behind the long delay between receiving the item and noticing the issue was that Tony (the customer) had bought the shirt as a goal for losing weight. He had lost enough weight to fit into the item and then suddenly discovered the issue. Many retailers probably wouldn't accept a return this late but Jill did more and processed a return form so Tony could do this at his leisure.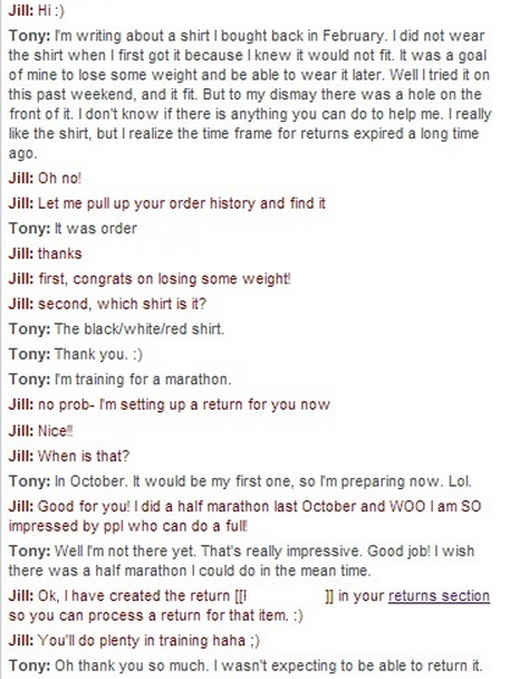 Source: Help Scout
It's no longer just good enough to offer excellent CS – to impress customers and keep them coming back you must go the extra mile by offering personalised, happy CS. It can be hard for businesses to stand out against the crowd these days, with so many businesses competing for the same customers' business. Providing CS with a difference, like Jill at JackThreads, or Pizza Hut, can only benefit you and your customers.