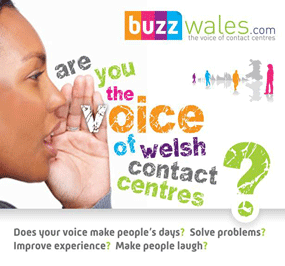 Wales' contact centre industry has launched a competition to find the 'voice' of the industry, and is calling for entries from across the nation.
To mark the re-launch of www.buzzwales.com, the Welsh Contact Centre Forum is looking for a contact centre employee to star in a media and advertising campaign to help raise awareness of the industry as a viable and vibrant career choice.
The contact centre currently employs close to 30,000 people across 140+ centres across Wales, contributing £400m to the economy each year.  The industry is one of the few to have continued to recruit throughout the recession and research by the Welsh Contact Centre Forum shows this trend is set to increase.
Sandra Busby, managing director at Welsh Contact Centre Forum, comments: "Technology from Twitter to email may have changed the way organisations liaise with their customers' queries, but the human voice is still a vital part of a contact centre's customer service.  The Welsh voice has historically scored well in national surveys and is viewed as warm, approachable and friendly."
"By launching the search for the voice of buzzwales we want to show people across the region a real-life employee who can tell them about the realities of working in this fast-paced and vibrant environment."
The winning 'voice' will star in a radio and bus-side advertising campaign to promote the benefits of careers in contact centres to prospective employees across the country.
Published On: 6th Feb 2013 - Last modified: 22nd Mar 2017
Read more about - Archived Content
---